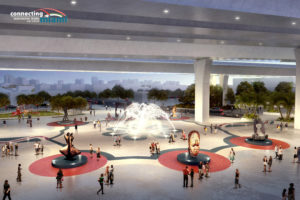 Bridges have one purpose, to get people safely from one place to another. Being aesthetically pleasing is just a bonus.
Drama should not be part of the deal.
Yet no bridge has come as much drama as the proposed I-395 overpass through Miami's Overtown neighborhood.
It's time to end the spectacle and move forward.
The main function of any bridge, particularly one in an urban setting, is to ease traffic. Archer-Western de Moya's winning design for the Miami-Dade "signature bridge" for the I-395 overpass at I-95 interchange through Overtown does more than that — serving well beyond its intended purpose.
The I-395 project is both a literal and figurative bridge, helping to ease traffic as well as transforming a long-divided neighborhood.
A quarter-century in the making, the I-395 project had been discussed, delayed, and debated. And after 25 years of meetings, both the community and the Florida Department of Transportation came to an agreement, choosing the most favored design that melds both form and function.
The goal of this bridge, apart from fixing one of the worst and most dangerous interchanges in Miami, is to finally end the burden on commuters who need to pass through Overtown, removing an ad hoc toll of nearly $100 million every year in lost time and money in traffic delays and untold frustration.
The new bridge will replace the low-slung, 1960s-era expressway slicing through Overtown, and open up the area for the good of the entire community.
What the new I-395 interchange will offer is more than simple convenience for drivers, however; it benefits the entire community with multipurpose courts, parklike shared areas, an amphitheater, children's play area, public art and murals.
It will also incorporate Overtown's diverse history and roots, as well as raising I-395 by an added 60 feet to allow a "legacy wall" of ceramic panels that mark the beginning of the Heritage Trail, honoring Miami's Tequesta indigenous people and African-American, Latino and Caribbean communities.
With more than 5,000 square feet of open spaces (versus 500 feet for the No. 2 design) and spacious 50-foot heights to work with — the Archer-Western de Moya design can accommodate features as an urban market, community garden and several vendor areas,
What the design is not, as former Miami City Commissioner Marc Sarnoff suggested in a Miami Herald op-ed last month, is a "bait and switch."
In fact, the Archer-Western de Moya design clearly outperformed the competition, scoring "excellent" by a majority of city, county leaders, FDOT stakeholders, as well as garnering support from state Sen. Rene Garcia, CRAs in Overtown and Omni, in addition to letters of praise from local cultural archives such as the Black Archives and Dade Heritage Trust.
"The Black Archives History and Research Foundation of South Florida is fully supportive of the Heritage Trail design concept as presented … Should the team be awarded a design-build contract for this project, we will commit to working with them as they implement these concepts as part of their design and construction commitments to FDOT," wrote the Black Archives in its support letter to the FDOT.
Despite the widespread community support and a superior bid by Archer-Western de Moya, a handful of local politicians have not taken well to the winning design, including Sarnoff (through his Herald piece) and Miami-Dade Mayor Carlos Gimenez, who has his own personal agenda.
Since the announcement, they have worked overtime to turn the I-395 project into something of a bridge over muddied water.
As Elaine deValle of Political Cortadito wrote in May: "Gimenez and his pals on the county commission are trying to sell us a bridge. Not just any bridge. His buddy's bridge."
As County Mayor, Gimenez has clearly supported Pedro Munilla, who deValle noted was "cousins (or something)" with the mayor's wife and CEO of Munilla Construction Management. MCM, pairing with Flour Enterprises, was one of the five firms bidding on the "signature bridge" project.
The final choice of Archer-Western de Moya has not satisfied Gimenez and his supporters (such as Commissioner Sally Heyman), who are now actively lobbying to slow down the process. This must end.
For the sake of Miami, its commuters and the citizens of Overtown – who need this long-delayed bridge to begin rejoining a physically split community — it's time to move forward.