Orlando's Democratic state Sen. Victor Torres has thrown his support behind former U.S. Rep. Gwen Graham for governor.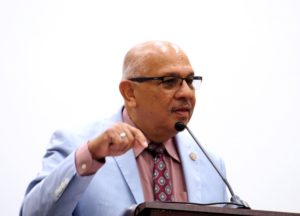 Torres is a first-term senator who spent two terms in the Florida House of Representatives.
"As someone who has lived a full life full of hard work, I can tell you nothing provides more insight into what Floridians need than real life experiences. Raising three children, volunteering in the PTA and working for her local school district, Gwen Graham has the knowledge and common sense solutions to renew Florida's public schools," Torres stated in a news release.
Torres's daughter, state Rep. Amy Mercado, who succeeded him in his house seat, already has endorsed Graham.
"She's fighting to make sure our children and grandchildren have more opportunities to succeed and that when they graduate — whether it's from high school or college — they have good paying jobs available right here in Florida. Gwen understands how important education is to our community and to all Floridians," Torres continued. "This is why I'm proud to enthusiastically endorse Gwen Graham for Florida's next governor."
Graham faces Tallahassee Mayor Andrew Gillum and Winter Park affordable housing developer Chris King for the Democratic nomination for governor in the 2018 race.
"For too long Tallahassee politicians have had the wrong priorities for the wrong people. Too many Floridians in our growing state have been ignored. We must put an end to businesses as usual and extinguish the status quo," Graham stated in the release. "When I'm elected governor, our state will support every community as we renew our promise to public education, expand health care and create good-paying jobs, right here in Florida."
According to a recent report by the U.S. Census Bureau, Florida's Hispanic population is growing fastest in Central Florida and the suburbs of Tampa.
"The I-4 Hispanic community is the fastest-growing population in the state. We're making our voices heard — and Gwen is taking the time to listen," Torres said. "She's working on the issues we care about, from protecting public education to building an economy that works for all Floridians. As governor, she will work to raise the minimum wage and institute paid sick leave, invest in technical training and infrastructure, and diversify our economy."