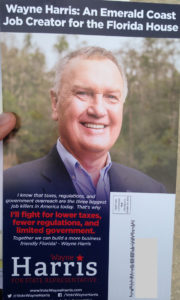 From the start, Wayne Harris, a Republican running for Matt Gaetz's House District 4 seat, has strutted his conservative credentials.
A recent mailer to voters in HD 4 even boasts Harris as an "Emerald Coast tax cutter."
But after a closer look, it becomes increasingly difficult to describe Harris in those terms, especially compared to the other Republicans in the race.
Examples of this abound; Harris used his current campaign account to contribute and attend dinners with Democratic clubs such as the Okaloosa Democratic Black Caucus – three tickets and add purchased January 2016.
Why would he take part in such decidedly non-conservative activities?
One clue might be his actual record on taxes.
During his time as Okaloosa County Commissioner, Harris had voted several times to raise property taxes. Case in point: a 2013 meeting where he attempted to ramrod a millage rate increase of .1409 mills in the 2013-2014 budget.
In the meeting held July 30, 2013, minute show Harris sought to set the tentative millage rate at 3.4308 mills and approve a five-cent gas increase. At the time, District 4 Commissioner Don Amunds requested the issues can be addressed separately, but Harris would have none of that; he motioned to increase the millage rate from 3.2899 mills to 3.4308 mills.


To his credit, Commissioner Kelly Windes wondered if it might be better to wait, adding he would not vote to raise taxes for the following year.
Harris eventually got his way, making the motion that was seconded by Commissioner Nathan Boyles, to set the tentative millage rate at 3.4308 mills.
The final vote was to pass the tax increase, with three yeas and two commissioners – Amunds and Windes – voting no.
It's also worth noting that since 2008, Harris has been a vocal advocate for increasing gas taxes, declaring that although it may be "political suicide" to support a five-cent increase in gas taxes, the county needed the advantage for improving its aging infrastructure.
Harris made another stunning admission – it may be necessary to make political promises on the campaign trail and change those positions after getting in office.
The NWF Daily News also reported Harris blasting commissioners for not immediately approving a tax increase, saying that they were "holding this organization hostage." He then called on colleagues to "do the right thing" by boosting the tax rate.
Harris's record on taxes – as well as his ostensible readiness to change his mind once elected – begs the question: is this really someone who can legitimately claim the title "tax cutter?"
In this video clip, Harris discusses the need for an increased gas tax:
In this clip, Harris explains his motivations in seeking to raise ad valorem tax rates, citing years of "bowing to conservatives":