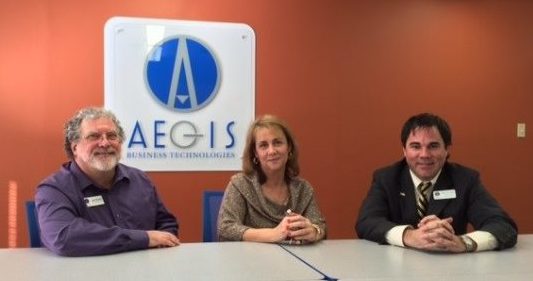 Twenty years ago, Pam Butler and Brad Mitchell saw an opportunity in North Florida.
With no qualified tech consultant to serve the region's growing business community, the pair founded the Tallahassee-based Aegis Business Technologies to fill the gap.
Since 1997, Aegis has transformed into a one-stop-shop for all things tech – obtaining, installing and supporting tablets, laptops, servers, firewalls, wireless, email, cloud storage, websites, cabling – just about anything technological a business might need.
"We are a Managed Services Provider (MSP)," explained CEO Blake Dowling, a regular tech columnist for FloridaPolitics.com. "We manage all of your tech, including serving as a liaison to all third-party providers (software, printers, etc.)"
"We take care of it all," Dowling said. "And act as your trusted adviser."
Celebrating its 20th anniversary in 2017, Aegis received armfuls of awards, including a five-time Tallahassee Chamber of Commerce Technology Company of the Year. Aegis has been ranked nationally as a high-performing MSP by organizations such as Ingram Micro, Channel2Channel Magazine and MSP Mentor. There've also been recognized for excellence by the Jim Moran Institute, Best of Tallahassee and Tally Awards.
"I often say I have more courage than brains, and my advisers over the years have said that I am the most persistent creature they've ever known," said Butler, who now serves as Aegis' chair. "That's why I have surrounded myself with a brilliant partner, the most skilled CEO, learned advisors, trusted customers and a supportive community."
Butler pointed out that the company, located at 1310 Thomasville Rd. in Tallahassee, is "as vibrant as ever."
Looking forward to the next 20 years, Butler said Aegis and her team are committed to providing the latest solutions and support for businesses of any size.
"For this, I will be forever grateful," she added vibrantly. "We changed our stars."