Tallahassee-based Aegis Business Technologies, one of Florida's leading business technology companies, will soon be led by its current chief business development officer.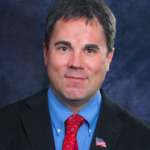 The company announced Monday that Blake Dowling will step up to CEO on Sept. 1, replacing Pam Butler, who becomes chairman of the board.
"Pam leaves big shoes to step into, but I'm proud that we'll continue to be the beneficiary of her vision and experience as our board chairman," Dowling said.
"On the eve of our 20th anniversary, we are poised to take Aegis into an exciting third decade of providing cutting-edge technology, outstanding customer service and the most complete outsourced IT support solutions in North Florida."
Dowling has been chief business development officer at Aegis for the past three years.
He joined Aegis in 2006 as a consultant and rose through the ranks as account executive and director of sales before assuming his current leadership position in 2013. In his current role, he has overseen company rebranding.
As CEO, Dowling will be responsible for all day-to-day operations at Aegis, as well as continuing to grow business and open new revenue streams.