Rep. Jason Brodeur has again filed legislation to exempt fantasy sports play from state gambling regulation.
The Sanford Republican filed his measure (HB 223) Tuesday. It comes less than a week after Sen. Dana Young filed her own fantasy sports bill (SB 374) for the 2018 Legislative Session. Brodeur had filed a similar bill last session.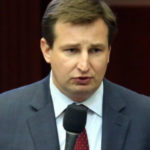 His latest bill says fantasy contests are "not subject to regulation by the Department of Business and Professional Regulation and not subject to" the state's gambling laws.
Moreover, "all winning outcomes reflect the relative knowledge and skill of the participants," the bill adds.
Fantasy sports fans have long argued their hobby – such as played on websites like FanDuel and DraftKings – is a game of skill, not of chance, and thus shouldn't be considered gambling.
"The millions of Floridians who play fantasy games deserve to know that what they're doing is not a crime," Brodeur said in an interview earlier this year.
A proposed omnibus gambling bill failed this past session, getting caught up in a late-session meltdown over a renewed blackjack agreement with the Seminole Tribe of Florida and connected measures that would have expanded gambling in the state.