Circuit Judge Alice L. Blackwell of Orange County, originally a Lawton Chiles appointee, is the latest applicant for a seat on the Florida Supreme Court.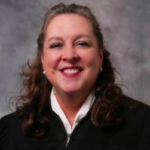 That brings to seven the number of those who have filed to replace Justice James E.C. Perry. He is retiring at the end of the year.
The deadline to apply to the Supreme Court Judicial Nominating Commission is 5 p.m. Friday, according to its chair, Tallahassee attorney Jason Unger.
Because Perry represented that appellate district, applicants must be from that area: Brevard, Citrus, Flagler, Hernando, Lake, Marion, Orange, Osceola, Putnam, Seminole, St. Johns, Sumter, and Volusia counties.
Gov. Rick Scott, a Republican, will name Perry's replacement, making it his first opportunity to pick a state Supreme Court justice. Now, Justices Charles Canady and Ricky Polston the only reliable conservative votes on the seven-member court.
Then-Gov. Chiles, a Democrat, first appointed her to the bench in 1991, according to her Ballotpedia profile.
In 1997, she was the first woman in the 9th Judicial Circuit, covering Orange and Osceola counties, to be named administrative judge of the civil division. She now handles complex civil litigation.
Blackwell received her undergraduate degree from Furman University and a law degree from the University of South Carolina, according to her official bio.
The other applicants are:
— Wendy W. Berger, appointed by Gov. Scott to the 5th District Court of Appeal in Daytona Beach in late 2012. She was originally appointed to the circuit bench by Jeb Bush.
— Circuit Judge Michelle T. Morley, who sits in Sumter County. She was elected to the 5th Judicial Circuit bench in 2006 and re-elected in 2012.
— Roberta J. Bodnar, an assistant U.S. attorney in the Middle District of Florida.
— Circuit Judge Patricia Strowbridge, who sits on the family-law bench at the Osceola County Courthouse. Scott appointed her last year.
— Orlando civil-trial defense attorney Dan Gerber, a partner with the law firm of Rumberger, Kirk & Caldwell. His complex-litigation practice focuses on "toxic tort, class actions, commercial, product liability, and governmental affairs," according to his official bio.
— C. Alan Lawson, chief judge of the 5th District Court of Appeal. When he applied for a high-court opening in 2009, Lawson was backed by "religious conservatives and the National Rifle Association," according to the Tampa Tribune.
The nominating commission is scheduled to interview finalists Nov. 28 and submit six recommended replacements to Scott by Dec. 13.