The Florida arm of the conservative advocacy group Americans for Prosperity has issued its annual legislative scorecard, which ranks state legislators based on their propensity to vote "pro-economic freedom."
The group graded all 160 state lawmakers based on their votes on economic issues. Votes considered in favor of deregulation were rewarded, whereas votes that reined in industry were given negative scores.
As was the case in years past, Republicans did well and House Republicans did even better.
Forty-six members of the House, or almost 40 percent, were listed by the group as "Champions of Economic Freedom."
Just two senators — state Sens. Jeff Brandes and Travis Hutson, who served in the House until the last two weeks of session after winning a special election in April — made the list of AFP-FL's chosen lawmakers.
Among Democrats, Plantation state Rep. Katie Edwards was awarded the highest score with a 77, the same as GOP state Rep. Charles Van Zant.
Among the list of the House's AFP-designated champs were Speaker Steve Crisafulli, budget chief Richard Corcoran and Majority Leader Dana Young.
See the full list of awardees below: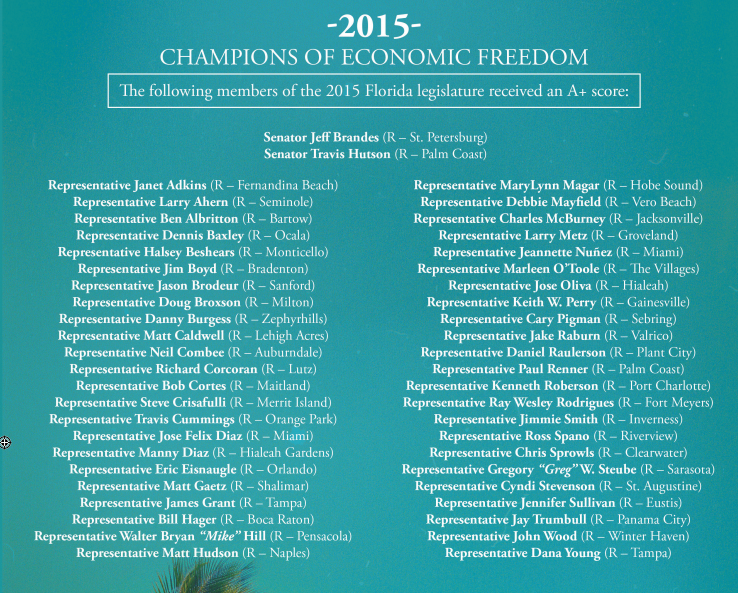 AFP explained its methodology as follows:
One point is awarded for each vote cast in support of a pro-economic freedom issue or against an anti-economic freedom issue. Each vote carries the same weight, regardless of the issue or whether the vote occurred in committee or on the floor. If a legislator voted on an issue twice and voted in favor of our position both times he or she received a score of 2/2.
If he or she voted against our position both times he or she received a 0/2. We also award one point for prime sponsorship of a priority bill we supported, and deduct a point for sponsorship of a bill we opposed. In the House of Representatives, supported bill sponsorships are awarded two additional points.
The additional point is a recognition of the fact that House members may only sponsor six substantial pieces of legislation each year, while their Senate counterparts have unlimited bill sponsorship. As a result, senators sponsor substantially more legislation than representatives. Since representatives have fewer opportunities to sponsor bills supportive of AFP-FL issues, they are awarded an extra sponsorship point when they do.