Four of the top five teams in the country kicked off their games at noon Eastern on Saturday, which suggests that all were expected to roll. No. 2 Clemson, No. 4 Penn State and No. 5 Georgia all did just that.
Then there was No. 3 Oklahoma. The Sooners and Iowa State provided some early drama and the first really big upset of the season. Then No. 13 Miami and Florida State played another classic, with the Hurricanes finally getting some satisfaction in the series. And Mark Dantonio and Michigan State scored yet another victory for little brothers.
Thoughts, takedowns and takeaways from week six of the college football season.
1. The mental gymnastics that begin after an upset in college football can strain the brain. Does Oklahoma's loss kill the Big 12′s College Football Playoff hopes? And what does it mean for No. 10 Ohio State? The Buckeyes lost decisively at home to the Sooners.
2. Too much ball left to play to make any kind of definitive statement, but a reminder: Ohio State lost at home to a Virginia Tech team that went 6-6 in 2014 and went on to win the national championship. Clemson lost at home to a Pitt team that won eight games before winning it all last season.
3. It's a bad loss for Oklahoma — the first loss by a top-10 team to an unranked team this season — but not necessarily a deal-breaker when it comes to making the playoff.
4. Iowa State coach Matt Campbell seemed like a home run hire for Iowa State and so far still very promising.
5. Cyclones quarterback-turned-linebacker-turned-back-to-quarterback Joel Lanning had a performance Gordie Lockbaum would have been proud of. Google Gordie Lockbaum. We'll wait.
6. Michigan coach Jim Harbaugh is now 1-4 against Michigan State (1-2) and Ohio State (0-2) after the Spartans took down big brother Wolverines for the eighth time in 10 games.
7. Michigan State looked like a program on the verge of collapse after a terrible 2016 season (3-9) and miserable offseason. The only reason for optimism was coach Mark Dantonio, and wouldn't you know it, the Spartans are 4-1.
8. Michigan will fall out of the AP top 10. No. 11 Washington State will likely be in for the first time since 2003 .
9. No. 8 TCU is the lone remaining unbeaten team in the Big 12 after beating No. 23 West Virginia , but it certainly feels as if the Big 12 could get messy with not a lot of separation between about six teams.
10. West Virginia quarterback Will Grier came up on the short end of another close game against a good team (Virginia Tech in the opener), but the Florida transfer's play has been even better than advertised.
11 Now that Miami has gotten over that Florida State hurdle and snapped a seven-game losing streak in the series , the 'Canes could be ready to roll. Miami plays only two more road games the rest of the way, getting No. 21 Notre Dame and No. 16 Virginia Tech at home.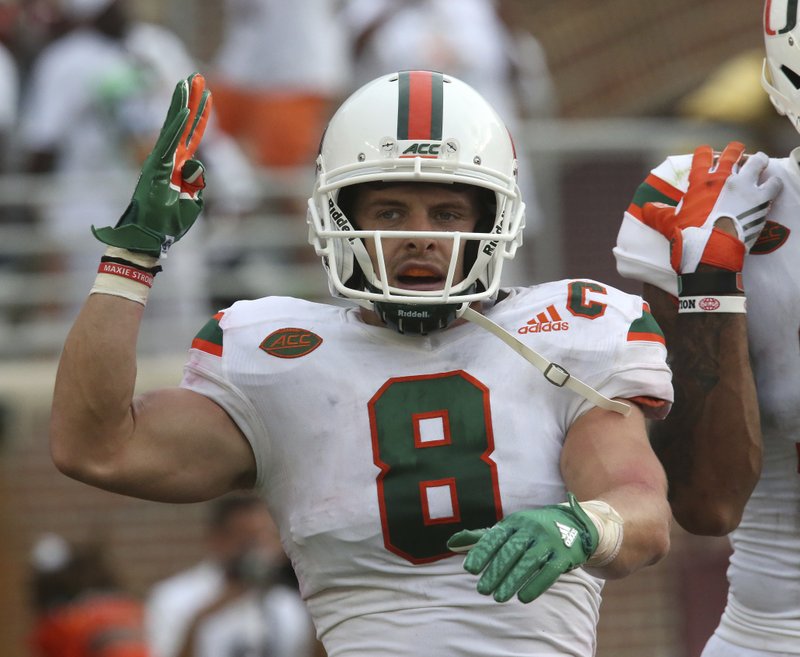 12. Florida State is the best 1-3 team in the country. Surely, this is no consolation to 'Noles fans.
13. Clemson lost Kelly Bryant to a sprained ankle in a routine victory against Wake Forest . The Tigers play at Syracuse next Friday so if Bryant needs a game off that should be a good time to get him one. You would think Clemson should be in good hands with either five-star freshman Hunter Johnson and redshirt freshman Zerrick Cooper. And then the Tigers get a week off.
14. The biggest remaining game in the Atlantic Coast Conference: Clemson at No. 24 North Carolina State on Nov. 4.
15. Saquon Barley was less than Heisman-like against Northwestern , but nothing so bad it will hurt him in the long run. After a week off, Penn State plays No. 7 Michigan, No. 10 Ohio State and Michigan State in consecutive weeks. That will determine whether Barkley wins the Heisman.
16. When it comes to Heisman contender running backs, Stanford's Bryce Love has seemingly edged ahead of Barkley. Against No. 20 Utah, Love made it eight straight games with at least one 50-plus yard touchdown.
17. And don't forget San Diego State's Rashaad Penny, who made a lasting impression on UNLV .
18. Georgia ran 423 yards in throttling Vanderbilt . For comparisons sake, Alabama had 496 yards rushing against Vanderbilt and won 59-0. It certainly looks as if the Tide and the Bulldogs are heading for what could be the first really competitive and consequential SEC title game since 2012 — when Alabama beat Georgia with a late defensive stand.
19. LSU coach Ed Orgeron gets to step off the SEC grill this week . C'mon down, Arkansas coach Bret Bielema, whose team got crushed by South Carolina to fall to 0-3 in the SEC. Bielema could really put athletic director Jeff Long's loyalty and that huge buyout to the test .
20. Now things get interesting for Notre Dame, 5-1 heading into its week off before hosting No. 14 Southern California in what could be playoff eliminator. But while the Fighting Irish are getting healthy — most notably quarterback Brandon Wimbush — the Trojans will be playing a Utah team that is usually a handful next week.
21. No. 10 Ohio State concluded the plundering-the-villages portion of its schedule by outgaining Maryland 584-66 . Final tally: Ohio State 210, Army/Rutgers/UNLV/Maryland 42. The Buckeyes go to Nebraska next week, and maybe we'll get a better read on whether that offense is really fixed. That's the last test run before Penn State comes to town on Oct. 28.
22. Then again, considering what No. 9 Wisconsin freshman running back Jonathan Taylor (249 yards rushing) did to Nebraska , probably not. Related: No. 25 UCF, coached by former Nebraska quarterback Scott Frost, improved to 4-0 with yet another blow-out victory .
23. Best performance by a quarterback who did not start: Arizona's Khalil Tate came off the bench to run for 327 yards an FBS record for a QB and four touchdowns on 14 carries in a win against Colorado . He was also 11 for 12 for 142 and a score.
24. Arizona (3-2) has already matched last season's win total, which is good for coach Rich Rodriguez's job status. But the most surprising turnaround so far belongs to Virginia. The Cavaliers are 4-1 under coach Bronco Mendenhall after winning two in his debut season last year.
25. Finally, a public service announcement: For those who didn't stay up late to watch No. 6 Washington rout another opponent, the Huskies are still really good. You're welcome, coach Chris Petersen .
Republished with permission from the Associated Press.