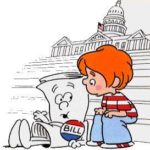 Last weekend, I was on the road in Gainesville for some spring football.
As I sat in my mobile command station (aka the Wyndham) the following day — watching an epic Masters, NBA and college baseball weekend — I couldn't get the old PSA from Saturday Morning Cartoons out of my head, and I started writing …
"I'm just a bill on Capitol Hill waiting to become law, but today I am still just a bill."
Man, they do not make them like that anymore; 1976 was a hell of a year: KC & the Sunshine Band ruled the charts and TV had class – before reality TV, before the INTERNET.
Speaking of bills, I had the chance to write on innovative technology earlier this year, AI-powered personal delivery devices made by Starship Technologies.
Last week, I received a call from its lobbying team; they were actually at the Capital showcasing the machine. The performance was a success, as Mitch Perry reported April 6; House Bill 601 passed 115-0.
I enjoyed the experience of doing some investigative reporting and quicker than you can say, 'Nole Day Bathroom Shenanigans at the Capitol, it's law.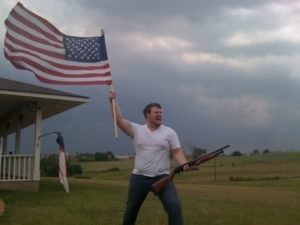 This new tech will change the game with delivery services, although I don't know if they are ready for North Florida. I can see some Wakulla County residents making up a game where you shoot the PDD's with shotguns. Am I wrong?
As rewarding was that was, tracking Senate Bill 772 on assistive technologies was game changing.
James Harding, an Instructional Specialist at Florida State University's College of Business, shared some testimonial with me about the bill. I was genuinely moved.
I immediately wrote something about the issue, as kids that need assistive tech to communicate were only allowed to use the tech in school and not at home. As the one young lady testified, "do you only get to talk from 8 a.m.-3 p.m. sir?" Powerful. I won't know if I swayed anyone, but I will know in my heart that I tried to bring some awareness to this remarkable piece of legislation.
Rep. Loranne Ausley, who sponsored the bill, sent a tweet about it after reading my column. Harding from FSU and I ended up in a meeting about it. I was introduced to Michael Daniels from FAAST.
Awareness of the issue, having a conversation about it and taking action. That's what it's all about.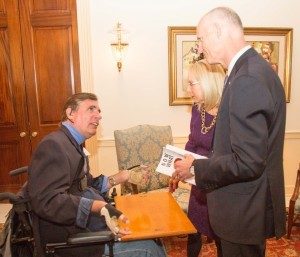 Harding and I talked about doing a presentation for the Chamber on assistive tech, working on an update about SB 772 (you're reading it).
Here is what Daniels had to say about where the bill stands: "I couldn't be more pleased with the enthusiastic reception this bill has received.  It is incredibly cool seeing the attention Michael Phillips and Jennifer Perry Breen have received with their personal stories.  I know from the OMG looks on the legislators faces this is the first time they have seen a person testify with a speech generating device.  Goes back to the first lesson I learned from my mentor, Jean Issacs, technology levels the playing field for people with disabilities in ways we still can't imagine."
Harding added: "Without technology, success in school or in the workplace would not be possible. It is all about independence."
Thank you to everyone who has supported SB 772 and the people counting on it.
___
Blake Dowling is CEO of Aegis Business Technologies and writes for several organizations. He can be reached at dowlingb@aegisbiztech.com.