State Attorney Brad King of the 5th Judicial Circuit has applied for the upcoming vacancy on the Florida Supreme Court.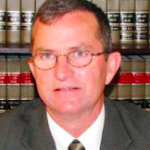 King's application was received Thursday, according to Tallahassee attorney Jason Unger, chair of the Supreme Court Judicial Nominating Commission.
King — the Republican elected chief prosecutor for Citrus, Hernando, Lake, Marion, and Sumter counties in Central Florida — is the eighth applicant to replace Justice James E.C. Perry, who's retiring at the end of the year.
The deadline to apply is 5 p.m. Friday. Gov. Rick Scott will name Perry's replacement, his first chance to pick a state Supreme Court justice.
The nominating commission is scheduled to interview finalists Nov. 28 and submit six recommendations to Scott by Dec. 13.
King, 59, is a career prosecutor, first elected to the office in 1988. He was re-elected without opposition this year. King received his undergraduate and law degrees from the University of Florida, working briefly as a Marion County Sheriff's deputy.
The other applicants are Circuit Judge Alice L. Blackwell of Orange County, Judge Wendy W. Berger of the 5th District Court of Appeal, Circuit Judge Michelle T. Morley of Sumter County, assistant U.S. attorney Roberta J. Bodnar, Circuit Judge Patricia Strowbridge of Osceola County, Orlando civil-trial defense attorney Dan Gerber, and Chief Judge C. Alan Lawson of the 5th District Court of Appeal.
Because Perry represented that appellate district, applicants must be from that area: Brevard, Citrus, Flagler, Hernando, Lake, Marion, Orange, Osceola, Putnam, Seminole, St. Johns, Sumter, and Volusia counties.