In the wake of Hurricane Irma, and with Hurricane Maria now churning the Atlantic, Florida lawmakers are forming or calling for blue-ribbon panels to improve the state's readiness to deal with monster storms.
House Speaker Richard Corcoran on Tuesday announced the creation of a "Select Committee on Hurricane Response and Preparedness" to "gather information, solicit ideas for improvement, and make recommendations."
Separately, state Sen. Jeff Brandes, a St. Petersburg Republican, asked Gov. Rick Scott "to form a commission to review the disaster preparedness, response, and recovery of state and local entities involved in Hurricane Irma efforts, as well as critical infrastructure institutions such as public utilities and medical facilities."
The calls come after Hurricane Irma ravaged the state last week, causing at least $2 billion in damage tallied so far. Evacuees were hampered by gasoline shortages, and eight South Florida nursing home residents died after their air conditioning went out.
Money will be tight this year as the Legislature's chief economist already warned legislators that next year's relatively tiny state budget surplus will be erased because of costs from Irma.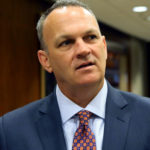 In the House, Corcoran wants members to set aside "business as usual," suggesting that filing local spending projects will be frowned upon, at least officially, during the 2018 Legislative Session.
"We spend a significant portion of money"—more than $630 million this year—"on what are considered 'pork' projects," he said at a Tuesday news conference in the Capitol. "If we took just some of those funds … you're going to see us make tremendous (progress) toward hurricane hardening throughout our state.
"There is not one single (pork) project … that is worth the health and safety of Floridians," he added.
But Senate President Joe Negron quickly shot down any self-imposed ban on hometown spending. He told the Tampa Bay Times that senators are "in the best position to know what projects are most important."
"Let's keep our constitutional roles straight," he added. "The Legislature is the appropriating body. The Legislature should always have the prerogative and flexibility to write the budget."
Among some of the ideas floated by Corcoran, a Land O' Lakes Republican and possible 2018 candidate for governor: Creating a state gasoline reserve, looking at tree management policies, and better coordinating the flow of highway traffic before and after a storm. They would go into a "5- or 10-year plan."
But when asked whether the panel would look hard at the possibility of human-caused climate change affecting hurricane severity or frequency, Corcoran punted.
"I think that what we should be doing is asking ourselves, 'What can we do to protect the people of this state in the best way possible?' " he said, referring to conflicting government studies on global warming. "… The No. 1 function of government is to protect its citizens."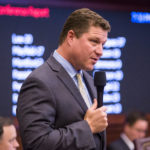 Brandes, in a press release, thanked Gov. Scott, "emergency management officials, and our first responders," but said "it is important that we have the appropriate oversight in place to stretch every relief dollar to the maximum benefit of Floridians."
The commission he suggests would "review after-action reports created by state and local emergency operations centers, utilities, state agencies, medical facilities, and other critical service providers in order to evaluate and oversee recovery projects.
"The commission would ensure that state and county needs are met in a manner that best leverages disaster relief dollars. Additionally, it would make certain that the assessments of the recovery actions taken by both public and private entities become best practices to prepare for future events," referring to similar oversight commissions for 2010's BP oil spill in the Gulf of Mexico, and Hurricanes Sandy and Katrina.
Later Tuesday, the House released the membership list for the special panel, which will be chaired by Miami-Dade's Jeanette Nuñez, the House's Speaker pro tempore. House Republican Leader Ray Rodrigues of Estero will be vice chair.
In alphabetical order: Ben Albritton, a Wauchula Republican; Robert Asencio, a Miami Democrat; Danny Burgess, a Zephyrhills Republican; Cord Byrd, a Neptune Beach Republican; Bob Cortes, an Altamonte Springs Republican; Tracie Davis, a Jacksonville Democrat; Dane Eagle, a Cape Coral Republican; Michael Grant, a Port Charlotte Republican; Kristin Jacobs, a Coconut Creek Democrat; Larry Lee Jr., a Port St. Lucie Democrat; Jared Moskowitz, a Coral Springs Democrat; Elizabeth Porter, a Lake City Republican; Holly Raschein, a Key Largo Republican; Paul Renner, a Palm Coast Republican; Sean Shaw, a Tampa Democrat; Chris Sprowls, a Palm Harbor Republican; Richard Stark, a Weston Democrat; Cyndi Stevenson, a St. Johns Republican; and Jay Trumbull, a Panama City Republican.