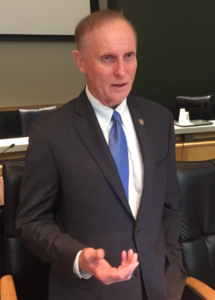 We cannot even get to the halfway point in the Legislative Session without turning to not-yet-developed 2018 races — especially with one Orlando congressional seat poised to become one of the most hotly-contested in the country.
Why?
Orlando is emblematic of Democratic hopes for their party. For the better part of the last few decades, the area has been represented by typical conservative white guys — Bill McCollum, Tom Feeney, John Mica, Ric Keller — and a gerrymandered African-American from Jacksonville (Corrine Brown).
Now, Central Florida has three Democrats: an African-American woman, Val Demings, who was Orlando's first female police chief, former state Senator Darren Soto, who while born in New Jersey his father is Puerto Rican, and the first Vietnamese-American woman elected to Congress, Stephanie Murphy. This is the Obama coalition, the so-called "coalition of the ascendant," led by women, minorities, and young people (both Murphy and Soto are in their 30s).
So, what is the GOP answer?
Frank Torres at the Orlando Political Observer reports that David Simmons, the 64-year old Seminole County state Senator, is considering his first congressional run at an age when most Americans are considering retirement. The move would position Simmons to collect three government pensions: one from Social Security, one from the State of Florida and another from the federal government.
Small government is for suckers.
Simmons' candidacy likely appeals to NRCC operatives who may be inclined to overlook his rather bland, dull, and prematurely aged look in light of his hefty bank account (Simmons is a multimillionaire, by the way).
As it happens, I like a good Republican, particularly of the Jeb Bush type. Every year, I support about as many Republicans as Democrats.
However, can Simmons' compassionate voting record withstand a bruising primary campaign likely to favor conservatives?
In 2014, the Florida Legislature did something I thought impossible: It granted in-state tuition to the children of illegal immigrants. Simmons was an unapologetic "yes" vote. That will make it tougher for Murphy to attack Simmons as anti-immigrant, but harder for Simmons to survive his primary.
Similarly, Simmons backed Medicaid expansion in the Senate — effectively enlarging and entrenching Obamacare — a move that's unlikely to endear him to conservatives but may insulate him from Murphy's attacks.
While I think the personal contrast between the 30-something Murphy and the 60-something Simmons couldn't be starker, policy similarities offer Simmons a fighting chance — if he can make it out of the GOP primary.
OK, enough politics, I'm back to an exciting committee meeting with your elected leaders debating whether the University of Moscow can have a vanity license plate.