A Tallahassee judge sided with life insurance companies Monday, restricting preliminary information-gathering by the state in defense of a new law requiring insurers to track down beneficiaries.
The outside lawyer for the Department of Financial Services, which advocated for the measure, said he plans to appeal the decision that allows only limited discovery.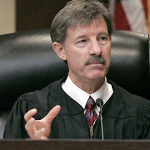 "We believe, respectfully, that what you've done has gutted the case," said GrayRobinson attorney George Meros, representing CFO Jimmy Patronis, to Circuit Judge Terry Lewis. "You've absolved them of their responsibility."
A group of companies sued the state over the law, passed last year, that makes them check annually which policyholders have died, then track down any beneficiaries.
If beneficiaries can't be found, the insurance proceeds must be turned over to the state as unclaimed property.
The bill, a priority of former Chief Financial Officer Jeff Atwater and featured on CBS' "60 Minutes," passed both chambers of the Legislature unanimously and was signed by Gov. Rick Scott. 
The plaintiffs — United Insurance Co. of America, Reliable Life Insurance Co., Mutual Savings Life Insurance Co. and Reserve National Insurance Co. — write policies in Florida.
They're challenging the law's retroactivity as unfair, saying having to track down millions of old death records to find beneficiaries is too burdensome, especially when the law prohibits them from passing along their costs to insureds or beneficiaries.
Plaintiffs' attorneys Carol Lynn Thompson and Barry Richard suggested the law was "facially unconstitutional" because it wrongfully imposes a duty on insurers that they didn't have in the past.
Meros countered that was exactly the point, that the law requires insurance companies to do something they should have been doing all along: Making sure people entitled to life insurance proceeds get paid.
Whether insurance companies had such a duty under previous law remains to be decided.
Still, Meros told Lewis the law's aim is "remedy prior wrongs."
"There were obligations that existed and were not fulfilled," he said.
But the judge—a 28-year veteran of the bench—wasn't buying the department's need for depositions of company employees to prove the law's constitutionality on its face: "I just don't see it … It just doesn't make logical sense to me."