Looking over the thousands of adoring fans who had waited for hours to see him speak, Donald Trump kicked off his 50-minute speech at the Florida State Fairgrounds in Tampa on Saturday morning by comparing his audience to Hillary Clinton's campaign appearance with two of the biggest celebrities in America on Friday night in Cleveland.
"We don't need Jay Z to fill up arenas," he said as the crowd cheered. "I actually like Jay-Z but you know, the language last night? Ohhhh. Ohhhhh."
According to press reports, the famed New York City rapper repeatedly used the n-word and dropped the f-bomb as he performed "F—WithMeYouKnowIGotIt" and his hit "Dirt off Your Shoulder" song at the Cleveland rally – which also featured his wife, Beyonce.
"I like them both," Trump said of the celebrity couple. "But he used language last night that was so bad, and then Hillary said, 'I did not like Donald Trump's lewd language.' I'll tell you what, I've never said what he said in my life. But that shows you the phoniness of politicians and the phoniness of the whole system, folks."
That dismissal of the system, or what Trump and his fans call "draining the swamp," is something what his supporters say they love about him as the end of the 2016 campaign grows near.
"I'm not that political. But seeing what was going on with Hillary, all that WikiLeaks stuff that's coming out, all the corruption that she's been doing. You have to get involved," said Altamonte Springs resident Orisis Register. "It comes to a point where you have to say' enough is enough.' And you have to start getting involved."
Trump's 10:00 a.m. scheduled speech in Tampa (he actually hit the stage at 10:20 a.m) was the first of four scheduled appearances for the day, with later events scheduled in Wilmington, North Carolina, Reno and a 9:30 p.m. local time appearance in Denver, nearly 12 hours after he began his day.
Hillary Clinton, conversely, had only one scheduled appearance on Saturday, in South Florida. That skimpy schedule was duly noted by Trump. "I'm doing five or six of these a day, and Hillary goes home, she goes to sleep," he said. "She doesn't have the energy to do it, believe me."
What Clinton does have that Trump doesn't however, are star surrogates, like Barack Obama, Bill Clinton, Bernie Sanders, Elizabeth Warren and on occasion, first lady Michelle Obama, in addition to running mate Tim Kaine, who was also in the Tampa Bay area on Saturday, appearing in Sarasota in the afternoon and with rocker Jon Bon Jovi in a get-out-the vote effort at the State Theater in St. Petersburg.
Regarding policy issues, Trump pushed hard in his address on the recently announced increase in premiums for a certain percentage of people getting their health care insurance from the Affordable Care Act.
He also criticized Clinton's support of trade deals like NAFTA, the WTO and the Trans-Pacific Partnership (which she no longer supports) as something that he'll reverse when elected, and listed companies that have suffered job losses in the past year, saying that Florida has lost one in four manufacturing jobs since NAFTA was signed in 1994.
Although there is just hours left before Election Day, 30 million Americans have already voted as of Saturday morning, more than five million of them in Florida. There have reports in a large increase in Latino voters, a trend that could portend bad things for Trump, considering that the group Latino Decisions said on Friday that they estimate that 79 percent will vote for Clinton, and only 18 percent for Trump.
"Hispanics for Trump, "Women for Trump," and "Blacks for Trump" signs were distributed to those entering the arena to hear Trump on Saturday, prompting him to talk up his support for the black and brown community.
"That's turning out to be story of this election: the African-American vote," he said, though the story of that demographic to date in terms of the mainstream media coverage is how their voting numbers are down in the post Obama-era.
"How many Hispanics do we have here?" Trump then asked. "That's another story that's turning out to be very big. The Hispanic vote is turning out to be much different than people thought," he said somewhat ambiguously.
Trump went on to familiar tropes, including his criticism of Clinton's support for wanting to bring more Syrian refugees into the country.  "Her plan will import generations of terrorism, extremism and radicalism into your schools and throughout your communities. When I'm elected your president, we will suspend immediately the Syrian refugee program," he said to cheers, adding, "And we will keep radical Islamic terrorists the hell out of our country."
Florida Attorney General Pam Bondi kicked off the morning's activities as the M.C.. A number of other speakers followed, including 80's Saturday Night Live cast member Joe Piscopo, former Notre Dame head coach Lou Holtz and Polk County area Representative Dennis Ross, who's expected to win another two-year term in Congress on Tuesday.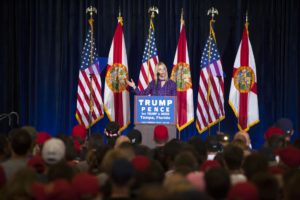 "I did not get elected to surrender this White House to a crook!" said an overly excited Ross, who said the nation's Second Amendment rights "would be taken away from us" with a Clinton victory on Tuesday.
T-shirts such as "Trump that bitch" and "We're going to need a bigger basket" could be prominently seen in the audience.
Longtime Miami Beach political activist Bob Kunst stood in the fairgrounds parking lot with "Trump vs. Tramp" and "Hillary: Liar – Traitor" signs propped in front of his car as early attendees made their way into the arena. A registered Democrat, Kunst said he broke ranks with Hillary a few years ago when she "got in bed with Obama" when it comes to dividing the city of  Jerusalem. He's critical of the Iranian nuclear deal, but he also admitted that Trump is a wild card when it comes to how he might implement any of his policies. But he said it was worth voting for him.
"On the other hand, we know where we're at right now, which is no future, no hope. A disaster. One scandal after another," he said. "Anybody who could go with this woman is just unbelievable."
Kunst says he's been to 38 Trump rallies around the nation. "This is mishmash of people who wouldn't sit in the same room with each other in normal occasions," he said. "The country is in trouble. People are concerned, they're all freaking out. Where are we going with this thing? It seems to be collapsing before our very eyes."
Brockville resident Pat Pimm said he's been backing Trump since last November. Pimm said the number one issue he believed Trump would address is energy, specifically to maintain oil, natural gas and coal into the mix of energy sources for years go to come.
"You gotta get those folks back to work," he said of coal workers. "That's a huge part of our economy. It's wonderful if we have this green economy, but we've got to have the entire works. We can't put the coalminers out of work for the sake of a little green energy. We need it all. It's going to take a long time to transition to green stuff."
When asked if he believed in climate change, Pimm said "The climate's been changing. The climate will always be changng. But I don't think it's changed anymore because of industrialization."
Although Trump is going out west for part of this weekend's campaign activities, he'll be right back in the Tampa Bay area on Monday, with a just announced event taking place at Robarts Arena in Sarasota at 11 a.m.