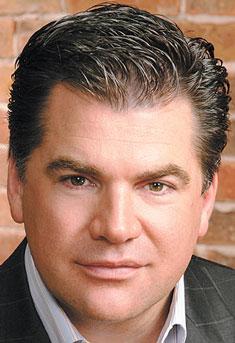 An epic divorce battle years in the making has embroiled Tampa Republican heavyweight Don E. Phillips.
Despite claims of a "devoted family," Phillips and his wife Erin spent the past few years firing off waves of competing lawsuits, complete with dramatic accusations of computer hacking, identity theft, domestic violence, stalking and serial infidelity among others.
A North Carolina native, Phillips, 51, moved to Hillsborough County in 2003 and is the man behind Tampa-based Phillips Development & Realty (PDR), an influential firm building multifamily rental housing throughout the Southeast.
Phillips' personal website describes him as the "son of a real estate developer who died in an airplane crash at the age of 37," and that Don "was inspired by love and admiration for his father, as well as his father's successes in the business, to enter the same career."
PDR's local projects include Tampa's Casa Bella on Westshore, Phillips International Drive, and Tuscano at Suncoast Crossing In Lutz.
As his political stock began to rise, Phillips deftly played both sides of the aisle, switching parties briefly in 2006 to vote for Democrat Al Fox for Congress. His first donation in the Tampa area was 2004, for the County Commission campaign of Bob Buckhorn, a Democrat who would later become Tampa Mayor.
Buckhorn had once called Phillips a "breath of fresh air."
But by 2008, according to a profile by the Tampa Bay Times, Phillips had "raised some expectations that he might be the next Republican power player in Hillsborough County."
"He's certainly stepped up to the plate," said Jim Greer, then-chair of the Republican Party of Florida. "Don is someone who has been a supporter of the Republican Party not only financially, but from a grassroots perspective."
At that time, Phillips' office on the corner of Bayshore Boulevard and Platt Street also housed the John McCain for President campaign headquarters, as well as a satellite office of the Florida Republican Party.
Phillips "donated at least $70,000 to the state Republican Party and GOP candidates," the Times wrote in 2008, resulting in then-Gov. Charlie Crist appointing him to the Tampa-Hillsborough Expressway Authority.
In 2011, Phillips hosted a fundraiser for Pasco Republican Will Weatherford, then a House Speaker Designate. Phillips had also served on the board of Enterprise Florida.
A 2013 article quoted him talking about Tampa socialite Jill Kelley, who had a controversial relationship with Gen. David Petraeus.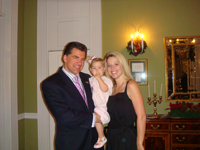 In 2005, Phillips met Erin Rachelle Willmore, now 37. Born in California, Willmore's first marriage was to Cory Allen St. Clair of Rocky Point, North Carolina.
Records show that in 2008, Willmore gave $5,000 to the Heartland Values PAC, controlled by Phillips' hunting buddy, South Dakota Republican Sen. John Thune. The same year, Phillips also donated money to Heartland.
At that time, Phillips and Willmore were engaged and living together in south Tampa with the couple's two-week-old baby and two children from Willmore's previous relationship. Records show Phillips also had another child from an earlier relationship.
The couple married March 2009 at the St. Pete Beach home of prominent family law attorney Joseph Melendi. About two months later they bought home at 5905 Beacon Shores Drive costing about $2.1 million. Erin Phillips gave birth in 2011 to their second child, a boy.
Phillips' personal website promotes him as a "devoted husband" with a "beloved family … of his wife Erin and their five children," Brendan Allen (14), Collin Allan (13), Kodee Renee (8), Cole Edmund (6) and Cooper.
By 2015, however, the Phillips marriage began to show signs of serious strain.
Trouble in the Phillips household began in April 2012, when Don Phillips pleaded "no contest" to leaving a child unattended in a vehicle; he was also arrested for DUI July 2013. At that point, Don was serving on the Tampa Hillsborough Economic Development Corporation and applied for a seat on the Hillsborough County Aviation Board.
On New Year's Eve 2014, Erin Phillips surrendered her stake in the couple's marital home, leaving Don as the sole owner.
In the first of two divorce proceedings, filed Jan. 9, 2015, Erin claimed Don promised to pay Erin $300,000 plus interest in early 2020 in exchange for her relinquishing her interest in the home.
Documents show the couple entered a settlement agreement, but Erin countersued Don, asking the court to set aside the settlement. Erin Phillips argued that she signed the agreement "under duress, coercion, overreaching by Husband," a result of "fraud" and "deceit." Erin added that the agreement was "manifestly unfair" since she was unaware of the extent Don's assets, income or liabilities.
In addition, Erin claimed Don held tight control of finances; her job was to be a full-time homemaker, caregiver and to go with her husband to "events and business functions."
Erin said it was indeed her who had asked for the divorce Dec. 12, 2014. After that, she said Don began to "stalk and harass" her. She also alleges that as Don tried to get her to reconcile, he warned of "consequences" if she continues with the divorce — threatening both suicide and "the life of a third-party" with whom Erin turned to for emotional support.
She also called Don a "serial philanderer," having numerous affairs during their marriage and spending money on "paramours," which included renting apartments for them and "lavishing them with expensive gifts."
By March 2015, the Phillips agreed to postpone the divorce for two months; the court dismissed the case June 30, 2016, for lack of prosecution.
Nevertheless, by August 2016, the Phillips were back in divorce court, with Don filing this time in a case that is now ongoing. While Don requested the filings be placed under seal, court dockets show the case proceeding in a way similar to the first attempt — Erin again countersuing and asking the court to set aside the marital settlement agreement.
In a domestic violence injunction petition filed Jan. 26, 2017, Erin Phillips accused Don of hacking into her email, spying on her communications, including those with her attorneys; stealing her identity to get text messages and call histories from AT&T; putting a tracking device on her car, and installing tracking software on her computer.
The petition also alleges Don had "over 100 fire armes [sic]" saying he had made her feel she as if she was "in imminent danger of becoming a victim of domestic violence."
A recent lawsuit, filed April 18 in Hillsborough County court, by PDF Assets of Florida — a company controlled by Don Phillips — accused Erin Phillips of gaining unauthorized access to corporate emails and digital records. The "presumed intent was to unlawfully gain leverage in the divorce proceedings to which she is a party, and to conduct unlawful clandestine unilateral discovery."
The lawsuit seeks an injunction, as well as the return of all "misappropriated" information, and attorney's fees.