Florida Gov. Rick Scott on Wednesday ordered flags at half-staff for U.S. Marine Corps Capt. Jeff Kuss.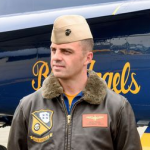 Kuss was a pilot in the Blue Angels, the Navy's elite flight demonstration squad.
He died last week when his jet crashed during a training flight in Smyrna, Tennessee, according to The Associated Press.
The governor ordered the U.S. and state flags to be lowered in Kuss' honor at City Hall in Pensacola, where the Blue Angels are based, and at the state Capitol in Tallahassee on Thursday.
Kuss was beginning to take off during an afternoon practice session for the Great Tennessee Air Show when his F/A-18 jet crashed, the AP reported.
Kuss was a native of Durango, Colorado. He was commissioned a second lieutenant in the U.S. Marine Corps in 2006. He joined the Blue Angels in September 2014.
Kuss logged over 1,400 flight hours and was awarded the Strike Flight Air Medal, the Navy and Marine Corps Achievement Medal, and various unit awards.