Former state Sen. C. Welborn Daniel died Wednesday, according to an announcement from the Florida Senate. He was 90.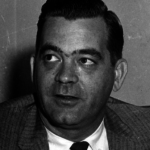 Daniel, a Democrat, served in the House representing Lake County 1957-63, then in the Senate representing two different districts in 1965-66 and 1968-72.
A memorial service will be held 11 a.m. Tuesday at First United Methodist Church of Tavares, 600 W. Ianthe Street, in Tavares.
A lunch reception and family visitation will follow in the activity center of the church, according to a Senate memo.
In lieu of flowers, Daniel's family asks that memorial contributions be made to Cornerstone Hospice of Tavares or Lake Sumter State College Foundation in Leesburg.
Condolences may be sent to: Mrs. C. Welborn Daniel, 1805 Tweed Court, Scottish Highlands, Leesburg, FL 34788.