At the site of the future Manatee Solar Energy Center in Parrish, Florida Power & Light executives, environmentalists, state and local officials cheered as a groundbreaking ceremony significantly changed the dynamics of solar power in the Sunshine State.
At 10:50 a.m. Thursday, FPL President and CEO Eric Silagy and Agricultural Commissioner Adam Putnam flipped the switches on dual Tuchi pile drivers to start the next phase of a 10-plus-year vision for innovation by the Sunshine State's largest energy provider.
The Manatee Solar Energy Center is part of FPL's plan to install 1 million solar (photovoltaic or PV) panels at three new large-scale sites by the end of 2016.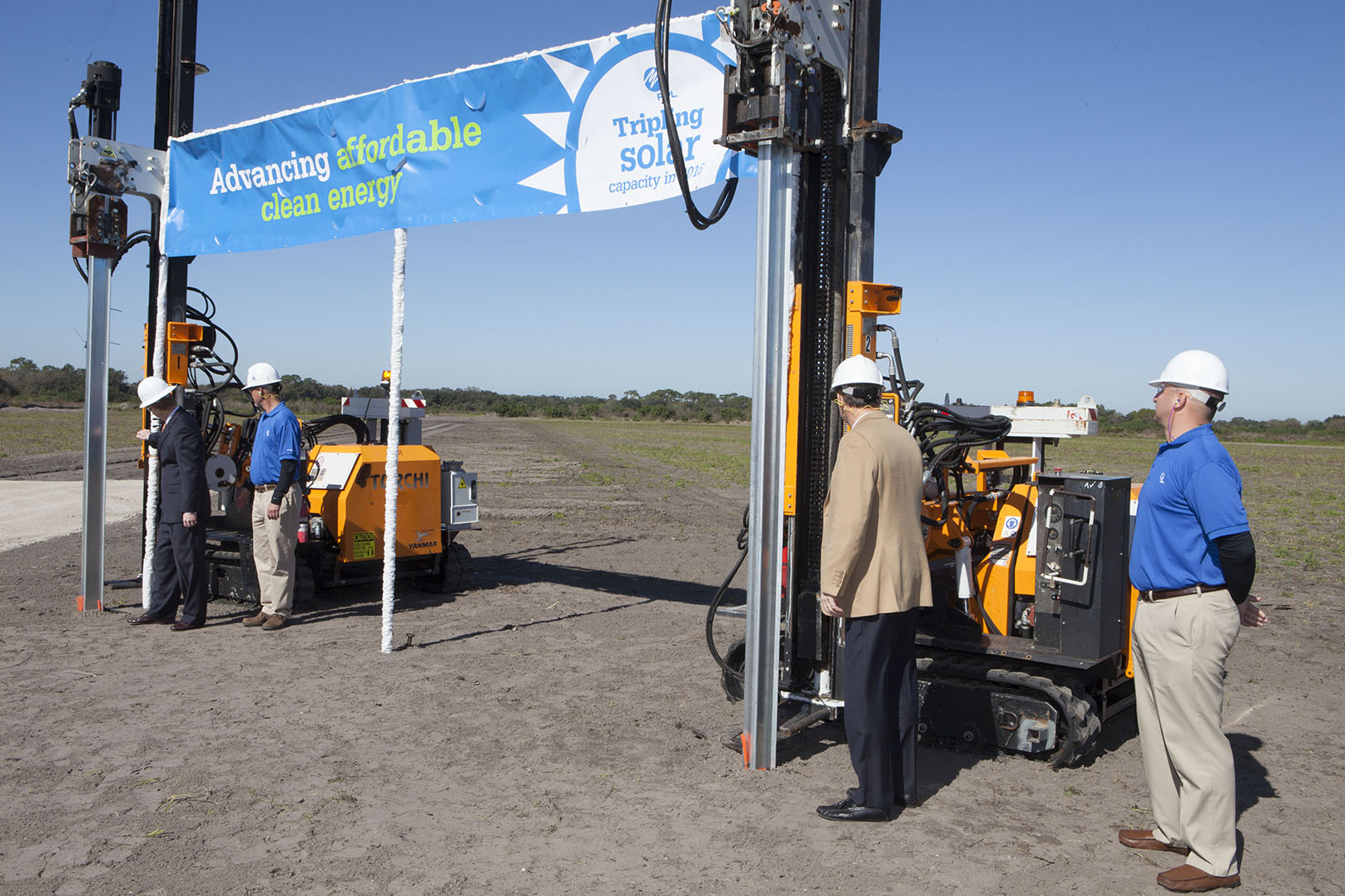 FPL's other two large solar power facilities are breaking ground in DeSoto and Charlotte counties.
Ranked 10th nationally for cumulative solar generation by the Solar Energy Industries Association with 251 megawatts (enough to power 29,000 homes), Florida trails states fueled by much less sun such as fourth-ranked Massachusetts and sixth-ranked New Jersey.
California, North Carolina, and Nevada make up the top three.
Of the Sunshine State's 251 megawatts, FPL now provides 110. The addition of its three new proposed solar power plants will add nearly 225 megawatts of new solar power, advancing Florida significantly in the solar energy market.
In 2014, Florida installed 22 megawatts of solar electric capacity, ranking it 20th nationally for new installations. FPL anticipates about 250 construction jobs. Florida's 420-plus solar companies support nearly 4,800 employees.
The amount of electricity generated by U.S. utility-scale photovoltaic power plants, such as the Manatee Solar Energy Center, rose more than 100-percent in 2014 over the same period in 2013.
In Florida, the average installed residential and commercial photovoltaic system prices have fallen by 32 percent in the last year. Nationally, prices have dropped steadily — by 6 percent from last year and 53 percent from 2010.
Industry officials attribute several major factors for the solar power surge including the eight-year extension of the Investment Tax Credit for renewable energy — part of the 2008 Bush economic bailout package, the steep decline in the price of photovoltaic power generation and the Obama administration's pro-solar policies.
When President Barack Obama sent his final budget proposal to Congress on Tuesday, more than $47 billion of $4.1 trillion in proposed spending would be spent on programs related to the environment and climate change.
His proposed budget also calls for a doubling of current spending on clean energy research, from $6.4 billion to $12.8 billion in 2021.
The majority of those budget proposals aren't expected to pass through the Republican-controlled Congress but advocates cheer the efforts and awareness clean energy is perpetuating.
As Florida's largest investor-owned utility company, (Duke Energy, Tampa Electric, and Gulf Power follow accordingly), solar power is still not cost-effective in Florida.
FPL representative Alys Daly said that over time, its solar centers will be cost-effective because of  essential infrastructures such as transmission lines and substations from existing power stations. FPL also bought their million-plus panels in bulk.
Citing customer power costs at 30 percent lower than the national average, Daly said customer rates dropped four times in the past 16 months and are lower than 10 years ago.
FPL leads the nation progressively in clean energy generation beginning with its Martin Next Generation Clean Energy Center in western Martin County. When it opened in 2010, it was the first-of-its-kind "hybrid" solar facility in the world.
With solar arrays and centers across the state, FPL continues to advance in public-private partnerships including solar installations including NASA and Daytona International Speedway, among others.
In 2010, FPL installed PV panels at Kennedy Space Center, where it feeds enough power into the state's electric grid each year to power more than 1,100 homes.
This April, FPL plans to go online with more than 7,000 solar panels at Daytona International Speedway, generating 2.1 megawatts.
The Air Force and Navy, in partnership with Heliosage Energy and Gulf Power Co., are developing solar facilities at three Florida sites, including Eglin Air Force Base in Okaloosa County. Duke Energy has also partnered with Disney to run a 5-megawatt facility that will provide solar power to Disney World.
At the groundbreaking ceremony was Syd Kitson, a former NFL player and CEO of Kitson & Partners.
Kitson, in partnership with FPL, broke ground on his proposed town of Babcock Ranch in Southwest Florida.
Kitson & Partners purchased a 91,000-acre ranch from the Babcock family in 2006, immediately selling a majority to the state as part of the largest single land preservation agreement in Florida history. Kitson retained 18,000 acres and in partnership with FPL, is building a 400-acre on-site solar photovoltaic power plant that will generate enough energy for the proposed 19,500 residences. The proposed 75-megawatt FPL Babcock Ranch Solar Energy Center will be one of the largest solar energy plants in eastern U.S. and on track to become the world's first new town powered primarily by the sun.
"Projects like Babcock Ranch are what are going to attract young millennials: the dreamers, the builders, the innovators," Putnam said. "When they can become passionately invested in a sustainable community, they will continue to move to Florida as long as we keep the innovation going."