The tegu lizard is dead to Frank Artiles.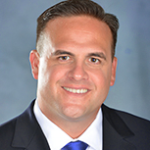 The Republican state senator from Miami-Dade County filed legislation (SB 230) Tuesday to eradicate the non-native reptile from Florida.
The lizard is "decimat(ing) the fauna and flora of the Everglades and other natural areas and ecosystems in the southern and central parts of this state at an accelerating rate," the bill says.
Tegus, native to South America and brought to Florida as pets, have either escaped or been released over the years, creating new wild populations in Miami-Dade and Hillsborough counties, according to the Florida Fish & Wildlife Conservation Commission.
"Monitoring these populations and stopping the spread of this species is vital to maintaining Florida's native wildlife," an FWC brochure says. "Scientists are concerned that tegus will compete with and prey upon Florida's native wildlife, including some threatened species."
Artiles' bill will set aside $300,000 over two years from the state's Land Acquisition Trust Fund for the FWC to create a pilot program, which would use "strategically deployed hunting teams" – or lizard hunters.
Such teams would hunt in the Everglades and Francis S. Taylor Wildlife Management Area "and all other state lands managed by the commission," the bill says.
"The commission is authorized to enter into memoranda of agreement with other state and local entities to be permitted to deploy teams of hunters in other state and local natural areas," it adds. "The commission is directed to seek permission from the National Park Service to deploy hunting teams in the Everglades National Park."
The measure also would require the FWC to "submit a report of findings and recommendations" on the pilot program to the governor and lawmakers by Jan. 1, 2020.