Sen. Greg Evers is running for Florida's 1st Congressional District seat left vacant by retiring U.S. Rep. Jeff Miller.
Evers filed his candidacy paperwork with the Federal Election Commission on Monday. He had made a formal announcement in Milton.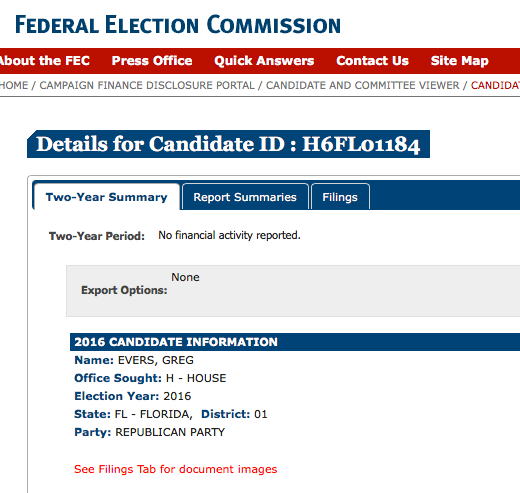 Evers' move to jump into the race for the deep-red Northwest Florida seat sets up a contentious GOP primary race against Rep. Matt Gaetz, who filed for the seat in March.
The decision comes after the hometown Northwest Florida Daily News reported Evers was favored against Gaetz in polling among "extremely likely" Republican voters in CD 1, a sprawling western Panhandle seat anchored in Pensacola.
Evers garnered the support of 23 percent of respondents of the poll conducted by Citizens for a Just Government, while Gaetz came in second in a hypothetical five-way matchup with 13 percent, though more than half of voters remained undecided at this early stage. In a head to head, Evers was favored 25-14.9 over Gaetz, according to the poll.
Evers will forgo his final two years of eligibility in the Legislature to run for the congressional seat, as did Gaetz. Both were set to hit term limits in 2018.
A farmer and small-business man from the Santa Rosa County city of Milton, Evers is known as one of the most conservative and rural-friendly lawmakers in Tallahassee.
During his career, Evers championed numerous bills on abortion and other issues of concern to social conservatives. In 2016, he sponsored bills to require a written note for a child to be exempt from saying the Pledge of Allegiance, urging Congress to make a formal declaration of war against ISIS and ISIL, to allow police to install tracking devices on suspects' property as part of an investigation.
Gaetz said Wednesday he isn't fazed by the poll showing he is at a disadvantage in the race against Evers.
"I relish the role of the hardworking underdog," Gaetz. "No matter what the polls say, I plan to campaign every day like I'm 20 points behind."
The race may be decided partly along geographical lines. Gaetz is from Ft. Walton, in the district's more sparsely-populated east, whereas Evers has legislative offices in both Pensacola and Milton, nearer CD 1's center of gravity.
Gaetz will, however, bring a sizable war chest to the race. He raised some $350,000 in his first ten days on the campaign trail, including $100,000 in personal funds.
Besides Gaetz, other Republicans listed by the Florida Division of Elections as active in the race for CD 1: Air Force veteran Steven Specht, Navy veteran James Zumwalt; Retired USMC Officer Cris Dorsey; retired Navy Captain Brian Frazier; John Mills; and Mark Wichern, owner of a water damage remediation business.