Jason Allison, Florida's Chief Information Officer, has told Gov. Rick Scott he is resigning.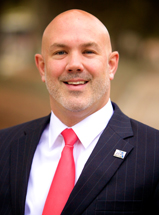 Allison's letter, dated Monday, was released Friday by the Agency for State Technology, which Allison heads. News of his departure was exclusively in Friday's edition of SUNBURN.
"My years directing the Agency … and my prior service as your Technology Policy Coordinator have been some of the best in my life," he wrote. "I cannot thank you enough for all of the opportunities and experiences you have provided me during my time in your administration."
Allison's letter says he is resigning effective March 7 – the first day of the 2017 Legislative Session. A news release sent Friday from Foley & Lardner says he is starting with the law firm the next day as a "director of public affairs in the Tallahassee office."
A number of former Scott appointees now work at the firm, including Jon Steverson, former secretary of the Department of Environmental Protection, and his predecessor at the department, Herschel Vinyard.
Others who have recently worked for Foley are former Department of Economic Opportunity head Jesse Panuccio, now at the U.S. Department of Justice under President Donald Trump, and Karen Bowling, who co-founded the Solantic walk-in urgent care centers with Scott. She was a Foley lobbyist before becoming CEO of a Jacksonville-based health care tech company.
"Jason is highly skilled at managing the creation, implementation and maintenance of information systems in highly structured and unstructured environments. His deep understanding of government operations and IT issues, combined with his years of experience in the public and private sectors, will tremendously benefit our clients," David Ralston, chair of the firm's Government & Public Policy Practice Group, said in a statement.
Allison added: "After spending most of my career dedicated to public service in the technology sector, I am eager to return to private practice with an esteemed group of professionals … Foley's Government & Public Policy Practice is well known for its outstanding advocacy and counsel to clients, and I look forward to helping advance that effort."
Under state law, he would not be able to lobby his own agency for two years after leaving. "No … appointed state officer … shall personally represent another person or entity for compensation before the government body or agency of which the individual was an officer or member for a period of 2 years following vacation of office," the law says.
The Agency for State Technology, which replaced the predecessor Agency for Enterprise Information Technology, was created by lawmakers in 2014. Allison was appointed its head that Dec. 9. He is paid $130,000 a year.
"The Chief Information Officer sets information technology (IT) policy and direction for the State of Florida," the agency's website says. "The State CIO is an advisor to the Governor on technology issues."
In a statement, Scott said Allison "has done an outstanding job."
"Under his leadership, Florida has made impressive strides to enhancing state IT operations," Scott said. "I want to thank Jason for his dedication to the State of Florida and wish him the best in his future endeavors."
Eric Larson, now the state's Chief Technology Officer and AST's Chief Operations Officer, will become Interim Executive Director and Chief Information Officer, according to a statement from the Governor's Office. Larson has been with the agency since 2014.
Allison also has been Chief Information Officer for the Florida Department of Business and Professional Regulation, his online bio says. "Jason has more than 13 years' experience in various facets of information technology and holds many industry certifications in areas such as IT process management, project management, security, and network administration," it says.
He received an undergraduate degree in international affairs from Florida State University.
Allison leaves a month after his agency was dinged in a report by Florida Auditor General Sherrill F. Norman's office that found security and record-keeping lapses.
Ed. Note: An earlier version of this post relied on a previous press release that mistakenly said Allison would start next Monday. The date is now correct in this version.