Jose N. Vazquez Figueroa blames "mental fatigue" for his missing a hearing in his own lawsuit challenging state Rep. Dan Raulerson's re-election this year.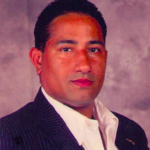 Vazquez may have even more on his mind: The Florida Elections Commission now is suing him for unpaid fines levied for campaign finance reporting irregularities from his unsuccessful 2014 campaign.
"Something's wrong in Tallahassee," he said in a Monday morning phone interview. "I don't know whether they have something against candidates of the Democratic party or something against Hispanics or something against Jose Vazquez."
Vazquez, who is representing himself, is seeking to disqualify Raulerson, a Plant City Republican, from his House District 58 seat. Vazquez was his unsuccessful Democratic opponent.
The suit says Raulerson's notary had incorrectly used "correction fluid" on his filing paperwork. The state's notary manual says no correction fluid of any kind is allowed on notarized documents.
Specifically, Vazquez has said Raulerson's notary "improperly completed" his paperwork by whiting out the date on her notarization of his financial disclosure, changing it from an April to a June date.
He sued Hillsborough County Supervisor of Elections Craig Latimer; Secretary of State Ken Detzner, the state's chief elections officer; and Kristi Reid Bronson, records bureau chief for the Division of Elections, faulting all of them for not catching the error and allowing Raulerson to run in the first place.
But Vazquez missed a hearing last Wednesday in which he was supposed to explain why he should win his suit based on his initial filings.
He told FloridaPolitics.com he was "fatigued" and distracted by family problems and simply got his dates confused. He said he is going to request another hearing date.
But Vazquez now also is a defendant in a separate suit filed last week in Leon County. State election officials say he never paid $250 in fines from not filing required campaign reports from his 2014 run for Raulerson's seat. Raulerson was first elected in 2012.
Those violations occurred despite Vazquez not raising or spending any campaign money. State law still requires notice that a report won't be filed, which Vazquez never provided, records show.
"I don't have any problem paying the fine," he said. "Look, everybody thinks I commit errors, but I know what I'm doing."