Ken Lawson, the new head of VISIT FLORIDA, is telling supporters he won't give up the fight for the state's embattled tourism marketing agency.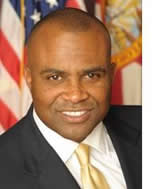 In an email, Lawson thanked the tourism industry for showing up to a House hearing this week where the Careers and Competition Subcommittee cleared a measure to eliminate the agency, the Enterprise Florida economic development organization and dozens of state incentive programs.
"You showed up to help and your voice was heard," Lawson said. "… I could not be prouder of the way the industry has rallied to make a difference.
"I want to assure you that VISIT FLORIDA will continue to fight," Lawson added. "I have already begun meeting with each and every legislator to ensure they know that VISIT FLORIDA serves a vital role in marketing destinations large and small in every community of this great state, and that a reduction in our public funding would mean the loss of tax revenue and jobs that benefit their constituents. Constituents just like you."
Lawson, who was tapped to lead the agency by Gov. Rick Scott after his time as secretary of the Department of Business and Professional Regulation, asked supporters to "call or email your legislators to let them know you support VISIT FLORIDA and oppose the bill."
"Be sure to tell them how you and your business benefit from working with VISIT FLORIDA – those personal and local examples are what really make the difference," he said. "We are in this fight together."