Kim McDougal is leaving as Gov. Rick Scott's chief of staff effective July 1, according to a Monday press release.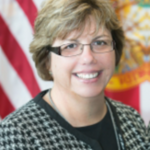 McDougal, who's been in the position since April 2016, "will be pursuing opportunities in the private sector," the release said.
"Over the last year, Florida had its fair share of tragic events including two hurricanes, the terrorist attack at Pulse Nightclub, and the shooting at Ft. Lauderdale Airport," Scott said in a statement. "During these tough events, Kim has led my team through crisis and helped ensure we did all we could to help Florida families during these dark hours.
"Despite these challenges, we have also had great success this year, and she has worked every day to make sure Florida remains the top place for families to succeed and live their dreams," he said. "Kim is a statewide leader in education policy and has played a tremendous role in guiding the education policies I have fought for while in office, including providing record funding for our students, keeping higher education affordable and expanding school choice options.
"Kim has proudly served Florida families for nearly three decades and her years of experience will be missed in my office. I know she will continue to do great things for our state."
In the same statement, McDougal said, "It has been my absolute pleasure serving Florida families for almost three decades. It truly has been an honor to wake up every day and fight for policies that will make a difference in our families' lives.
"Governor Scott is focused on making Florida the top place to get a great job and education, and I was honored to help work on policies to make Florida number one in the nation for families."
McDougal was Scott's fifth chief of staff since he took office in 2011, following, in order: Mike Prendergast, Steve MacNamara, Adam Hollingsworth, and Melissa Sellers (now Stone).
Our story from March 2016 when McDougal was hired is here.
Here's more from the release:
McDougal, 54, began her public service with the State of Florida in 1989 and served in each role as an at-will state employee. McDougal has served as Chief of Staff since April 2016 and prior to that, she served as Governor Scott's Deputy Chief of Staff, Legislative Affairs Director and Education Policy Coordinator. McDougal also served on his successful reelection campaign as a policy advisor.
McDougal has previously served in numerous leadership roles at the Department of Education, including Governmental Relations Director and Senior Policy Advisor for several Commissioners of Education. McDougal also served Governor Jeb Bush and in the Office of Program Policy and Government Accountability in the Florida Legislature.
She earned her bachelor's degree from Tulane University and her master's and doctorate degrees from the Florida State University College of Education. She graduated from the Louise S. McGehee High School in New Orleans, Louisiana. She has resided in Tallahassee since 1984.