Former state Senator Jeremy Ring, the only official candidate in the 2018 race to be Florida's Chief Financial Officer, has just completed a book about his experiences working as a founding member of Yahoo.
Ring said Monday he plans to publish his book this fall.
"We Were Yahoo" will describe how the Silicon Valley-based company changed the world twice, Ring told a couple of dozen supporters who gathered to learn more about him at an appearance at the University Club in downtown Tampa.
"The first time on the way up it pioneered the entire digital information age, and everybody knows that, but on the way down the major missteps of that company allowed Facebook and Google to grow and mature and become the companies that they were," he said.
Ring said that Yahoo executives twice rejected buying Google before the search engine company had fully blossomed in the early aughts. The second time, he says, Yahoo could have purchased Google for $6 billion, but only offered $3 billion (Shares in Alphabet, the holding company that includes Google, went over the $600 billion mark in April)
Ring says that once the book is published, he "anticipates going on a significant book tour" which should be a nice boost for his candidacy.
Among the functions of Florida's CFO are carrying out the state's accounting and auditing functions, investigating fraud, regulating cemeteries and funeral homes, and licensing insurance agents and agencies.
Those aren't the sexiest issues to campaign on, and one shouldn't expect to hear Ring drone on about them. Instead, he's using his candidacy as a platform to discuss a philosophical shift in Florida by creating an "innovation economy."
"When people in Tallahassee talk about economic development, they're not thinking about building the next Google, the next Apple. They're thinking about how do I give X amount of money to create jobs," he said. "I want to change the entire mindset."
Among those in attendance included Democratic state Representative Sean Shaw, Hillsborough County Republican County Commission candidate Aakash Patel, and three members of the Tampa City Council: Yolie Capin, Mike Suarez and Harry Cohen, who introduced Ring by saying that while the job of CFO may not be at the top of most voters radar screen, "I beg of everyone else to remember, that it is one of four votes on the Cabinet in the state of Florida, and right now, we don't have any one of those votes."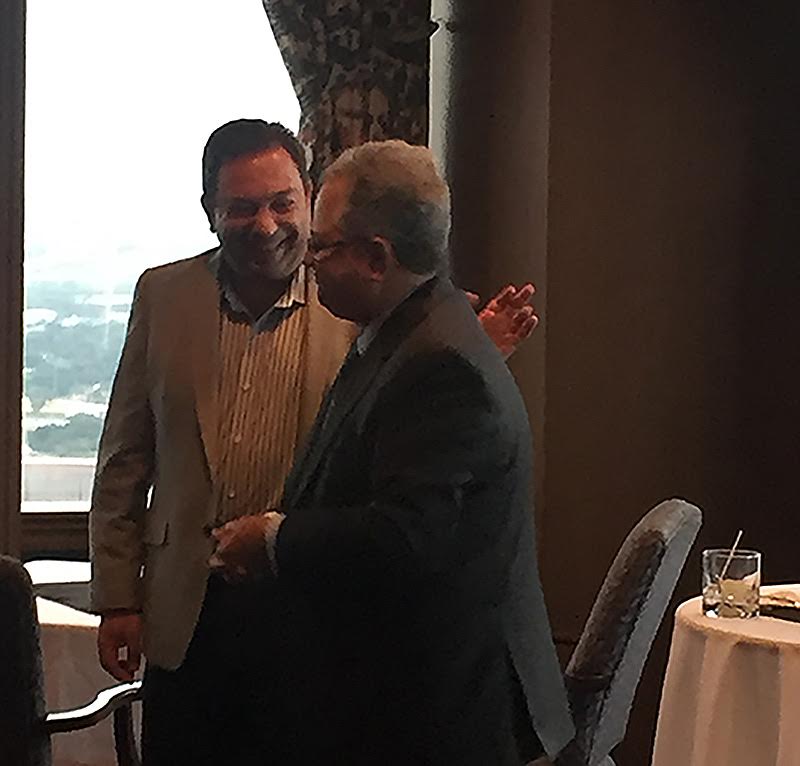 "A lot of us believe that he will make an excellent addition to the leadership in Tallahassee," Cohen added.
Although the CFO's job isn't really a partisan one, Ring bemoans the fact that it is one. Certainly, his message of attempting to bring Silicon Valley values to Florida is theoretically a universal one among those who want to see the state's economy diversify.
"How do we bring together great colleges and great ideas that students have, with early stage incubation that is helping in on business planning, executive recruiting, proof of sales, accounting, legal, other governance?" he asked the audience. "How do we find early gap funding? How do we find institutional capital for early funding? How do we create this entire innovation ecosystem?"
Although Ring is a multimillionaire, he said he does not intend on self-funding his campaign. Having said that, he says the question of whether he wins or loses the race won't come down to money.
The "ask" he made of his supporters on Monday night was that they spread the word about his candidacy.
"Deliver my message to everyone you know," he said, referring to the fact that Florida is a state with 20 million people, most of whom won't be thinking about who the next CFO will be until they get the ballot in their hands next summer.
While Republicans have been filing for other cabinet positions over the past couple of weeks, no one has filed to run yet for CFO. Ring attributes that to the fact that Governor Rick Scott is expected soon to select a Republican to fulfill the remaining term of current CFO Jeff Atwater. Atwater was scheduled to leave the job to move on to another position at Florida Atlantic University after the legislative session was completed.
The Florida Legislature returns on Wednesday for a three-day special session, and there is the possibility they could return again before July.