The man authorities say killed five former co-workers and then himself early Monday morning in an Orlando business came in knowing who he wanted to kill and let at least one woman not on that list get away.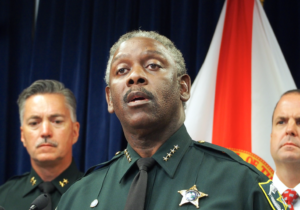 Orange County Sheriff Jerry Demings said John Robert Neumann Jr., 45, whose hometown has not yet been disclosed, slipped in through a rear door of Fiamma and encountered a new employee, a temporary employee, who was not working there when Neumann was fired a few weeks ago in April.
"He pointed a firearm at her and told her to get out of the business," Demings said.
There had been eight people in the building whom Neumann did not shoot, including one who was an outside vendor.
"He was certainly singling out the individuals he shot," Demings said.
In a matter of a few minutes, Neumann had killed Robert Snyder, 59, Brenda Motanez-Crespo, 44, Kevin Clark, 53, Jeffrey Roberts, 57, and Kevin Lawson, 47, at the Fiamma facility on Forsyth Road, just north of the Hanging Moss Road intersection in east Orange County.
Neumann reloaded his handgun at least once along the way, moving through the large warehouse-type facility that Demings called a fairly extensive crime scene, shooting people in different locations on the floor. Neumann shot them in the head or shot them multiple times.
All five people shot have died, including one of the men who died after being rushed to Orlando Regional Medical Center.
At least one of the victims was shot in another part of the building.
Numerous 911 calls had gone out. Demings said he did not know how many. In just over two minutes after the initial call, sheriff's deputies began arriving. As soon as they had enough – three – they went inside, using all their training and experience for dealing with active shooters in a city where, horribly, mass shootings have happened before, Demings said.
Apparently, Neumann shot himself before the deputies could encounter him. At least one witness — one of the eight survivors — told Sheriff's detectives that she could hear the sirens arriving, and then Neumann shot himself, Demings said.
Neumann apparently was a lone gunman, and Demings said there is no indication that anyone else was involved "in a plot."
Neumann is a veteran of the U.S. Army who received an honorable discharge in 1999 and who had worked at Fiamma for some time before he was fired in April, Demings said.
"All of the indications that we have at this time, this individual lived alone, has no family here in this area. We are trying to understand as much about him as we possibly can," Demings said.
Though Demings and other authorities have been broadly characterizing the shooting as that by a disgruntled former employee, Demings stopped short Monday afternoon of offering any specific motives for the specific victims.
"We have information that at least one of them had a negative relationship with him, but he was certainly singling out the individuals that he shot," Demings said.
The sheriff's office is seeking a search warrant in another jurisdiction to search his home, Demings said.