One of the most unexpected moments of Monday night's Senate debate between Marco Rubio and Patrick Murphy was when Rubio said Murphy posted a photo on Facebook four years ago showing him groping a woman. "That's inappropriate behavior!" he charged at Murphy, who appeared startled by the reference.
On Tuesday, Murphy dismissed the allegation.
"When Donald Trump goes low, Marco Rubio goes lower," the Democratic nominee said, paraphrasing Michelle Obama's line regarding Trump. "This is a picture from my college girlfriend I dated for four years. We were at dinner." He went on to say that it showed how "desperate" Rubio was to change the subject from his endorsement of Trump. "It was very clear to me how uncomfortable Marco Rubio was to me when he was talking about Donald Trump, and somebody who's bragging about sexually assaulting women. It's unbelievable to me."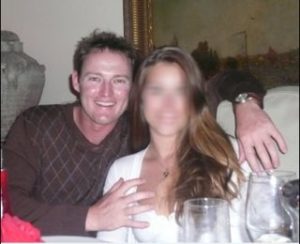 The Rubio campaign isn't backing down, however, calling Murphy a "hypocrite."
"Murphy was photographed groping a woman, and then he posted it on Facebook because he was proud of it," said Rubio campaign spokeswoman Olivia Perez-Cubas. "When Marco pointed out Murphy's hypocrisy, Murphy tried to change the subject instead of taking responsibility."
On Tuesday it was reported the Democratic Senate Campaign Committee (DSCC) was canceling ads originally intended to run on Murphy's behalf. Perez-Cubas said that's because Murphy is a "flawed candidate."
"It's entirely possible that the national Democratic Party abandoned Murphy because they saw this photo on his Facebook page and realized he was a hypocrite," she said. "We saw this photo the same way everybody else saw it: Murphy had it up on his Facebook wall before he ran for Congress. There are no excuses for disrespecting women. There are no excuses for bragging about it on social media. Murphy's behavior was not appropriate then, and he still doesn't understand that now."
Murphy attempted throughout the one-hour debate to link Rubio with Trump, something he's done with regularity ever since the GOP presidential nominee's remarks about groping women went global earlier this month. But that link hasn't appeared in polling so far to have deleteriously affected Rubio's consistent lead in the polls (that might be changing though. A Quinnipiac survey out Tuesday shows Rubio only up by two percentage points, 49 percent to 47 percent).
Murphy appeared early Tuesday morning at a West Tampa storefront office used by the Hillary Clinton campaign in what was billed as a "roundtable" with leaders from the Tampa Hispanic community. Murphy has been working hard on breaking through to Latino voters, where he's not nearly as well known as Sen. Rubio. In Monday night's debate, Rubio accused Murphy of being unconcerned about immigration issues until the past four weeks, because he's trying to become better known with Hispanics.
"It's another false attack by Sen. Rubio," Murphy said on Tuesday, adding that he's talked about comprehensive immigration reform since he first ran for the Florida House in 2012. "I'm never going to turn my back on immigration reform and those who trust me to serve them in Washington the way that Marco Rubio did." That was a reference to how the Florida Republican was originally a member of the "Gang of Eight" bipartisan group of senators who worked to draft a plan for comprehensive immigration in 2013, before he turned against it.
However, Murphy knows he's still working to get better known, and time is running out. "My name ID right now is 55 percent" he told the audience. "We have to continue getting out message out."
Among those attending were Tampa City Council members Mike Suarez, Guido Maniscalco, and Charlie Miranda, former Congressman Jim Davis, and Frank Sanchez, a former Tampa mayoral candidate who now resides in Washington with CNS Global Advisors.
After Monday night's debate, some reporters seized on Rubio's admission he would commit to serving a full six-year term if elected next month, but Murphy wasn't convinced. When asked explicitly if he'd serve a full term, Rubio repeatedly said, "I'm going to serve in the Senate for the next six years, God willing."
But when pressed if that meant he wouldn't run for president in 2020, Rubio repeated that, "'Not only am I going to . . . serve in the Senate over the next six years, we're going to get a lot done, God willing, over the next six years on behalf of the state.'"
"Hard to tell what he said because he wouldn't say he's not going to run for president, " Murphy said on Tuesday. "When pushed on that, he couldn't answer the question."
Rubio pivoted on Trump at one point in Monday night's debate by saying that at least he hasn't done business with Trump, referring to how Murphy's father Tom's business — Coastal Construction built luxury high-rises that bear the billionaire's name.
Murphy says that it's a false allegation, because Coastal Construction works with developers. "Donald Trump had nothing to do with it," he said. "It was a licensing agreement. We have nothing to do with that. We work with the developer. What the developer names the building has nothing to do with us. We've never had a single contract with Donald Trump."