More evidence that you can't keep a good man down: Former Palm Beach Post capital correspondent John Kennedy is now The FLORIDA Channel's newest on-air reporter.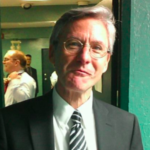 "We are very pleased that John's solid, well-tested reporting skills will continue to help Floridians understand the workings of state government and the decisions made in Tallahassee," Beth Switzer, its executive director, said Tuesday. Kennedy started this week.
The New Haven, Connecticut native has been reporting in Tallahassee for decades; he also was the Orlando Sentinel's Tallahassee bureau chief from 1998-2008.
"He is a very even-keeled, talented professional and a welcome addition to The FLORIDA Channel team," Switzer added.
Kennedy had been let go by the Post just before Christmas last year as the newspaper shuttered its Tallahassee bureau in a refocusing on local coverage.
The FLORIDA Channel, based in the Capitol, "is a public affairs programming service funded by The Florida Legislature and produced and operated by WFSU-TV," according to its website.
"It features programming covering all three branches of state government, and is Florida's primary source for live, unedited coverage of the Governor and Cabinet, the Legislature and the Supreme Court."
Kennedy, who was on deadline Tuesday and unavailable for an interview, will be a general assignment reporter.