Karl Rasmussen, Gov. Rick Scott's deputy chief of staff, is departing the Governor's Office for a lobbying job at the Meenan Law Firm, name partner Tim Meenan confirmed Friday.
"Watching him from afar, I noticed he is one of the stars in the Capitol," Meenan said in a phone interview. "He's quiet, diligent and effective—the first thing you notice about him is his calm demeanor."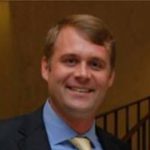 Rasmussen, a deputy chief of staff since late 2014, will focus his lobbying efforts in some of the same subject areas he now covers for the governor, including environment and health care, Meenan said.
Rasmussen was previously the Director of Cabinet Affairs for Scott, according to his resume. Before that, he served as Assistant Director of State Lands, Director of Cabinet Affairs and Cabinet Affairs Liaison at the Florida Department of Environmental Protection.
He'll be subject to the state's 2-year lobbying ban on former employees, Meenan said, meaning Rasmussen can't immediately lobby former colleagues at the Executive Office of the Governor.
"What clients look for are effective solutions to their problems," Meenan said. "I think Karl bolsters our ability to really reach into a large number of state agencies and the Legislature."
He begins as a government consultant for the firm on June 28.