Mayra Macias has returned to the Florida Democratic Party as political director.
FDP Chair Allison Tant announced the hire Thursday; Macias started July 19.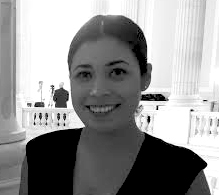 "Mayra's talent and ability have played a crucial role in helping us win races across the state," Tant said in a statement. "Her work to empower communities and build winning coalitions has been a source of inspiration and I look forward to her continued success as our political director."
Macias, 28, was previously the party's Hispanic outreach coordinator for South Florida, then the deputy political director, "where she helped flip the Sarasota City Council," according to a press release.
She "left Florida as part of the Capitol Hill Fellowship where she transitioned from politics to policy, working for Connecticut Congresswoman Rosa L. DeLauro, the ranking member of the Labor, Health and Human Services, and Education Appropriations Subcommittee," the release said.
"I'm excited to rejoin Chair Tant and the Florida Democratic Party as we work to keep Florida blue for Hillary Clinton and deliver Democratic victories up and down the ballot," Macias said.
Here's more from the release:
Mayra Macias grew up on the South Side of Chicago in the working-class home of immigrant parents. From an early age, Mayra's parents instilled in her the belief that education is the key lever to accessing opportunity. Mayra attended Yale University, where she double-majored in American Studies and Ethnicity, Race & Migration. After graduating, Mayra moved to Miami to work with Teach for America as a middle school Language Arts teacher in Liberty City at Charles R. Drew Middle School.
Mayra's experience as an educator solidified her resolve that civic engagement beyond the four walls of the classroom is crucial to affect substantive change. As a result, she worked as a Field Organizer for President Obama's 2012 re-election campaign in the Little Havana office. After the election, Mayra continued to organize in Miami, working with The Action, an organization designed to educate and mobilize communities affected by cuts to the national budget.