Stephen Lawson tells FloridaPolitics.com he's departing as communications director for Enterprise Florida for the same job at the Department of Business and Professional Regulation.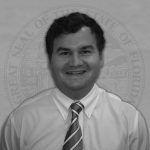 Lawson's last day at EFI is Thursday. He starts at DBPR next week, replacing Chelsea Eagle. She wasn't immediately available Wednesday.
Eagle departs in the wake of a high-profile battle with POLITICO Florida over the release of depositions and other material related to the state's legal fight with the Seminole Tribe of Florida over gambling.
Lawson, an expert in "rapid response" PR, had his work cut out for him at EFI, the state's public-private economic development organization.
The agency has taken hits as its proposed $250 million incentives fund failed during the 2016 legislative session, and outgoing CEO Bill Johnson has been questioned over his hiring and expenses.
The University of Florida graduate, a veteran of ScottWorld, was featured in SaintPetersblog's "30 Under 30" in 2014. He has worked on Gov. Rick Scott's re-election campaign and for the Republican Party of Florida.
He grew up in Tallahassee, got a bachelor's degree in political science and classics at the University of Florida and a master's in applied American politics and policy at Florida State.
Asked how he got into politics, Lawson said his mother "had a pretty big impact."
"She worked at DOE (Dep't of Education) under Governor [Jeb] Bush and later in the Senate on the Education Committee, so I grew up around it," he said in the 2014 "30 Under 30" article. "Having a part, however small, in the process of making Florida a better place has always been a huge draw for me."
Lawson is on Twitter at @StephenLawsonFL.