In one of the more biting moments in the 1997 film "Good Will Hunting," mathematician Gerald Lambeau, played by Stellan Skarsgård, apologizes to his old friend, psychologist Sean Maguire, played by Robin Williams, for having missed the funeral of Sean's wife.
"I got your card," Sean snapped, not at all disguising his anger.
Did we just see state and national Republicans mail in [or tweet in] their condolences and best wishes for Orlando's one-year observation of the Pulse mass-murder that killed 49 and tore out the heart of a community?
Orlando is increasingly becoming a Democratic stronghold, but plenty of Republicans still thrive in Central Florida, and plenty get elected, and the area is worth fighting for. The local GOP contingent was well represented, by Orange County Mayor Teresa Jacobs, several county and city commissioners, several state lawmakers and others. But, except for Democrats U.S. Sen. Bill Nelson, and U.S. Reps. Stephanie Murphy, Val Demings and Darren Soto, who all spoke at one event or another event, none of the state and national political leaders made much of an appearance at Orlando's Pulse activities.
There's a real chance state and national Republican leaders weren't asked to come, discouraged to come, or just knew that their appearances would be, at best, awkward. There has been widespread criticism that too many of them just never fully acknowledged the pain in Orlando was both about a terrorist attack and about the biggest hate crime against gays in American history.
And Monday's commemorations all were intimate, mostly involving only those public figures who had been there with Orlando throughout.
Some Republicans tried to do something.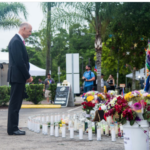 Gov. Rick Scott was the lone state or national leader who came to Orlando, but it was a stealth appearance, not announced in advance, and apparently without any remarks. He stopped for a private breakfast at the Orlando Police Department headquarters, and then for an unannounced brief visit to the Pulse nightclub Monday morning, essentially a photo-op. He did not attend any of the major events, and he did not let anyone know he was stopping by Pulse, not even Pulse owner Barbara Poma.
Marco Rubio took to the floor of the Senate Monday evening and made an emotional Pulse speech, full of very personal observations, and acknowledgment that, whatever else the tragedy was, it also was an attack on Orlando's gay community.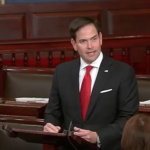 "Obviously the attack was personal for the 49 families with stories of their own and of course the countless others who were injured. I know it was personal to the LGBT community in Central Florida," Rubio said on the Senate floor. "As I said Pulse was a well-known cornerstone of the community, particularly for younger people. And as I said earlier This was deeply personal for Floridians and the people of central Florida, and I'll get to that in a moment because I'm extraordinarily proud of that community."
And he and Nelson introduced a resolution Monday in the Senate to commemorate Pulse.
Murphy, Demings, and Soto also introduced a Pulse remembrance resolution in the House of Representatives, and also spoke on the floor Monday. And all three found time to speak in Orlando, to Orlandoans, first.
Unlike Nelson, Murphy, Soto or Demings, Rubio was nowhere to be seen in Orlando during the observations that began at 1 a.m. and ended at midnight Monday.
Others in state and national GOP mailed or tweeted it in, and continued to miss the point that Orlando sees the tragedy both as a terrorist attack AND a hate crime against gays.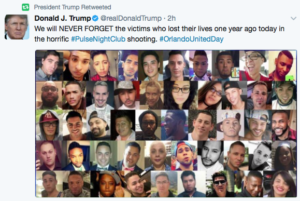 President Donald Trump did not come, nor did he send any White House or Cabinet delegates or surrogates to Orlando. He did not make any proclamations, though he did tweet, including a picture montage of the 49 murder victims.
"We will NEVER FORGET the victims who lost their lives one year ago today in the horrific #PulseNightClub shooting. #OrlandoUnitedDay." Trump announced on Twitter Monday.
Rubio also sent his tweets — three of them.
"One year later, we honor 49 of our fellow Americans of @pulseorlando and continue to pray for their families." Rubio tweeted, and "The #PulseNightClub tragedy was rooted in a hateful ideology that has no place in our world. #OrlandoStrong," and The #PulseShooting was an attack on the LGBT community, Florida, America, and our very way of life. #OrlandoUnitedDay"

U.S. Reps. Ron DeSantis, Bill Posey and Daniel Webster, who each have districts that are not quite Orlando but close enough to include Orlando suburbs and many who were deeply affected by Pulse, did not make any Orlando appearances.
DeSantis put out a statement, and Webster mentioned Pulse in a Facebook post. Both focused on terrorism, a true angle to the tragedy, but one that continues to divide along partisan lines, as neither made any mention of the attack being on Orlando gays.
"The massacre at the Pulse nightclub represented the face of evil in the modern world. Fueled by a putrid ideology, the terrorist indiscriminately killed dozens of innocent people, forever devastating their families and loved ones. Orlando rallied in response to the attack in a remarkable fashion. It is incumbent on our society to root out radical Islamic terrorism from within our midst," DeSantis wrote.
"Today, we remember the 49 innocent lives tragically lost due to a horrific act of terror in Orlando one year ago. Our prayers continue to be with the surviving victims, loved ones and all those affected," Webster wrote on Facebook.
Scott also signed a proclamation on Friday, declaring Monday as Pulse Remembrance Day, surprising some in Orlando with his clear acknowledgment — lacking in some previous statements — that Orlando's LGBTQ community had suffered mightily and needed acceptance.
Other Republicans followed the same pattern of DeSantis and Webster, ignoring the LGBTQ hate crime angle.

Attorney General Pam Bondi tweeted, but did not come to Orlando.
"Today we honor those lost in the #Pulse attack & the citizens & first responders who ran toward danger to save lives." Bondi tweeted.
Agricultural Commissioner and gubernatorial candidate Adam Putnam both put out a statement, and tweeted, but did not come to Orlando.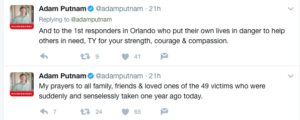 "On the anniversary of the Pulse attack, we pause to remember the 49 victims who were suddenly and senselessly taken, their loved ones who continue to mourn and heal, and the first responders who put themselves in harm's way for their fellow Floridians without hesitation," Putnam wrote. "We also remember how Orlando, the Central Florida community and the entire state came together amidst such tragedy. People stood in lines for hours to donate blood, generously gave their time and money to total strangers and worked together to meet the needs of all those impacted. This anniversary is not just a solemn milestone to remember those we tragically lost, but it's also a reminder of the strength, courage and compassion of the people of Florida.
"My prayers to all family, friends & loved ones of the 49 victims who were suddenly and senselessly taken one year ago today," Putnam tweeted. And then, "And to the 1st responders in Orlando who put their own lives in danger to help others in need, TY for your strength, courage & compassion."