Gov. Rick Scott is telling Cuban President Raul Castro to bring "absolute freedom and democracy to Cuba," in a letter released Wednesday morning.
The letter, in English and Spanish, was delivered to Cuban ambassador Jose Ramon Cabanas Rodriguez in Washington.
Scott tells Castro, whom he addresses as "Mr. Castro," that "following the death of your brother Fidel, the streets of Miami were packed with people celebrating."
Castro is brother of Fidel Castro, died Nov. 25 at the age of 90, who was dictator of the island nation after overthrowing Fulgencio Batista's government in January 1959. He handed over power to brother Raul in 2008.
"The celebration represented the hope for an end to the decades of torture, repression, incarceration and death that you and your brother have caused the people of Cuba," Scott wrote.
"While many are hopeful for the future of Cuba, it is thus far clear that nothing has changed," he said. "Like your brother, you are known for firing squads and imprisonment of those who oppose you. You have said that you plan on retiring in 2018, but the leadership that you have picked to come after you is designed to keep your oppression intact, and to keep your people trapped."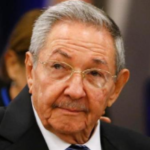 "… My prayer for you and the Cuban people is that you listen to Pope Francis and focus on bringing absolute freedom and democracy to Cuba," the governor wrote. "I pray that you open Cuba to freedom of the press and religion; release all political prisoners; provide unfettered access to the internet; allow ownership of land; provide reparations to those whose property was confiscated; bring all Cuban military home and allow for free and fair elections with international supervision.
"… Or, you can continue on the other path. This path is best characterized by oppression, tyranny, wrongful imprisonment, torture, and murder. This is the path that hates freedom, the path that does not trust every man and woman to make their own decisions, the path that opposes all those who honor and worship God.
"… I have no doubt that the people of Florida stand ready to flood Cuba with prosperity," Scott added. "No one thinks you will choose the way of freedom, the way of democracy, the way of peace. People will mock this letter and call it naïve. But, for the sake of the Cuban people, I pray change will come."