Gov. Rick Scott set the execution of Michael Lambrix, who's been on Death Row for 33 years, for 6 p.m. Oct. 5, the Governor's Office announced Friday.  
The Florida Supreme Court last February delayed his execution after attorneys argued that the state should first determine how to apply a recent U.S. Supreme Court ruling that the state's death penalty system is unconstitutional. The U.S. Supreme Court found Florida's death penalty system flawed because it allows judges, not juries, to decide death sentences.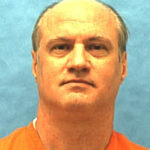 This March, the state's high court said Lambrix was entitled to no further legal relief and lifted its stay of execution.
Attorney General Pam Bondi's office, also Friday, asked the court to dismiss Lambrix's Thursday request for habeas corpus, calling it over long and an "untimely … abuse of process."
"Lambrix's latest habeas petition presents a misleading potpourri of previously presented and rejected claims," Senior Assistant Attorney General Scott Browne wrote. "The petition … inappropriately seeks duplicative review of a decision of this Court that has been final for years."
That was after Bondi wrote to Scott earlier Friday, saying that "the record is legally sufficient to set a new execution date."
Lambrix was sentenced for the 1983 tire-iron and strangling slayings of two people he met at a bar, Aleisha Bryant and Clarence Moore Jr. Prosecutors said he killed them after inviting them home for dinner.
(Background material provided by The Associated Press, reprinted with permission.)
                              *                    *                    *
Updated 5 p.m. — In a docket entry, the state Supreme Court said that "because the governor has reset the execution … , we direct that all further proceedings in this case be expedited."
Trial court proceedings, if any, were ordered completed, with orders entered by Sept. 11.
The court also set the following briefing schedule: Notice of appeal by Sept. 12; initial brief on the merits by Sept. 14; answer brief on the merits by Sept. 15; Reply brief on the merits by Sept. 18.
"Oral argument, if necessary, will be scheduled at a later date," according to the docket.