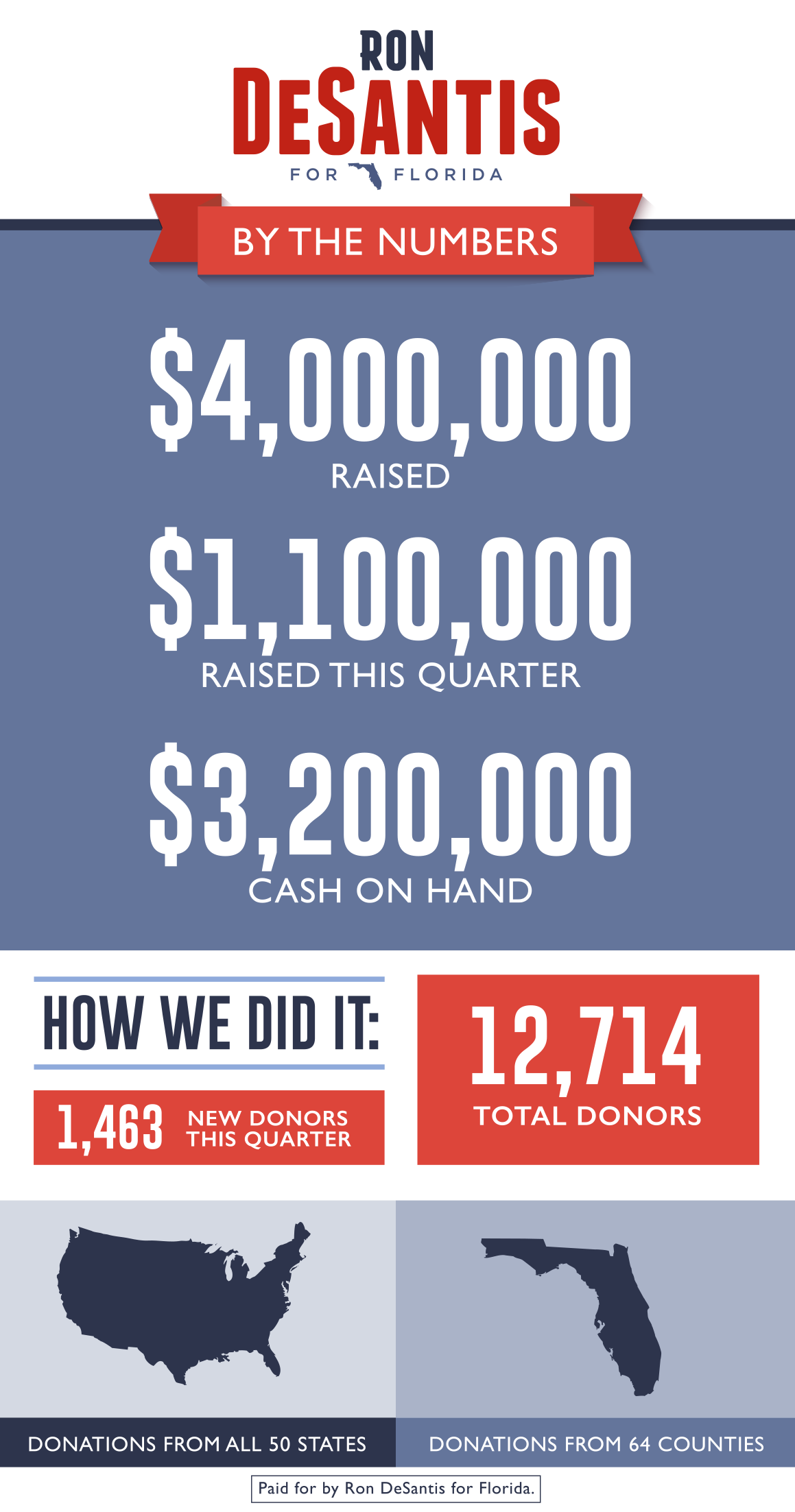 When it comes to the U.S Senate race, Ron DeSantis is the fundraising leader thus far in 2016.
An email from his campaign touts the number, as Thursday DeSantis, a Ponte Vedra Republican, announced that his campaign raised $1.1 million in the first quarter of 2016 and has more than $3.2 million cash-on-hand."
This money, the email continues, allows Team DeSantis to "continue to travel our state and talk about government accountability, expanded economic opportunity, and keeping America safe by defeating the global jihad. With your help, and the help of conservatives like you, we're going to win in November and keep the U.S. Senate in Republican hands."
Notable is both DeSantis' fundraising and his efficiency using the resources so far.
Of the $4 million his campaign raised thus far, 80 percent of that money is still on hand.
This builds on the fundraising dominance DeSantis established in previous quarters.
In January, DeSantis' team said that it raised "nearly twice as much ($772K) as the Senate campaigns of Republicans David Jolly ($130K) and [Carlos] Lopez-Cantera ($318K) in the fourth quarter of 2015. The DeSantis for Florida campaign finished 2015 with $2.6m cash on hand – far more than any of his opponents."
"It's become clear that Ron DeSantis is the only candidate who will have both the resources necessary and the conservative grassroots support to beat Patrick Murphy or Alan Grayson in November," said Brad Herold in January, campaign manager for Ron DeSantis for Florida.
"One of our opponents has already given up on fundraising or running a serious campaign while the other continues to struggle," Herold said.
Jolly, who has taken a stance against fundraising by current office holders, leads in the latest Florida Insider Poll, though DeSantis runs a competitive third there.
Other polls tell a story of a race in flux. A recent Public Policy Polling poll showed Jolly up 26 to 14 percent against DeSantis, yet 47 percent of those Republicans polled had no preference.
DeSantis has over $3 million with which to change that.
Between capital and grassroots outreach, as evidenced by his recent Defeat the Jihad speaking tour, DeSantis will, at the very least, be in the conversation through August.
His rapid-fire speaking style and command of facts and conservative principles reminds some observers of Ted Cruz, and it's easy to imagine DeSantis eventually throwing in, as did Senator Rubio before him, into the Presidential derby in four or eight years.