Florida Supreme Court Justice James E.C. Perry has reached his final day in office.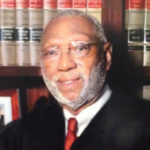 Perry is stepping down Friday because he reached the mandatory retirement age for justices.
Perry was appointed by then-Gov. Charlie Crist to the court in 2009. He was the fourth black justice appointed to the court.
During his tenure, he was part of a group of justices that has issued rulings that angered the Republican-controlled Florida Legislature and Gov. Rick Scott.
Perry last week issued a lengthy dissent that asserted the state had applied the death penalty in a "biased and discriminatory fashion" and that there was no way it could be carried out in a constitutional manner.
Scott earlier this month appointed C. Alan Lawson, the chief judge of the 5th District Court of Appeal, to replace Perry.