Senate President Joe Negron said his approach to budgeting isn't that different from fellow Republican and House Speaker Richard Corcoran.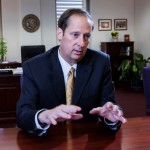 Negron met with reporters Tuesday after he officially became president during the Legislature's biennial Organization Session.
In sweeping changes to the House's traditional way of doing business, Corcoran said senators would need House sponsors for special spending requests, such as hometown projects, often derided as "turkeys."
But Negron, who along with Corcoran is a former Appropriations chair, said he "would encourage senators to find someone in the House" to support a budget item, and "we've always done that," he said.
"The chances of an appropriation surviving this process are higher if both chambers are doing it," said Negron, a Stuart Republican.
He also suggested those who lobby the Legislature for appropriations for paying clients have as much of a First Amendment right to cajole lawmakers as residents who seek money to build a senior center.
"The Capitol … should always be open for comment," Negron said. " … I believe that lobbyists and others and constituents have every right to redress grievances and to work in the process. And I believe all of us have a responsibility, myself included, to get information from many different sources to make a decision about voting and on budget decisions."
The Senate this week adopted internal rules that do not contain the same strict provisions of the House regarding lawmakers' interaction with lobbyists.
The House, for instance, even forbids members from looking at text messages from lobbyists while they are sitting in committee or a floor session.
"I think the spirit is the same: We all want to operate in a way that would make our constituents proud," Negron said. "I think both Speaker Corcoran and I agree that we should be held to the highest standard."