Former state Rep. and Financial Regulation Commissioner Tom Grady has touched off a lawsuit between the state's insurance and financial regulators and a San Francisco-based software concern.  
Zenefits, which describes itself as "a technology company … that integrates the administration of human resources and employee benefits," filed suit in Leon County Circuit Civil court Jan. 6, court records show.
It's seeking protection from disclosing records Grady requested last month from the Department of Financial Services, saying they're trade secrets because they contain "customer lists, proprietary contacts, business plans and internal audits."
Trade secrets are exempt under Florida's public records law.
Grady's public records request, on his Naples law firm's letterhead, came after the department last year told Zenefits it was under investigation "to determine whether (it) had violated one or more provision of the Florida Insurance Code." Zenefits handed over the documents as part of the inquiry.
The company had been plagued by licensing compliance troubles under its former leadership in several states, including Tennessee, Washington, Virginia and California.
"Among other things, Zenefits employs licensed insurance producers who sell and administer insurance plans for customers who elect to use Zenefits as their insurance broker," its suit says.
Zenefits, which "makes money by collecting brokerage fees after selling health insurance, has admitted that in many cases its insurance salespeople lacked the local licenses that are required by state laws," BuzzFeed News' William Alden has reported.
Grady asked for "all documents and communications related to the investigation," according to a copy of his request filed with the court. (His letter also says the company has since entered into a consent order with the state, which wasn't immediately available.)
Many of the documents, however, additionally contain "the Social Security numbers of Florida residents whose employers are customers of Zenefits, as well as the SSN's of Zenefit employees," the suit says.
They also contain other "sensitive" information, such as "bank account numbers," "home addresses," "identities of dependents," and "email addresses."
The department told Zenefits it was going to comply with Grady's request unless it got a court order "barring public disclosure." But Zenefits had already told the state the info it gave up was confidential and asked that it not be released.
Grady, who could not be reached Friday, has said he's "entitled" to the records and "insisted" on their release, according to the suit.
His request did not say which client he's seeking the information for; his website says he specializes in "financial industry disputes or transactions in excess of $5 million."
Grady, who was mentioned as the next state Insurance Commissioner after Kevin McCarty announced his resignation last year, is a friend of Gov. Rick Scott. The governor appointed him to the State Board of Education.
Grady was a GOP member of the Florida House of Representatives in 2008-10 before a stint as commissioner of the Office of Financial Regulation, the state's top banking regulator. He also was interim president of Citizens Property Insurance Corp., the state's insurer of last resort.
Zenefits is being represented by attorneys in the Foley & Lardner law firm's Tallahassee office.
Coming up, the usual assortment of tidbits, leftovers and not-ready-for-prime-time moments by Jenna Buzzacco-Foerster, Michael Moline, Jim Rosica, and Peter Schorsch.
Now, the "Takeaway 5" — the Top 5 stories from the week that was:
Lawson in, Seccombe out —The Visit Florida board of directors this week announced it had selected Ken Lawson, the former secretary of the state's Department of Business and Professional Regulation, as its next president and CEO. The former federal prosecutor replaces Will Seccombe who resigned as CEO amid the fallout from a secret deal with rapper Pitbull. "Ken understands the responsibility we have to be transparent with every tax dollar. He has tirelessly fought to make it easier for Florida businesses to create jobs, has helped cut millions of dollars in fees and has streamlined the agency to ensure the state reduced burdensome regulations," said Gov. Rick Scott in a statement this week. Seccombe will receive $73,000 as severance.
Taking a gamble — Sen. Bill Galvano filed the first big gambling bill of the 2017 Legislative Session, and it included a little something for everyone. "My goal has been to address all aspects of gaming in a comprehensive manner that balances the interests of an industry that has contributed to Florida's economy for nearly a hundred years, our ongoing revenue-sharing agreement with the Seminole Tribe of Florida, and the authority of local voters, while maximizing revenues to the state," said Galvano in a statement. The 112-page bill included provisions to allow lottery ticket sales at gas pumps, fantasy sports, more slot machines, and a provision to OK the long-delayed Seminole Compact. The legislation also included provisions to expand blackjack from the state's Seminole casinos to South Florida's pari-mutuels, including at Pompano Park.
Pot talk — The Florida House Quality Subcommittee began discussions about implementing Amendment 2, using the meeting this week to hold a panel discussion about the industry. Facing a time crunch, Christian Bax, the director of the Office of Compassionate Use, told lawmakers the Department of Health is expected to begin rule-making in the coming days. The department will host meetings in each of the state's five regions to get feedback. Lawmakers will do their part to implement the constitutional amendment, with House Majority Leader Ray Rodrigues expected to carry the legislation in the House. While Rodrigues said he is in the early stages of crafting legislation, the Estero Republican said the bill "will not contain a tax on medical marijuana."
Budget blues — It might be time to tighten your belts. Rep. Carlos Trujillo, chairman of the House Appropriations Committee, told committee members this week they would start the process to attack looming budget deficits. He called on members to begin scrutinizing state spending and looking for programs to cut or trim. "We have a commitment to not raise taxes," he said. "But, at the same time, as chairman of the committee, I think every member should have the right to express their concerns. Those concerns will be vetted with the committee, and the committee ultimately will make a determination." State government revenues are projected to remain essentially flat during the 2017-18 fiscal year, beginning July 1. But state economists project deficits of $1.3 billion the year after that, and of $1.9 billion during the subsequent year.
Count him out — Former House Speaker Steve Crisafulli announced this week he won't run for Agriculture Commissioner in 2018. The Republican from Merritt Island was widely expected to mount a statewide bid for the cabinet post, but bowed out this week, choosing to spend more time with his family. "I plan to remain politically active, but after years of travel to fulfill my obligations to the House Republican Conference and as Speaker of the Florida House, there is nothing I want more than to spend time with my Kristen and our daughters as they finish out their final years of being at home before going off to college," he said in a statement.
—
Keep the money in Northwest Florida.
That's the message Sens. George Gainer, Doug Broxson, and Bill Montford are hoping to send with Sen Bill 364. The bill aims to ensure funds received in the settlement of the state's economic damage claims caused by the 2010 Deepwater Horizon Oil Spill remain in Northwest Florida's eight disproportionately affected counties.
"Nearly seven years after the spill began, on a daily basis, we are still hearing from constituents whose families and businesses were drastically impacted," said Montford. "This legislation affirms our longstanding commitment to keep these critical funds in Northwest Florida to provide for the ongoing economic recovery of our region."
Under current law, the eight counties — Bay, Escambia, Franklin, Gulf, Okaloosa, Santa Rosa, Walton, and Wakulla — are set to receive 75 percent of all settlement funds received by Florida. The bill clarifies the money should be directly appropriated to Triumph Gulf Coast Inc. no later than 30 days after received by the state.
—
Way to go, Greenberg Traurig Tallahassee!
The Tallahassee office celebrated its 25th anniversary at the Governor's Club this week. Gov. Scott, CFO Jeff Atwater, founding Chairman Larry J. Hoffman, senior Chairmen Cesar L. Alvarez and Matthew B. Gorson, and Co-President Ernest L. Greer, and several lawmakers and state agency heads all came out to celebrate the occasion.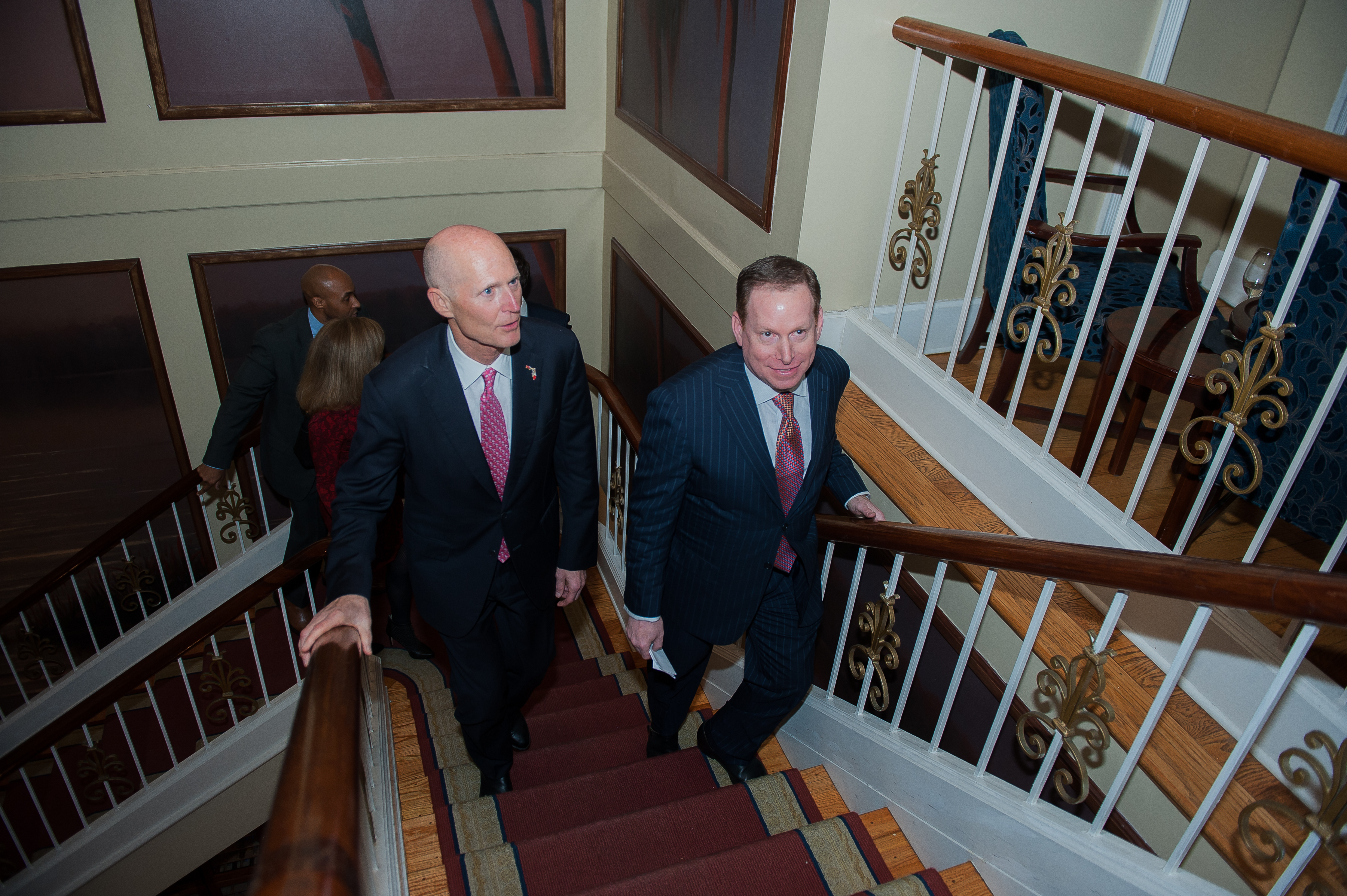 "When the Greenberg Traurig Tallahassee office opened 25 years ago, we gained not only an established state government relations team that had been instrumental in practically every major legislative issue over the preceding 20 years, but a strong multidisciplinary legal team experienced in all major areas of the law as well," said Gorson.
The Tallahassee office now includes a diverse team of lawyers, governmental relations professionals, and business staff.
"Since joining Greenberg Traurig 25 years ago, we have built a full-service platform to serve all of our clients' needs, both here in Florida and across the nation, through the firm's legal and lobbying efforts," said Fred W. Baggett, managing shareholder of Greenberg Traurig's Tallahassee office. "You simply cannot deny the success this partnership has achieved."
—
Gov. Scott might want Congress to repeal and replace the Affordable Care Act but Florida CHAIN says that's just misguided.
"Governor Scott is basically suggesting a wholesale repeal of anything connected to Affordable Care Act a/k/a Obamacare.  This would be a travesty.  Upon repeal, approximately 20 million people would immediately be without health insurance and the cash flow mechanism between hospitals, physicians, pharmacies and all the other players would become a short-term disaster," the organization's board of directors said in a statement this week.
"The Affordable Care Act is far from perfect, but with some targeted modifications to fix those parts that are problematic, we could come up with something very workable," the group continued. "This solution, however, needs to be developed through an evolving process, not an across the board repeal with piecemeal segments, as the country waits for the various replacement plans to evolve and be revealed in the new Trump Administration and 115th Congress."
In a letter to Congress this week, Scott, a potential 2018 U.S. Senate candidate, said the legislation should be completely overhauled giving more flexibility to the states.
—
Senate President Joe Negron hopes the Trump administration and Congressional Republicans convert Medicaid to a block grant program that allows Florida more flexibility in providing health care to the poor, disabled, and elderly.
Opinion on the Appropriations Committee was more divided during a meeting this week.
"Block grants don't work," Democratic Sen. Audrey Gibson said. She believes Florida's position should be that "Medicaid block grant is a nonstarter. We need to be just as aggressive with this new administration as we were with the outgoing one."
Republican Sen. David Simmons argued a block grant would give Florida room to devise a program allowing low-income beneficiaries to earn more without being cut off.
"The whole system is a total failure," he said. "They're forced into a lifestyle that penalizes success, incentivizes failure."
Karen Woodhall of the Florida Center for Fiscal and Economic Policy testified that federal rules allow just the sort of program Simmons envisioned.
In fact, she continued, Florida used to have a "bootstrap" program — "so that you didn't lose your benefits the minute you did better. You started to ratchet down" in benefits but didn't lose them entirely. Other states do that now, she said.
"That's an example of something I'm sure we could work on together, and I look forward to helping you with it," Woodhall said.
—
Welcome aboard, Joel Brown.
The Southwest Florida Water Management District announced this week that Brown had joined the district as a government affairs program manager. Originally from Tampa, Brown will serve as liason between the SWFWMD and the constituents of Hillsborough, Pinellas and Pasco counties.
Before joining SWFWMD, he worked as the West Central Florida regional manager for CFO Jeff Atwater and the Department of Financial Services. He later served as Atwater's press secretary.
Brown also served as district administrative assistant to the late Rep. C.W. Bill Young.
—
The Florida Family Policy Council will hold its Pro-Life, Pro-Family Lobby Days on March 13 and March 14 at the Donald L. Tucker Civic Center in Tallahassee.
The two-day event includes team lobbying, presentations and the annual legislative prayer breakfast. Speakers over the two-days include Gov. Scott, House Speaker Richard Corcoran, Sen. Anitere Flores, Sen. Greg Steube, Rep. Kim Daniels, and Rep. Jamie Grant.
—
Florida TaxWatch is focused on justice reform.
The watchdog group released a new report this week looking at Florida crime and corrections data over the years. The 40-page report tackles a number of issues, including sentence lag time, plea bargains and inmates' education levels.
The report found that majority of offenders sentenced in fiscal 2015 took plea bargains and received sanctions for nonviolent offenses. The report also found stringent sentencing polices lead to lengthier prison stays; the state's incarceration rate is declining as the inmate population rate begins to level off; and prison admission and release rates are in a decline.
The report also found nonviolent offender make up more than half of annual prison admissions.
—
Term limits could be coming.
The House Civil Justice and Claims Subcommittee began discussing judicial term limits during a committee hearing this week. While proposals have failed in the Legislature in the past, they are a top priority for House Speaker Corcoran.
In Florida, appellate judges — including justices of the Supreme Court — are appointed by the governor subject to merit retention elections. They may serve until age 70 if the voters retain them. No appellate judge has ever been bounced via a merit retention vote.
—
Drink those mimosas while you can.
The latest U.S. Department of Agriculture citrus crop forecast showed a slight decrease in Florida orange production to 71 million boxes in the 2016-17 season. The state's citrus industry has been hurt by the citrus greening epidemic. The so-far incurable disease is attacking fruit, causing it to turn green and bitter, and eventually killing the tree. And Florida's famous oranges are most at risk.
"The future of Florida citrus, and the tens of thousands of jobs it supports, depends on a long-term solution in the fight against greening," said Agriculture Commissioner Adam Putnam in a statement this week. "Our brightest minds are working to find a solution, but until then, we must support our growers and provide them every tool available to combat this devastating disease."
Putnam has asked the federal government to consider approving antimicrobial treatments to fight greening, which is caused by a jumping plant louse and the bacteria it hosts.
—
Congratulations, Lukas Hefty!
Hefty, the math and science magnet coordinator at Douglas L. Jamerson Jr. Elementary School in Pinella County, was honored by the Milken Family Foundation, the state Department of Education announced this week. Hefty was recognized for his work in developing the school's nationally recognized STEM curriculum.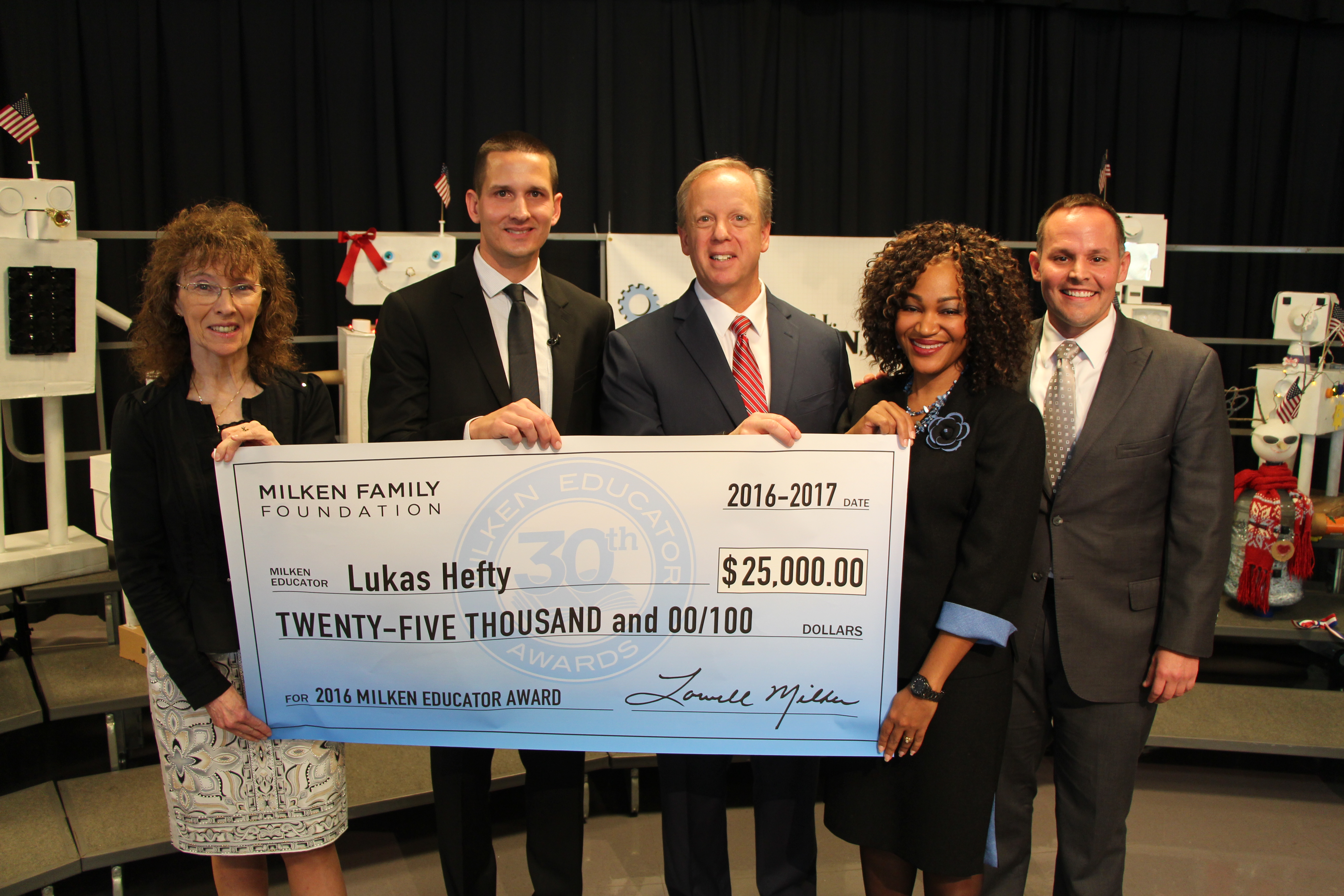 "By engaging students as early as kindergarten in the school's STEM activities and inviting families to join in the fun, Mr. Hefty is helping young learners establish a solid foundation that will benefit them as they continue their education and eventually enter the workforce," said Education Commissioner Pam Stewart. "I am pleased to recognize him for his dedication to education, and I look forward to learning about the great things his students are bound to accomplish as a result of his efforts."
Hefty has been as an educator for 11 years, and was instrumental in writing and developing unique math and engineering curriculum. He is national board certified, and holds a master of arts degree in elementary education with a focus on math and science.
Hefty is just one of 35 educators nationwide to receive this year's award.
—
Will 2017 bring victory for ride-hailing companies? Some Floridians sure hope the answer is a resounding yes.
Sen. Jeff Brandes and Rep. Sprowls filed legislation this week to address transportation network companies, like Uber and Lyft. The proposals parts of previous measures that have been introduced but not passed over the last few years.
"Ridesharing companies offer a competitive alternative to the jobs and services of the past," said Andrew Vila, a spokesman for Generation Opportunity, in a statement. "We look forward to engaging with the legislature and activating our grassroots army to push for statewide standards."
Among other things, the bill prohibits local governments from regulating the companies, includes background checks that don't require fingerprints, and searching driving history records.
"Our elected officials need to strip away the red tape that is crushing innovation and opportunity for Floridians to thrive," said Chris Hudson, the state director of Americans for Prosperity-Florida, in a statement. "We will hold elected officials accountable that stand against common sense reforms to expand available services to entrepreneurs and consumers."
—
Call him, Professor.
Former Gov. Jeb Bush kicked off a teaching residency this week at the Bush School of Government and Public Service at Texas A&M, where he is currently an executive professor. The class is meant to teach students about the role of "gubernatorial leadership and its impact on government at all levels," according to the university.
More than 60 students are enrolled in the 10-day course. Students, according to the university, are expected to hear from Bush, and other governors and state legislators, about the roles and responsibilities of state leaders.
While Bush, who served as the state's governor from 1999 to 2007, ran for president in 2016, Floridians probably won't see him on the campaign trail anytime soon. The Associated Press reported this week that Bush said it was unlikely he'd run for office again.
"I unraveled everything I was doing to prepare for this – you don't do that lightly," he told the Associated Press. "I just think this was my chance. The conditions of this election weren't tailor-made for me and I lost. But I'm not in therapy. I'm not in the fetal position. Life goes on."
—
Here's a list Florida might not be too thrilled to top.
CoreLogic reported this week that Florida led the United States in foreclosures, with 48,494 completed foreclosures in the 12 months ending in November. The Sarasota Herald-Tribune reported that while that number is significantly higher than any other state, it is still down 42 percent over the year.
The state reported a foreclosure rate of 1.4 percent, the seventh-highest in the nation. Florida accounted for about 12 percent of all completed foreclosures nationwide.
—
Settle into the couch, Florida.
CFO Atwater thinks it's time we have a talk. No, not that talk (obviously, birds and bees fall under Agriculture Commissioner Putnam's jurisdiction). He just wants to chat about money.
In his weekly newsletter, Atwater highlighted the Department of Financial Services "My Money" program, which aims to help teach people with development disabilities gain the confidence and skills they "need to live more independently."
The program uses interactive games, activities and educational videos to help participants learn and practice skills at their own pace. Parents can also use the program to learn how they can help children "solidify and apply these new skills."
—
These sure are healthy schools.
Thirty more Florida schools earned HealthierUS School Challenge designations in December, bringing the total number of Florida HUSSC schools to 249, Agriculture Commissioner Putnam announced this week.
"It's great that these schools are providing their students the nutrition and physical activity needed for academic success," he said in a statement. "Our goal is to continue working with schools to increase the amount healthy choices offered to Florida's students."
The challenge, joint effort with the Department of Agriculture and Consumer Services and the U.S. Department of Agriculture, is a voluntary certification initiative to recognized efforts to improve food and beverage options, offer nutrition education and promote physical activity. Schools must meet specific criteria, such as providing smarter snacks and opportunities for physical activity.
—
It time to ramp up the fight against screwworm.
U.S. Sen. Bill Nelson called on the federal government to step up its response to an infestation of New World screwworm in Florida this week, requesting more cash to help fight the infestation.
"If we don't move aggressively to halt the spread of this dangerous pest, the result could be catastrophic for Florida's wildlife and livestock industry," wrote Nelson in a letter sent today to Agriculture Secretary Tom Vilsack and Interior Secretary Sally Jewell. "More than 130 endangered Key deer have already fallen victim to the screwworm. We cannot allow the white-tailed deer population, or the endangered Florida panther, or Florida's nearly $1 billion beef industry to collapse too."
Federal officials this week confirmed the flesh-eating parasite was found in a stray dog near Homestead.
—
Speaking of screwworm: The U.S. Department of Agriculture and the Florida Department of Agriculture released sterile flies in the Homestead area as a precautionary effort.
"While the dog has been treated and is doing well, there are still a lot of unknowns about the dog's history and recent locations. Given that Florida's livestock industry is at stake, this sterile fly release is a precautionary move to ensure we're doing everything we can to aggressively eradicate the screwworm from Florida," said Commissioner Putnam in a statement.
The sterile insect technique has been used since the 1950s as an effective way to eradicate screwworm. The technique is considered safe for people, animals and the environment.
The technique releases sterile male flies into infected areas. Those male flies then mate with local females, producing no offspring. With fewer fertile mates available in each succeeding generation, the fly, in essence, breeds itself out of existence.
—
Danny Burgess Jr. missed his daughter Adeline's third birthday this week — he was busy in Tallahassee, presiding over his first meeting as chairman of the Insurance & Banking Subcommittee.
"She's back home. She's a three-nager. Daddy couldn't be there," said the Zephyrhills Republican.
He remarked on the "bittersweet" occasion following the committee, in which trial attorneys, the president of Citizens Property Insurance Corp., a representative of home restoration contractors, and state officials conducted a generally civil discussion of assignment of benefits reform.
"It's been tough. What I think I've realized is that we all do this to make a difference and try to impact others' lives in a positive way," he said. "Along those roads we sometimes miss those precious moments in life, and today is definitely one of them. So I wanted to wish my baby girl happy birthday. Daddy loves you. I'll be home soon. Hopefully, when she's older, she will understand that we did all this for her and for all of our children."
—
The House Public Integrity and Ethics Committee began work this week to extend the lobbying ban for former members of the Legislature and statewide officeholders to six years, and to strengthen oversight of local and special district officials.
The panel discussed three proposed reform bills. The first, PCB PIEC 17-01, would extend the ban against lobbying their former agencies from the existing two years and apply it to statewide elected officials. The proposed constitutional amendment would require approval by three-fifths of the House and Senate and by more than 60 percent of the voters.
PCB PIEC 17-01 would change Florida Statutes to reflect the change, and also ban former legislators from lobbying executive agencies for six years.
PCB PIEC 17-03 would tighten ethics disclosures for local officials and bar them from creating shell companies to do businesses with boards on which they serve. Abstaining from matters in which they hold interests would not be enough — they also would have to abstain from lobbying or discussing such matters with colleagues.
Committee chairman Larry Metz said he's open to creating a statewide lobbyist registration system to spare local governments the burden of creating individual their own.
Kraig Conn, legislative counsel to the Florida League of Cities, said local officials are open to reform but wary of creating "unnecessary barriers to public service."
—
Attorneys for the Office of Insurance Regulation and a quasi-official ratings agency filed arguments on the merits of an appeal involving the 14.5 percent workers' compensation premium hikes that began to kick in last month.
Miami workers' comp attorney James Fee has challenged the increase, and persuaded Leon County Circuit Judge Karen Gievers that OIR and the National Council on Compensation Insurance, or NCCI, violated the Sunshine Law in calculating the new rate.
Both defendants argued the law doesn't apply — it says rating agencies' internal committees have to be open to the public, but NCCI dismantled its internal committee in 1991 over antritrust concerns. A single employee was responsible, although he consulted colleagues on the details. The rest of the process was open, they argued
"If allowed to stand, the trial court's order will mark a dramatic expansion of the requirements of Florida's Sunshine and Public Records Laws," NCCI argued in its brief.
Fee has until Jan. 23 to file his reply brief.
—
The chairwoman of the House Energy & Utilities subcommittee might need to invest in a hard hat. Her members might want to do that, too.
During the panel's first meeting this week, Kathleen Peters said she planned to conduct as many visits as possible to facilities operated by the utilities regulated by the Florida Public Service Commission, which the committee oversees.
"I strongly encourage you to contact your local utilities — whether its energy, whether its water, whether its telecommunications — and start setting up some site visits," she said.
She said she'd be happy to accompany them on such outings and offered: "I hope you will join me on a lot of the tours I plan on taking this year and next."
—
BlueLine Associates is moving south.
Gov. Scott announced this week that BlueLine Associates, a professional services firm, is planning to move its global headquarters to Tampa. The firm is moving from Cary, North Carolina, and the relocation will create 150 new jobs and invest more than $2 million in the local community.
"It is great news that BlueLine Associates chose to move their international headquarters to Florida from North Carolina, which will create more than 150 new jobs for Tampa families," said Scott in a statement. "We were competing with North Carolina and Louisiana, but ultimately BlueLine Associates chose Florida for their new headquarters. I look forward to BlueLine Associates continued success in our state."
BlueLine Associates provices consulting, managed services, and staffing solutions to a variety of industries. According to the Governor's Office, new jobs are expected to pay an average annual wage of $71,909.
"This move gives us access to Florida's strong talent pool and allows us to continue the strategic expansion of our business," said Rocky Silvestri, president of BlueLine, in a statement. Our company culture is at the core of our business success, our client's satisfaction, and the happiness of our people.  We are excited to bring those guiding principles to Tampa."
—
Oysters for everyone!
Several Harris Corporation employees designed and built a machine to help restore oyster beds in the Indian River Lagoon. The machine — which was donated to the Brevard Zoo's Oyster Restoration Program — helps funnel shells into oyster bags, which serve as the foundation for new reefs.
According to Harris Corporation, six employees donated 240 hours to design and build the mechanism.
The Brevard Zoo has been working on oyster restoration in the Indian River Lagoon for more than a decade.
—
The state's wildlife management area system is looking good at 75.
This year marks the 75th anniversary of the state's wildlife management area (WMA) system, one of the state's greatest natural treasures. To celebrate, the Florida Fish and Wildlife Conservation Commission is hosting free events throughout the year.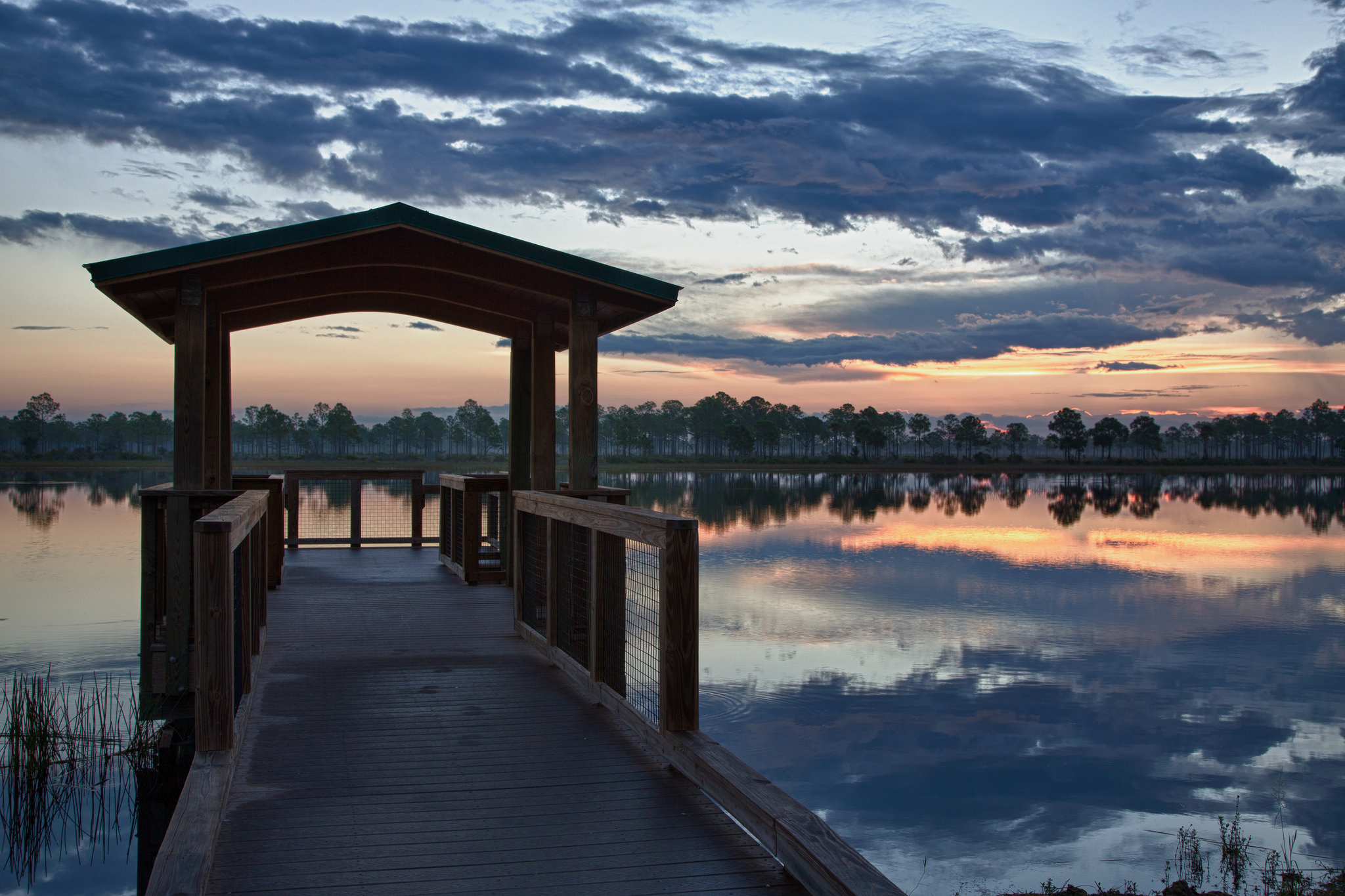 "Florida has one of the largest systems of public lands in the country at nearly 6 million acres, and these lands are the best of the best of what wild Florida has to offer," said FWC Chairman Brian Yablonski. "These natural communities span a variety of habitats from longleaf pine uplands and pine flatwoods to the hardwood hammocks and sawgrass savannas of the Everglades. Not only are these areas beautiful, they are managed to provide habitat for many species of wildlife and access for people to enjoy hunting, fishing, wildlife viewing and more."
The state's wildlife management areas provide recreational opportunities, like paddling and horseback riding, and hunting opportunities to Floridians. The first WMA was established in 1941 in Charlotte and Lee counties. Today, the FWC is the lead manager or landowner of over 1.4 million acres, and works in partnership with other governmental or private landowners on another 4.5 million acres.
—
Here's this week's edition of Capitol Directions:

Save
Save
Save
Save
Save
Save