"Before we begin with agency business," Gov. Rick Scott said at this week's Cabinet meeting, "we have one more person to recognize."
To his surprise, it was CFO Jeff Atwater, who's leaving Tallahassee after this Legislative Session to join Florida Atlantic University as VP and CFO
"I don't see this on the agenda," Atwater said, laughing. He showed off his new FAU license plate, "Owlin," after the school's athletic teams, the Owls.
"Jeff has fought to reduce burdensome regulations, protected families from financial fraud, and has traveled the state – a lot – to return more than $1 billion in unclaimed property to its rightful owners," Scott said.
Attorney General Pam Bondi added, "You epitomize honesty and ethics, and everything that people want to strive to be."
And Agriculture Commissioner Adam Putnam reminded the audience Atwater was Senate President during the Great Recession.
"That required character, leadership, and courage," he said. "It's easy to make decisions when things are going well, but when things (went) south, he took on some very, very difficult issues and Florida is better for it."
Putnam then gifted him with an orange juice decanter; Bondi gave him a mug ("you can drink your milk in that"), and Scott presented him with a state flag in a case.
As they lined up for the obligatory photos, Bondi got sentimental.
"We'll miss you; you've been just a joy," she told him.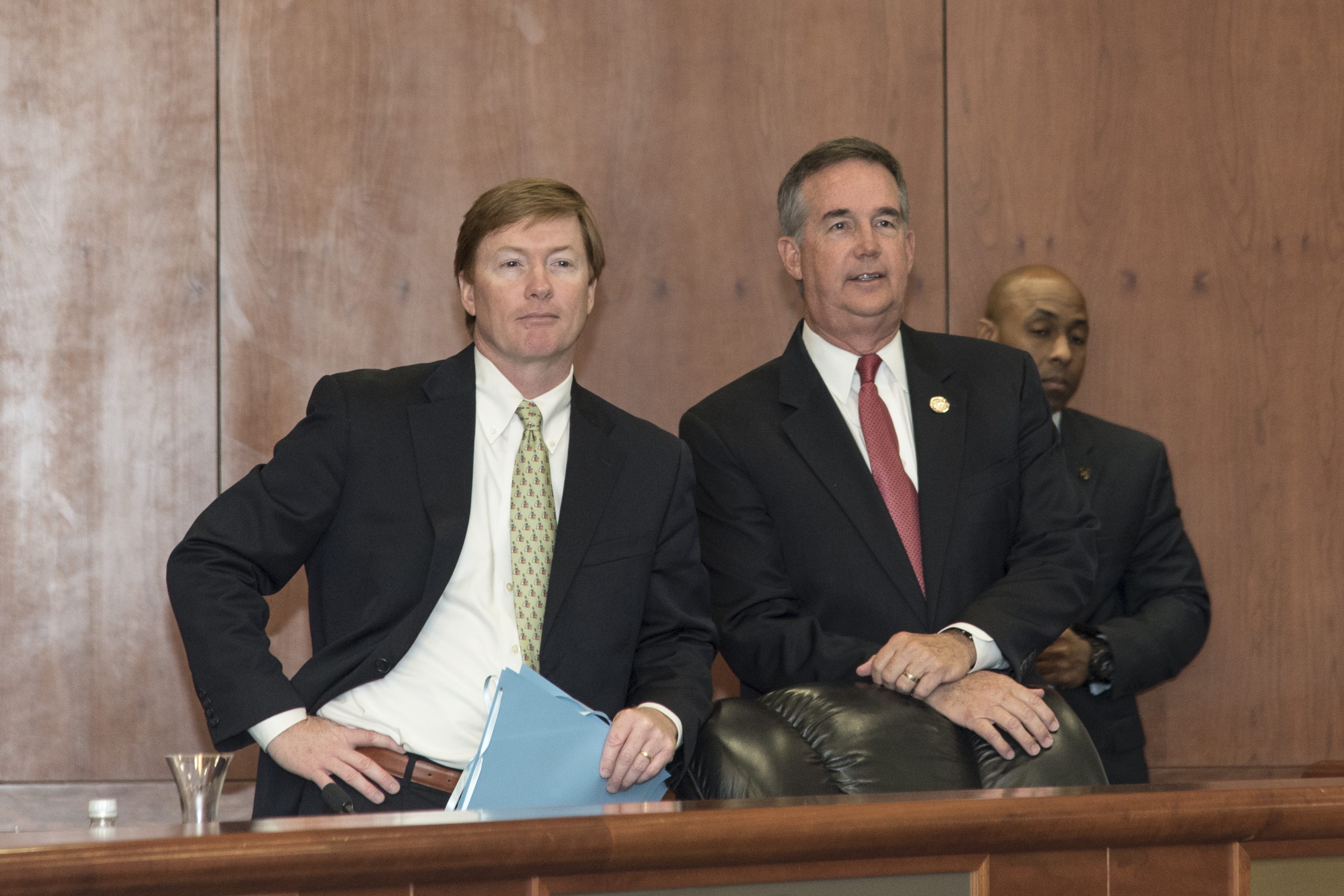 "We all started together," Bondi said—all four of the statewide elected officers were first elected in 2010. "The band is breaking up."
After the meeting, Atwater told reporters one of his proudest accomplishments was overseeing 70,000 state contracts put online: "There is no secret on how we're spending the money of the people of Florida."
Coming up, the usual assortment of tidbits, leftovers and not-ready-for-prime-time moments by Jenna Buzzacco-Foerster, Michael Moline, Jim Rosica, and Peter Schorsch.
But first, the "Takeaway 5" — the Top 5 stories from the week that was:
Conference bound — The state might be getting closer to a budget deal. The Florida House on Thursday voted 89-26 for an $81 billion budget, after less than an hour debate. Some Democrats said the spending plan directs too much money to charter schools and doesn't do enough for state workers. The vote came one day after the Senate unanimously approved its budget. There's plenty of differences in the two plans — including a big gulf when it comes to spending. The Senate proposal is $4 billion more. Lawmakers now have three weeks to hammer out the details. The budget isn't the only piece of legislation heading to conference, though. The House and Senate officially agreed to a conference committee to hammer out the details of proposed gambling legislation.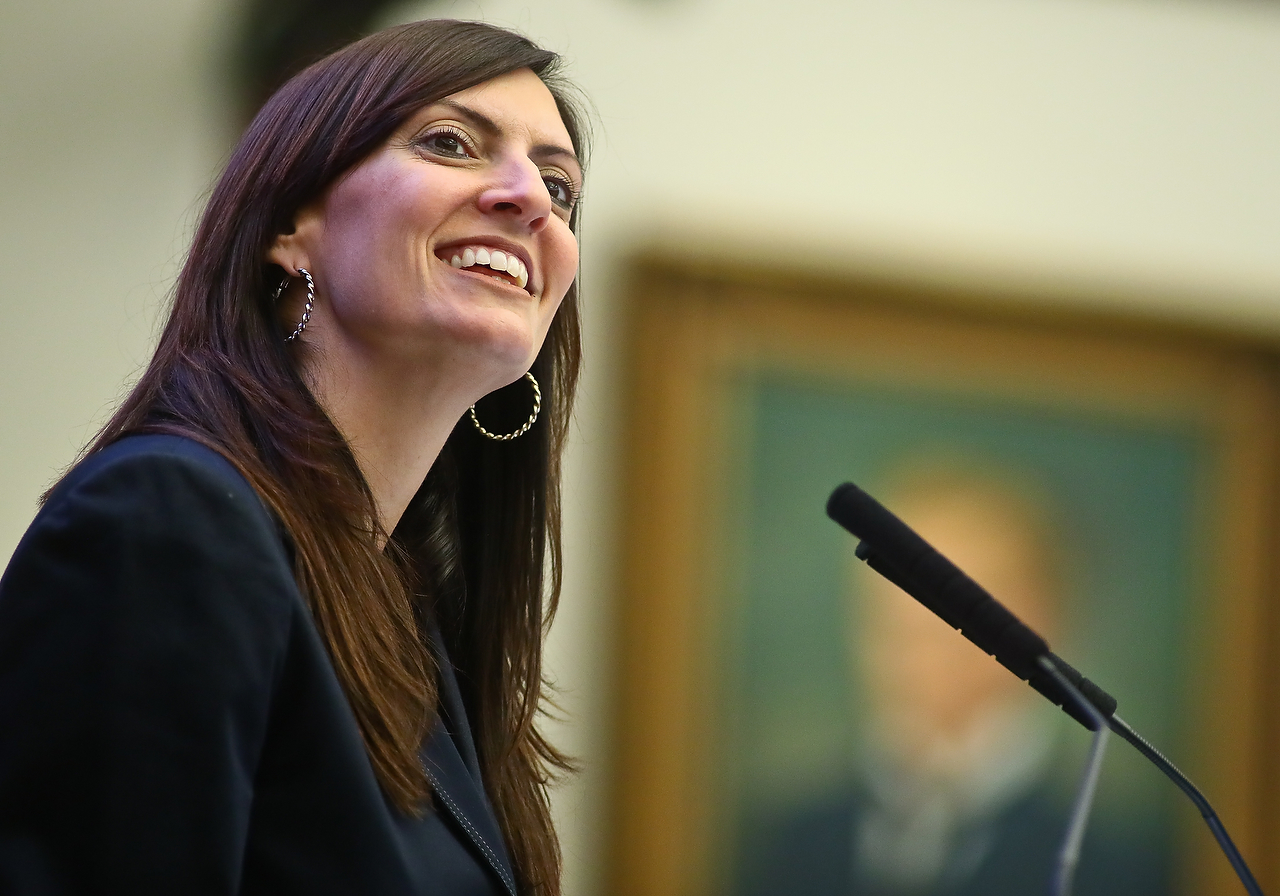 Pucker up — If ever state lawmakers wanted to give federal lawmakers wanted a big kiss, this week might have been it. Gov. Scott announced Wednesday that federal officials approved $1.5 billion in funding through the Low Income Pool program in Florida. The announcement came as the House and Senate were working on their budget proposals, which included cuts to Medicaid that hospitals have said could increase costs to patients. Justin Senior, the head of the Agency for Health Care Administration, said details still need to be finalized for how the state can use the money, but the number is final. He said he expects the state will receive the final terms and conditions early this summer.
Education hopes — Despite opposition from Democrats, the GOP-controlled House passed a proposal to create a privately-run "Schools of Hope" program to combat failing schools throughout the state. The proposal, a priority for House Speaker Richard Corcoran, was approved on a 77-40 vote after more than three hours of debate. The goal is to to provide alternatives to chronically failing schools, often in poor areas. The schools would be within five miles of, or in the zones of, existing traditional public schools that have repeatedly earned low grades under the state's school grading system. More than 100 schools statewide have been consistently ranked as low performing for more than three years. The bill heads to the Senate, where leaders have said they're open to any idea that seeks to help students at low-performing schools.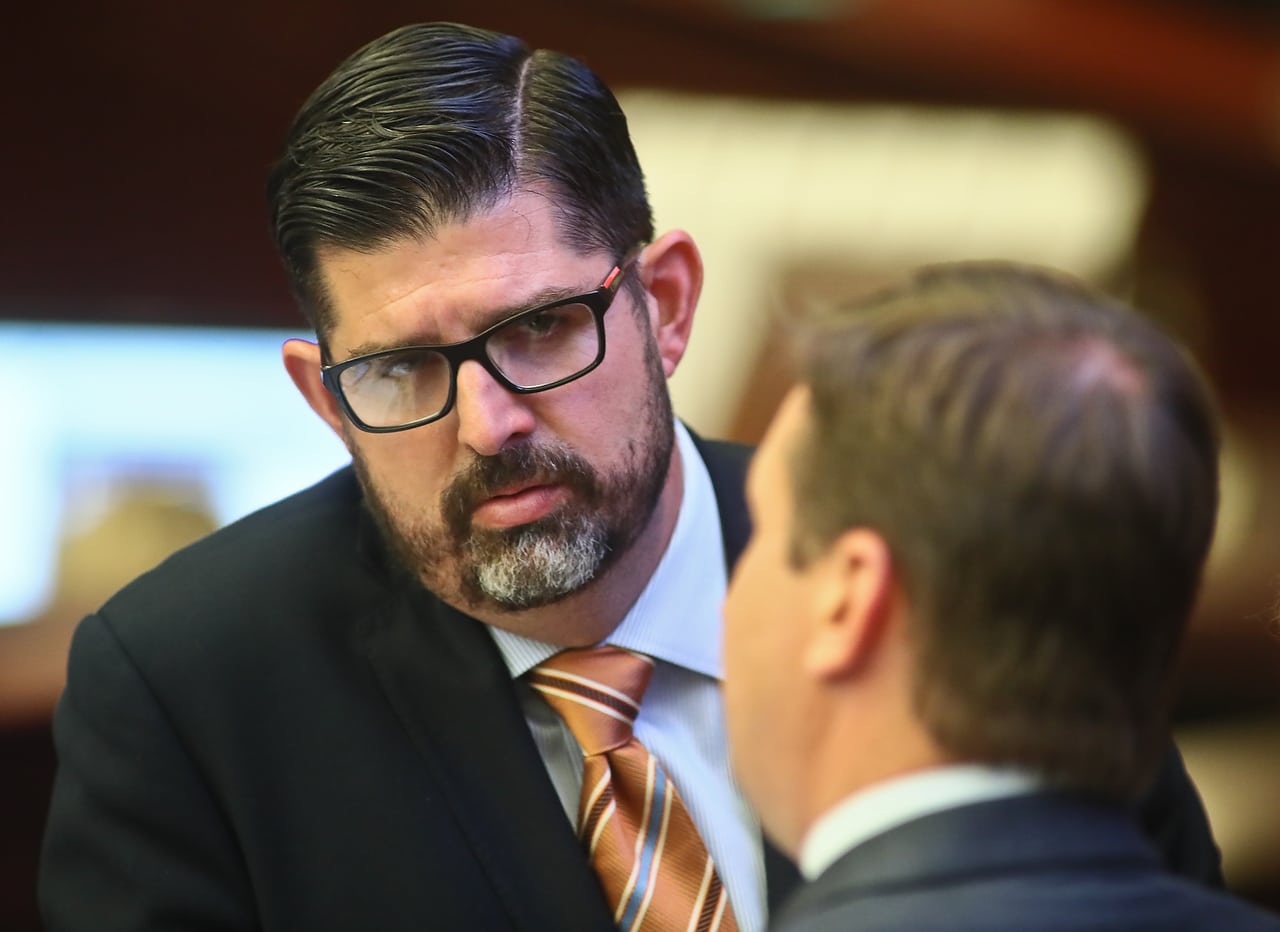 Lake O plan closer to a-go — The Senate OK'd a proposal this week that would build a reservoir south of Lake Okeechobee to help curb discharges to the St. Lucie and Caloosahatchee rivers. A top priority for Senate President Joe Negron, the bill would create at least 240,000 acre feet of storage and would store about 78 billion gallons of water. It also provides $1.5 million for the project, split between state and federal governments. While the proposal was amended after pushback from the agriculture and sugar industries, both remain hesitant to support the proposal. It could face a steep climb in the House, where leadership is generally opposed to bonding.
Florida is burning — Gov. Scott declared a state of emergency this week as firefighters battled wildfires throughout the state, from the top of Florida near Georgia line to Miami-Dade County. Scott said the proclamation will make it easier for state, regional and local agencies to work together to protect the state's families, visitors and communities. Wildfires are burning on more than 23,800 acres of land, and Agriculture Commissioner Putnam has called it the most active season since 2011. The largest blaze right know is the Cowbell Fire in Big Cypress National Preserve, which has spread to more than 8,000 acres just north of Interstate 75.
—
Dry conditions are contributing to wildfire dangers, but according to the Florida Forest Service there have been more than 240 separate arson wildfires this year.
Agriculture Commissioner Putnam asked for the public to help curb the spread of fires by reporting suspicious wildfire activity. Arson wildfires in the state, Putnam said, have increased 70 percent compared to this time last year.
"Wildland arsonists place lives, property and natural resources at risk, and we will not tolerate anyone who purposefully endangers Floridians and our first responders," he said in a statement. "With the help of Floridians and visitors, we can better protect Florida's communities and natural landscapes by stopping arsonists in their tracks."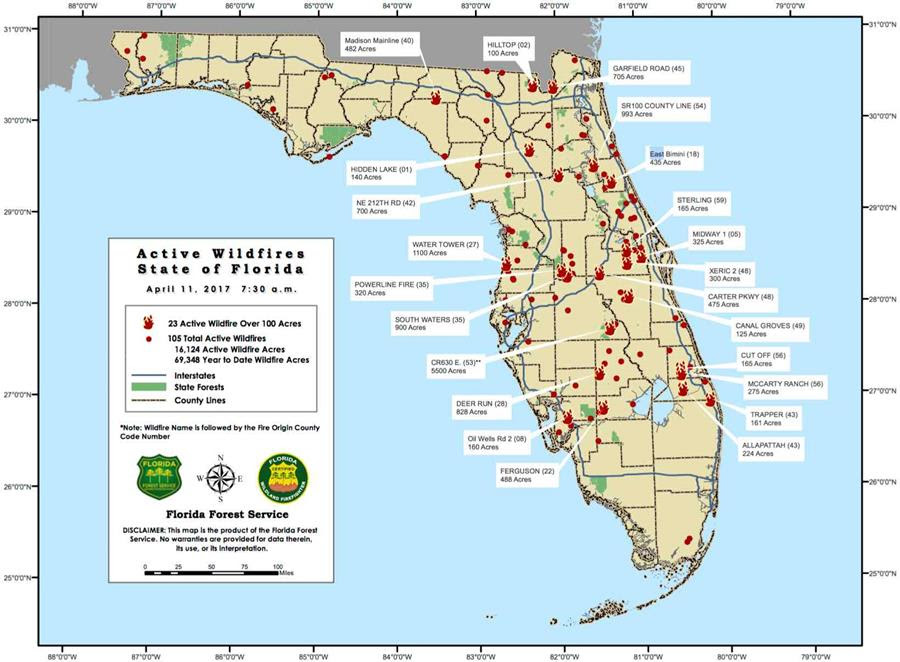 Residents and visitors are encouraged to call 911, as well as the department's arson hotline to report suspected arson or suspicious activities. Folks who report suspected wildlife arson activities should remember not to approach the suspect, and make sure to provide a description of the vehicle and the license plate, the physical description of the suspect, and the location of where the behavior was observed.
"More than 100 wildfires are burning across the state and forecasts predict heightened wildfire danger for the next few months," said Jim Karels, Florida State Forester. "Citizens and visitors who report suspicious wildfire activity are an invaluable resource as we work together to stop arsonists and keep wildfires at bay."
—
The Senate exercised a procedural trick to set up eight House bills for conference committee, including the Schools of Hope measure.
None of the bills had passed in the Senate. So, upon a series of motions by Appropriations Chairman Jack Latvala, the Senator took up each bill, stripped the language, installed a blank amendment, and sent the bills back to the House.
"We do it that way every single year," he told reporters. "We had four or five bills that we sent them that they hadn't passed. They had eight that they sent us. We put them all in a big pot. And now they'll go into conference and be able to be considered equally."
Does that process provide for sufficient transparency?
"We require that each conference meeting, there has to be public testimony," Latvala said. "Obviously, it's been heard in the House. You know, that's the system."
—
Franklin County has a new Tax Collector.
Gov. Scott appointed Richard Watson, a 69-year-old St. George Island resident, to serve as the Franklin County Tax Collector. Watson will replace James Harris Jr., who resigned April 3.
Watson, according to the Governor's Office, owns and operates Richard Watson LLC and is a realtor with Century 21 Collins Realty Inc. He earned his bachelor's degree from the University of Texas, and has a law degree from Emory University.
"I'm thrilled to be appointed," he told the Tallahassee Democrat this week. "And I look forward to serving. I enjoy public service. I'm humbled by the confidence the governor has in me."
Harris was arrested March 31 on a felony charge of having sex with a 17-year-old boy. According to the Tallahassee Democrat, Harris resigned on April 3, the same day Scott suspended him from office.
Watson, a longtime lobbyist for the construction industry, was appointed to a term ending Nov. 13, 2018. He plans to run for the office in 2018.
—
Congratulations, Chief Ted Ross!
The Tice Fire & Rescue chief was named the Florida Fire Marshal of the Year during the 2017 Florida Fire Service Awards ceremony this week. The annual ceremony is hosted to honor those in the fire service community who have shown exceptionalism in their profession.
Ross followed in his father's footsteps and joined the Tice Fire & Rescue District in 1994, where he would serve his community for more than two decades, eventually becoming the district's fire marshal. He was promoted to district chief in 2013, but petitioned to retain his duties as fire marshal. In an unprecedented move, he was stepped into a hybrid role, serving as both the chief and fire marshal.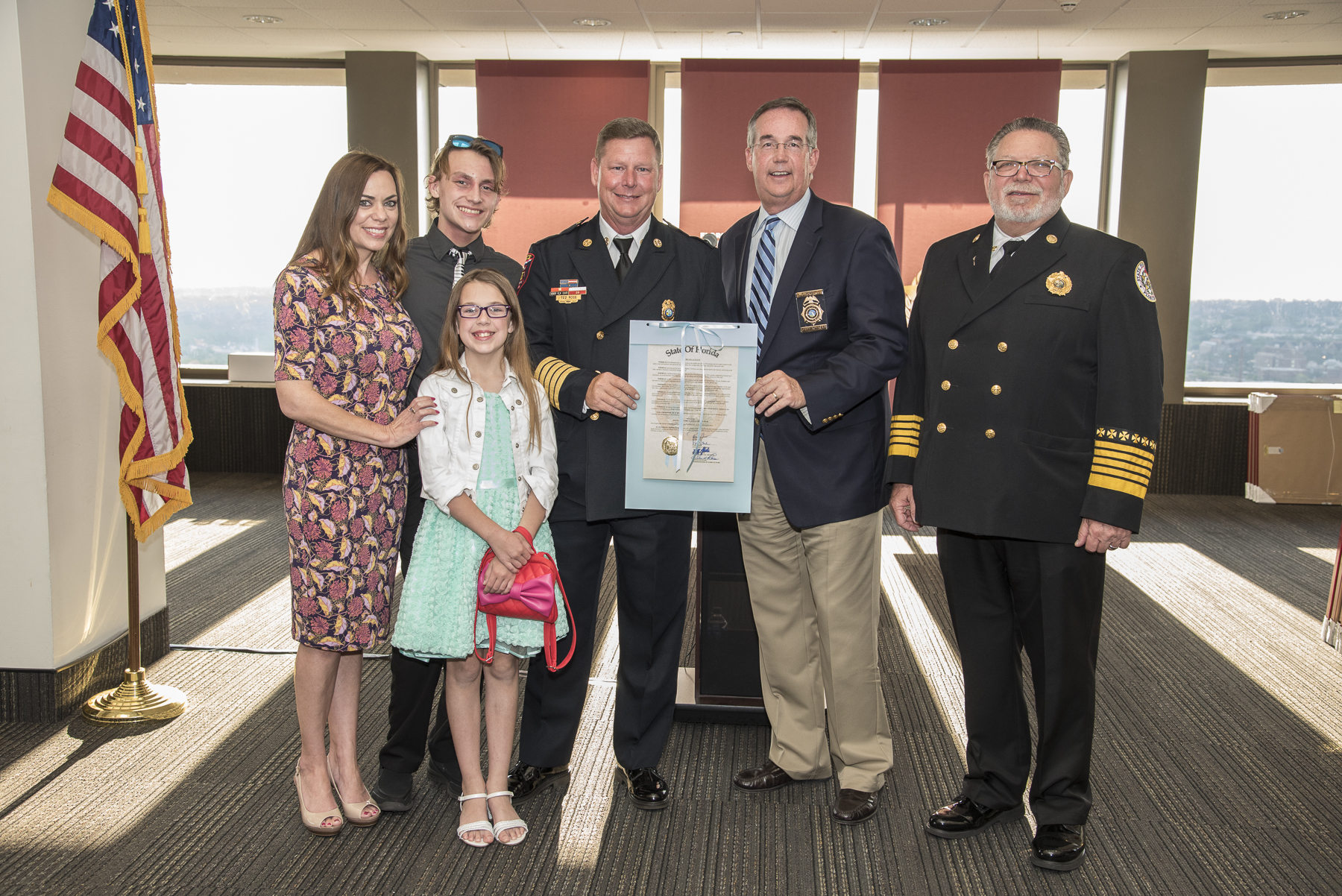 In 2015, he was instrumental in improving the standing and investigative presence of area fire marshals by campaigning for additional equipment, engaging in educational opportunities and creating a functional consolidation of the fire/arson investigational resources in Lee County.
The other 2017 award winners were: Chief Darrel Donatto with Palm Beach County Fire Rescue, who was awarded Fire Chief of the Year; Ryan Gallik with St. Cloud Fire Rescue, who was awarded Career Firefighter of the Year & Fire Service Instructor of the Year; James "David" Dietz with the Florida Forest Service Chipola Forestry Center, who was awarded Forestry Firefighter of the Year; Jackie de la Osa with the North Collier Fire Control & Rescue District, who was awarded Fire Inspector of the Year; Keith Tyson, the vice president of education research and outreach for Florida Cancer Support Network, who was awarded Professional Firefighter of the Year; Brock Dietz with the Florida State Fire Marshal's Office, Tallahassee Field Office, who was awarded the Fire Investigator of the Year; Earl Gray with the Highland Lakes Fire Department, who was awarded Volunteer Firefighter of the Year; Robert Lemons, with the Boca Raton Fire Rescue Services, who was awarded Fire and Life Safety Public Educator of the Year; and Fire Academy of the South at the Florida State College at Jacksonville, which was awarded the Training Center of the Year.
—
It's good to be the appropriations chairman.
Sen. Latvala put his clout behind an amendment to declare two forms of cancer occupational hazards for firefighters.
And, guess what? His committee agreed to append the measure to the Senate's workers' compensation bill.
"The order on this amendment is wrong," he told Sen. Anitere Flores, the vice-chair and the co-sponsor of the amendment. "It was your idea — your name should have been first. I'm not exactly sure how that could happen."
"You're the chairman," Flores joked.
Latvala was tired of waiting for the bill to come out of Community Affairs, where Sen. Tom Lee is chairman. The two have tended to clash this session.
"Studies have been done over and over and over," said Latvala. "And the studies show that firefighters are 50 percent more likely to develop multiple myeloma and non-Hodgkin's lymphoma than regular folks. And that's enough for me."
Bill sponsor Rob Bradley said later that was fine with the amendment.
"That's an issue that they both are very passionate about. I respect that passion," he said.
—
The torch is lit, now it's time to show it off.
Attorney General Bondi kicked off the 2017 Law Enforcement Torch Run benefitting the Special Olympics this week at the Florida Capitol. Bondi was joined by hundreds of law enforcement officers and supporters, as well as Special Olympics President and CEO Sherry Wheelock.
"Special Olympics Florida is an amazing organization that provides some of the most remarkable people with the opportunity to discover new strengths and skills that will last a lifetime," said Bondi in a statement. "I want to thank our law enforcement community and all those involved in the Torch Run for supporting these inspiring athletes."
Eight thousand members of the law enforcement and corrections community will carry the Flame of Hope 1,500 miles throughout Florida to raise awareness about the Special Olympics. They'll carry the torch to the opening ceremonies of the annual Florida State Summer Games, scheduled for May 19 and May 20 at the ESPN Wide World of Sports Complex in Lake Buena Vista.
—
Broward County Undersheriff Steve Kinsey was blunt when describing why his office broke with the Florida Sheriff's Association on a bill mandating civil diversion for young people caught in misdemeanors across Florida.
It's about the bias.
The association wants to leave charging decisions up to officers' discretion. So did Sen. Jeff Brandes. Sen. David Simmons seemed inclined that way, too.
Sheriff Scott Israel removed deputies' discretion five years ago, and the system has worked, Kinsey insisted.
"I came up through the ranks — I've been in law enforcement for 26 years. Sometimes we see things at a different when we're higher up," he said. "By taking that discretion away, we didn't allow the deputies' personal biases to get involved in that decision."
Existing law allows discretion, said Sen. Flores, the bill's sponsor.
"And how has that discretion manifested itself? It manifests itself very, very differently, not just in different counties but among different people," she said. "That is a harsh reality that we sometimes do not want to face."
—
Kudos, Jason Hutchinson.
The Fish and Wildlife Conservation Commission officer was presented with the Governor's Medal of Heroism during the Florida Cabinet meeting this week. The presentation came just weeks after Hutchinson was recognized as FWC's 2017 Officer of the Year for his service and commitment to the safety of Florida's families.
"Officer Hutchinson's dedication to conserving resources and public safety makes him an ideal FWC officer," said Col. Curtis Brown, the director of the FWC Division of Law Enforcement, in a statement. "He has made a difference in his patrol area and we're proud to have him representing the FWC."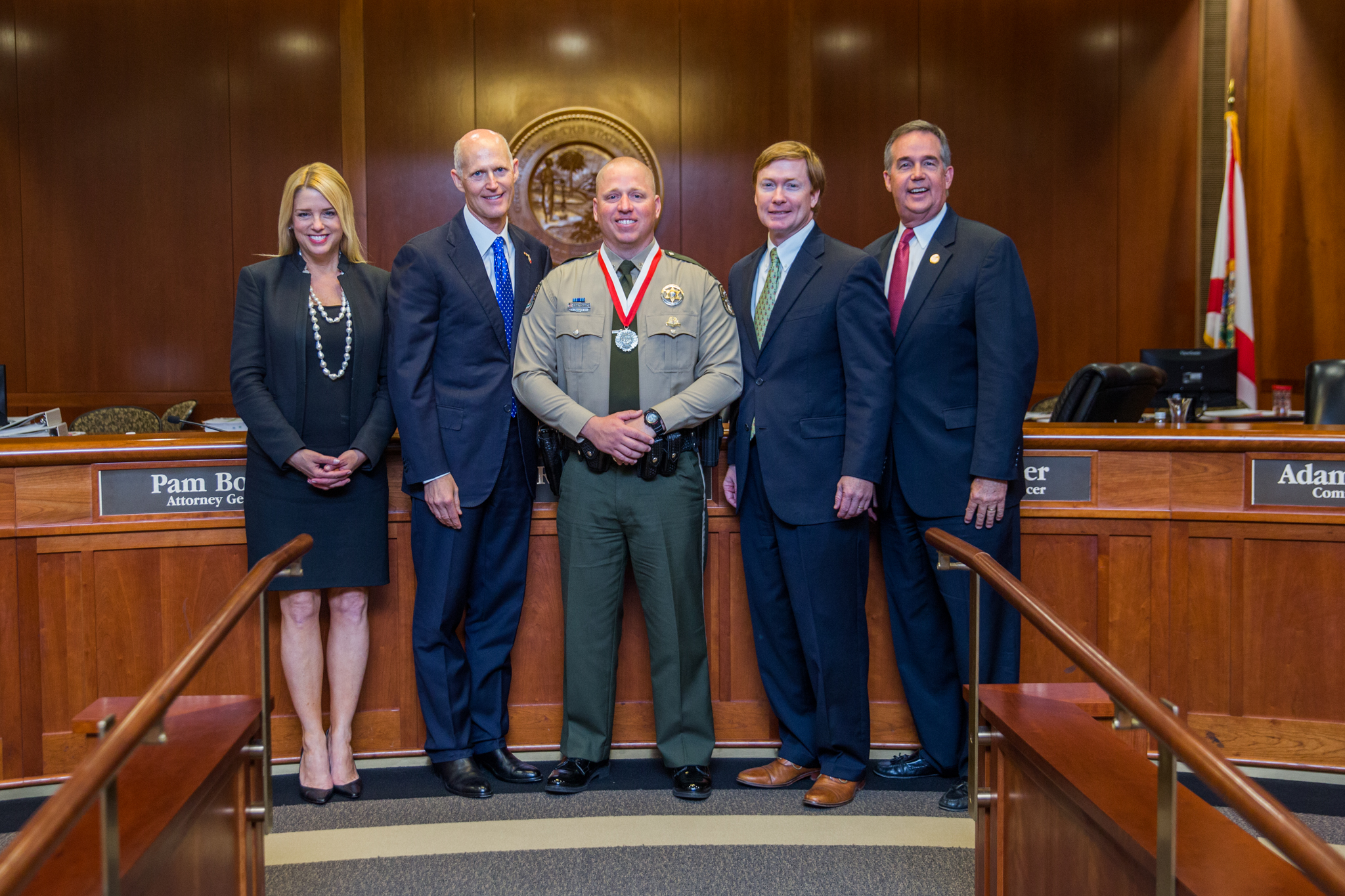 Hutchinson began his career at the Florida Department of Corrections, but became a sworn officer for the FWC in 2012, patrolling Santa Rosa County. Over the past year, he rescued a first-time hunter lost at night in the Escambia River swamp and was instrumental to apprehending one of the most wanted illegal drug distributers in the area. He also developed an officer mentoring program, and works with the community's youth and civic organizations.
"I'm incredibly proud to recognize Officer Hutchinson with the Medal of Heroism today for his outstanding service to the State of Florida," said Gov. Scott in a statement. "Officer Hutchinson's actions show how hard Florida's law enforcement officers work every day to protect our families and communities."
—
The Senate Appropriations Committee added language to the civil diversion bill this week that would require the Florida Supreme Court to report to the governor and Legislature every year on how many cases are languishing on its docket for longer than 180 days.
The detailed reports would have to include the court's reasons for any backlog.
Democrats tend to view the provision as an intrusion on the court. Sen. Oscar Braynon wondered whether it was necessary to append it to the juvenile justice bill.
"We're at the point in session where different bills may not be fully moving along the process," said Sen. Flores. "This is an opportunity for several senators' issues to be brought together for a bill. It's a good way to have even more support for this very good bill."
—
Give these educators a round of applause.
Gov. Scott presented four Florida educators with the Governor's Shine Award during the Cabinet meeting this week. The award is presented to teachers and administrators who make significant contributions to the field of education, and the educators honored this week were recognized for their commitment to student successes and to furthering their professional skills.
The governor honored Sean Downing, the principal of Osceola Middle School in Okeechobee County; Melissa Garcia, a 10th through 12th grade school counselor at Seminole Ridge Community High School in Palm Beach County; Monica Pool, a literacy coach at South Fork High School in Martin County; and Sandy Waite, a fourth grade teacher at Southside Elementary School in Sarasota County.
"I am proud to present these four educators with the Governor's Shine Award today and recognize their outstanding efforts to educate Florida's next generation of leaders," said Scott in a statement.
—
The Sunshine State could be among the hardest hit if Congress gets ride of Obamacare regulations to make insurance make health insurance coverage cheaper, according to a new report.
The Century Foundation, a progressive, nonpartisan think tank, found that if Republicans turn over regulations to the states, an estimated 91 million Americans in self-insured employer plans would be impacted. The report found more than 4.8 million Floridians could be at risk of losing essential health benefits if the plan goes forward.
According to the report, allowing states to replace the Affordable Care Act's "ten essential health benefits with their own menu could return the individual and small group markets to the days when many key services were excluded from many plans."
The report goes on to say there is a "difference between empowering states to improve their health systems and shifting hard decisions from the nation's capital to state capitols."
"The potential House Freedom Caucus amendment may be deregulation disguised as devolution," it concluded.
—
Disease prevention non-profit Trust for America's Health lamented massive cuts to the Centers for Disease Control and Prevention in a report put out this week.
The group said $580 million has been cut out of the CDC budget since 2010 and budget sequestration is likely to knock the agency's funding to 16 percent below 2010 numbers. States aren't filling in that gap, either.
"It is painfully clear that the decrease in federal spending has not led to higher state spending for public health. Rather, the nation has doubled down on cuts at both levels, leaving us vulnerable to the next public health crisis. Cutting public health programs is shortsighted – and we will all pay the price over time," said TFAH CEO John Auerbach.
The double down is likely to cost Americans more money in the long run, too.
According to the report, every dollar put toward substance use prevention produces a $34 return, while an investment of $10 per person community prevention programs to increase physical activity, improve nutrition and reduce tobacco use could save the country more than $16 billion annually – a return of $5.60 per dollar spent.
—
The number of hospital beds in Florida appears to be on the rise.
A new report for the Florida Hospital Association — prepared by the University of Florida-IFA, Food & Resource Economics Department — found the number of hospital beds increased to 65,637 in 2015. That's up 1.6 percent from 2013, when there were 64,604 hospital beds in the state.
The increase in beds coincides with a 2.6 percent increase in the number of hospitals operating in Florida in the same time frame. The report found 317 hospitals were located in Florida in 2015, up from 309 hospitals two years earlier.
Full- and part-time employees increased more than 6.8 percent, from 265,853 in 2013 to 284,110 in 2015; while the total employment impact rose to 901,675 in 2015.
—
To grow the populations, the Florida scrub-jays are getting new digs.
The Florida Fish and Wildlife Conservation Commission, in partnership with the U.S. Forest Service and Florida Forest Service, announced this week it had relocated nine Florida scrub-jays Ocala National Forest to Seminole State Forest, about 20 miles away. The goal was to relocate birds from a stable population to areas of restored scrub habitat not yet discovered by the species.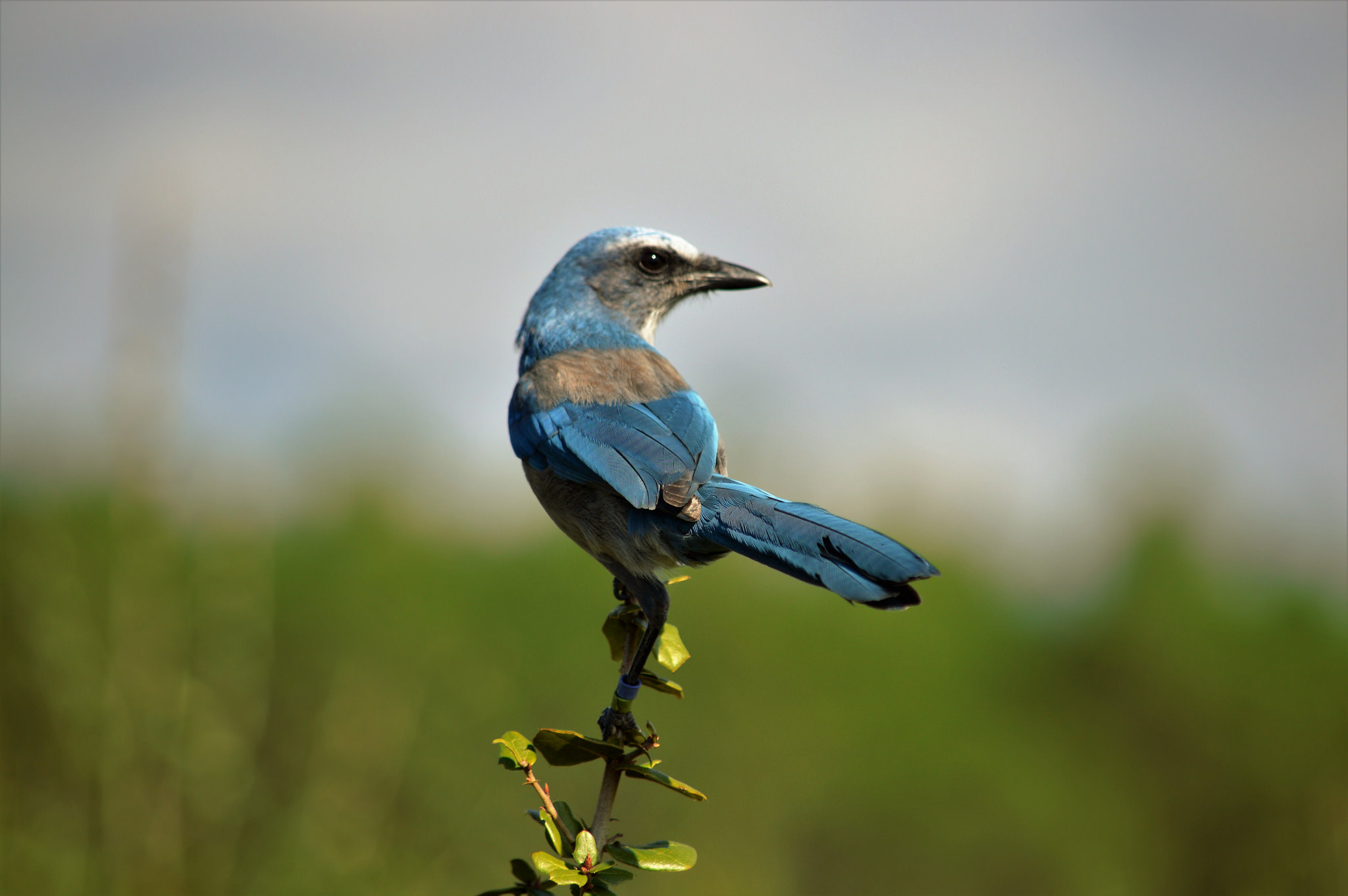 According to the FWC, the birds established new territories in their new homes, and researchers will monitor each population's progress throughout this year's breeding season.
The Florida scrub-jay is one of the most imperiled bird species in North America. Most of the remaining populations are small, with less than 25 breeding pairs, and are relatively isolated from each other. Florida scrub-jays are non-migratory, and have difficulty dispersing long distances when their available habitat is fragmented.
Relocation, or translocation, is a strategy used to improve population sizes, increase connectivity among population and preserve genetic diversity of imperiled species.
—
Steven Cleveland is doing his part to make his community a better place.
Cleveland, the director of the Florida Dream Center Adopt-A-Block program, was awarded with the Volunteer Florida Champion of Service Award during the Florida Cabinet meeting this week.
"Volunteer Florida is honored to recognize Steven for his tireless commitment to Tampa's underserved families and neighborhoods," said Volunteer Florida CEO Chester Spellman in a statement. "We are grateful for the opportunity to recognize Steven for the countless hours he has spent helping his community."
The Adopt-A-Block program mobilizes volunteers throughout the Tampa area to distribute food, clothing and household necessities to low-income families and people experiencing homelessness. The program also organizes neighborhood cleanups and gardening projects to help revitalize Tampa's low-income areas.
Under Cleveland's leadership, the program mobilized 1,579 volunteers who served more than 5,200 hours of community service, distributed more than 18,940 pounds of food, and completed revitalization programs in the local Lealman neighborhood in 2016. Cleveland is also a member of the Hillsborough County Parks and Recreation Executive Board of Directors.
—
A Senate panel took the first step this week toward replacing a statue of Confederate Gen. Edmund Kirby Smith at the U.S. Capitol.
The Appropriations Committee unanimously approved a bill that would replace Smith's statue in the Washington statuary hall with one of Mary McLeod Bethune, the civil-rights leader and founder of Daytona Beach's Bethune-Cookman University.
The measure, SB 1360 by Fort Lauderdale Democrat Perry Thurston, passed with little debate, though one Yulee resident spoke out against the plan.
"My ancestors fought for the Confederacy, and I'm proud of them," said Seber Newsome III.
The bill needs approval from the Senate Rules Committee before its ready for the chamber floor.
Each state has two slots in the statuary hall, and Florida is represented by Smith and John Gorrie, a 19th-century Apalachicola resident who is regarded as the father of air conditioning.
—
Telecommunications company Comcast got some praise from Gov. Scott this week for announcing it will add jobs and build a new facility in Miramar.
"I am proud to announce that Comcast will be expanding in Florida and creating 600 new jobs for families in Miramar," said Scott. "I was also honored to recognize some of the many military members and veterans that have built careers at Comcast thanks to the company's commitment to hiring our brave service members."
The new jobs will mostly be in customer service and have a starting wage of $16 an hour. Comcast's VP of Business Services said the new hires are important to the company's goal of boosting customer service satisfaction.
The company also reaffirmed their support for National Guard and Reserve employees.
"We recognize that these men and women are invaluable both to our company and to our Nation's defense," said Carol Eggert, Comcast VP of military and veteran affairs. "We highly value their skills and are proud to have thousands of members of the military community in all levels of the organization."
—
The Department of Opportunity is lining its lawn with pinwheels this month.
The state's jobs agency planted planted a pinwheel garden this week to raise awareness of child abuse prevention efforts around the state in recognition of Child Abuse Prevention Month.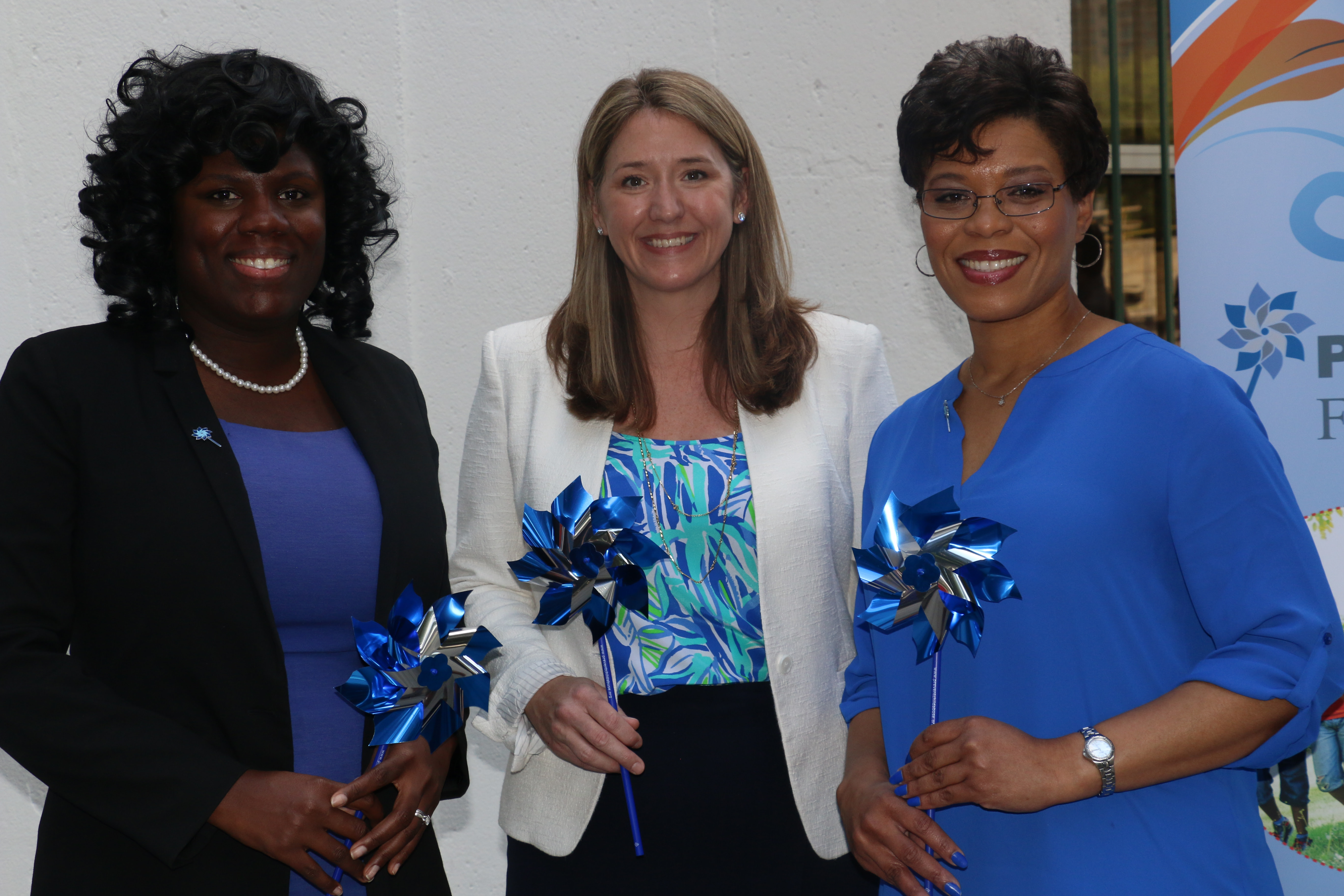 "Our employees are committed to supporting Florida families as they raise children to be successful, happy and healthy," said DEO Executive Director Cissy Proctor. "At DEO, we work every day to strengthen Florida's families by helping them get good jobs that provide for their children and support their dreams and goals. As our communities continue to support happy, healthy children, our state will continue to grow and succeed."
Pinwheels for prevention is a national campaign designed to increase awareness of child abuse efforts. In Florida, the effort is coordinated by Prevent Child Abuse Florida, the Ounce of Prevention Fund of Florida, and the Department of Children and Families.
—
The shoes of sexual assault survivors will be on display at the Florida Capitol next week.
Hosted by Lauren's Kids and the Florida Council Against Sexual Violence, more than 750 pairs of shoes worn and submitted by sexual assault survivors of all ages from across Florida — and their accompanying stores — will be on display in the Capitol rotunda from April 19 to April 21. The display honors National Sexual Assault Awareness Month and National Child Abuse Prevention Month.
The presentation is backed by Sen. Lauren Book, the founder of Lauren's Kids, and Rep. Kristin Jacobs, and intended to raise awareness and shatter stigmas surrounding sexual violence.
—
Thank you for your service.
That was the message Gov. Scott sent this week during a veterans' event in Bonita Springs this week. The Naples Republican handed out more than 100 Governor's Veterans Service Medals to Southwest Florida veterans, and recognized three World War II veterans for their service.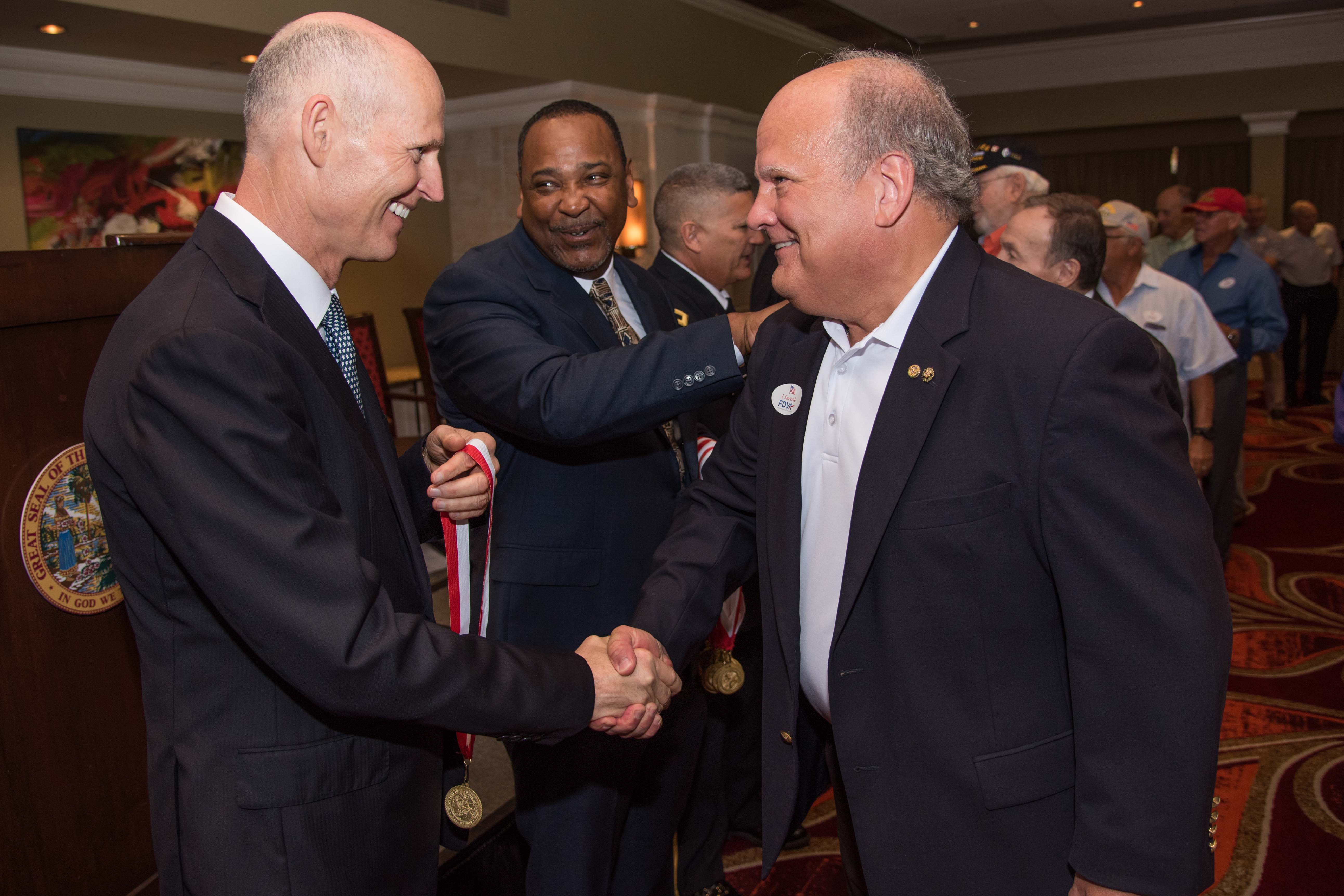 "It's an honor to recognize these brave men and women for their service to our state and country," said Scott. "We must take every opportunity to express our gratitude and thank our service members for their courage and sacrifice."
Scott recognized Tech 4 Thomas Nelson Fagon, who joined the United States Army in 1942 and was deployed to the Philippines in 1945. His service has been recognized with the Good Conduct Medal, the American Theater Campaign Ribbon, and the Victory Medal.
He also presented Shipfitter 1st Class William Logan with a medal. Logan joined the U.S. Navy in 1942, and participated in two North African invasions leading to the severing of German Officer Erwin Rommel's supply lines, considered a turning point in the war. He also traveled with his battalion to support invasions in Italy and Normandy.
The governor also recognized Staff Sgt. Leon Hesser, who began his service in 1942 with the U.S. Army. During World War II, Hesser supported efforts in the Philippines and the Pacific, and was discharged from Japan in 1946, shortly after the war ended.
—
Welcome to the council!
The University of Florida Bob Graham Center for Public Service announced Joan Forrest, Pam Iorio, and Chester Spellman accepted invitations to serve three-year terms on the center's Council of Advisors. The council, which harnesses the expertise of various public and private sector leaders from across the state, provides strategic and programmatic direction to the Bob Graham Center.
"The willingness of these three outstanding individuals to serve as advisors for the Bob Graham Center for Public Service says a lot about the work of the center and its students," said David Colburn, Ph.D., center director and University of Florida Provost Emeritus. "They will provide invaluable advice as the center looks to the future."
Forrest, a University of Florida graduate, is the president of St. Petersburg's Dawson Academy, a postgraduate educational and research facility dedicated to the advancement of dentistry.
Iorio is currently the president and CEO of Big Brothers Big Sisters of America. She served as Mayor of Tampa from 2003 until 2011, and previously served as the Hillsborough County Supervisor of Election and a Hillsborough County commissioner.
Spellman is the CEO of Volunteer Florida, the governor's lead agency for volunteerism and service. He also serves as the current chair for Connect Florida, a program of Leadership Florida and as the national chair of the American Association of State Service Commissions.
—
Three cheers for Nic's Toggery!
The Tallahassee establishment was recognized this week with the Governor's Business Ambassador Award during the Florida Cabinet meeting this week. The capital city menswear specialty store was established by Nic Gavalas in 1950, and now has three locations and 15 employees.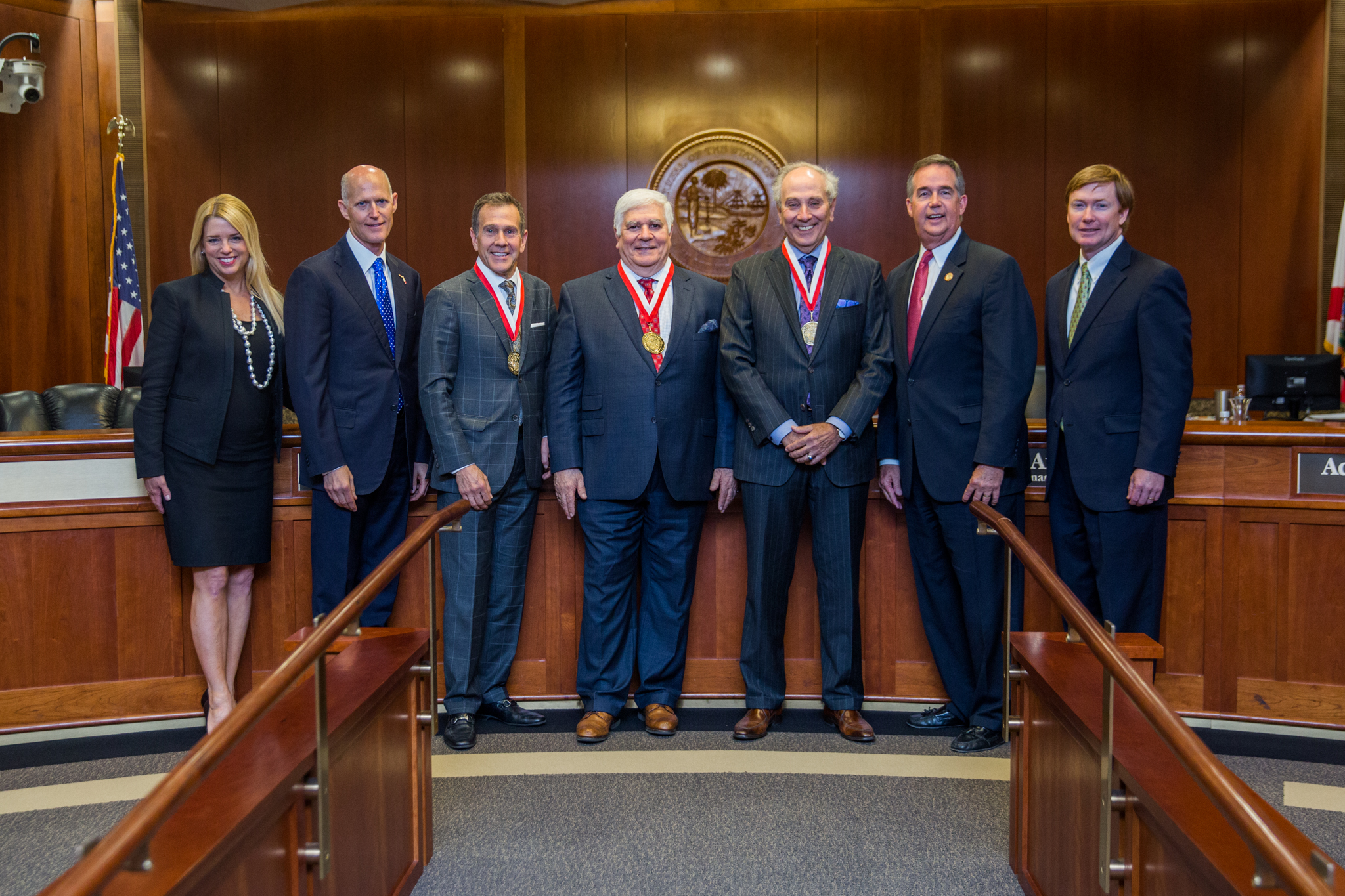 "My brothers and I are proud to continue our father's small business and fulfill his dream of the Southeast region with the finest quality of clothing," said Victor Gavalas, president of Nic's Toggery, in a statement. "We are incredibly grateful for our success, and we look forward to growing in Tallahassee and throughout Florida for generations to come."
—
Palm Beach State College got a big gift from their partners in the Everglades Agricultural Area.
The state college received nearly $100,000 from its partners, including a $20,000 dump truck from the Sugar Cane Growers Cooperative of Florida, a $25,000 John Deere Stationary Power Unit from the Everglades Farm Equipment, and a $50,000 tractor from Florida Crystals Corp.
The equipment will be used to train students in the College's Heavy Equipment Mechanics program at the Belle Glade campus. The career certificate program prepares students for good-paying jobs as mechanics or mechanics helpers working on truck, bus and diesel engines, mobile heavy equipment, construction equipment and industrial vehicles.
"These forward-thinking companies share our vision of ensuring that students are highly skilled and job-ready when they graduate," said PBSC President Ava L. Parker. "Their gifts will enable our students to work on equipment critical to local industries and allow us to do an even better job of providing a quality workforce for the region."
Serving 48,000 students each year, the college is the largest institute of higher education in Palm Beach County, providing bachelor's degrees, associate degrees, professional certificates, career training and lifelong learning. The state college offers more than 130 programs of study at five campuses strategically located throughout the county.
"Training programs like this one are so valuable for the Glades communities and for agricultural companies and job providers in the EAA," said Billy Sanchez, assistant vice president of Florida Crystals. "We are delighted to help support Palm Beach State College, because they offer services to enrich the lives of their students and, at the same time, help train the local workforce for the highly skilled jobs offered by local farming companies."
—
This hoops lover is going places.
Andres Cardona, the founder and CEO of Elite Basketball Academy in Miami, was presented with the Young Entrepreneur Award during the Florida Cabinet meeting this week. The 23-year-old founded the youth basketball program in 2011, according to the Governor's Office.
"It's great to see Florida entrepreneurs follow their dreams of starting a business and make a difference in their community," said Gov. Scott in a statement. "It takes dedication and hard work to start a business, and I look forward to seeing Elite Basketball Academy's success in Florida."
The academy, according to its website, aims to "instill everlasting principles in the youths of our community, using basketball as our tool."
Cardona graduated from Florida International University in 2016 with a bachelor of business administration and finance.
"Elite Basketball Academy is focused on providing youth with everlasting principles in the Miami area," he said in a statement. "We work hard to develop outstanding citizens. I'm grateful for the success we have seen, and I can't wait to see what the future holds."
—
A proposed sales tax exemption for golf courses would apply to seven at most, all of them in Miami-Dade County.
The suggestion was among the legislative initiatives reviewed by the Revenue Estimating Conference, comprising state government's top economists.
"One of the criteria was that it had to be a county with more than 2 million people. So that's only Miami-Dade, so they're the only ones who could possibly qualify," said Amy Baker, chief of the Office of Economic and Demographic Research.
It wasn't clear how many golf courses the bill would apply to. They need to be publicly owned but operated by contractors, and offer youth education programs.
At least five courses qualify, and maybe as many as seven.
"We have to assume how many have those relationships, how many would continue those relationships.
The conference settled on a cost of $200,000 in the first year, and $210,000 going forward.
—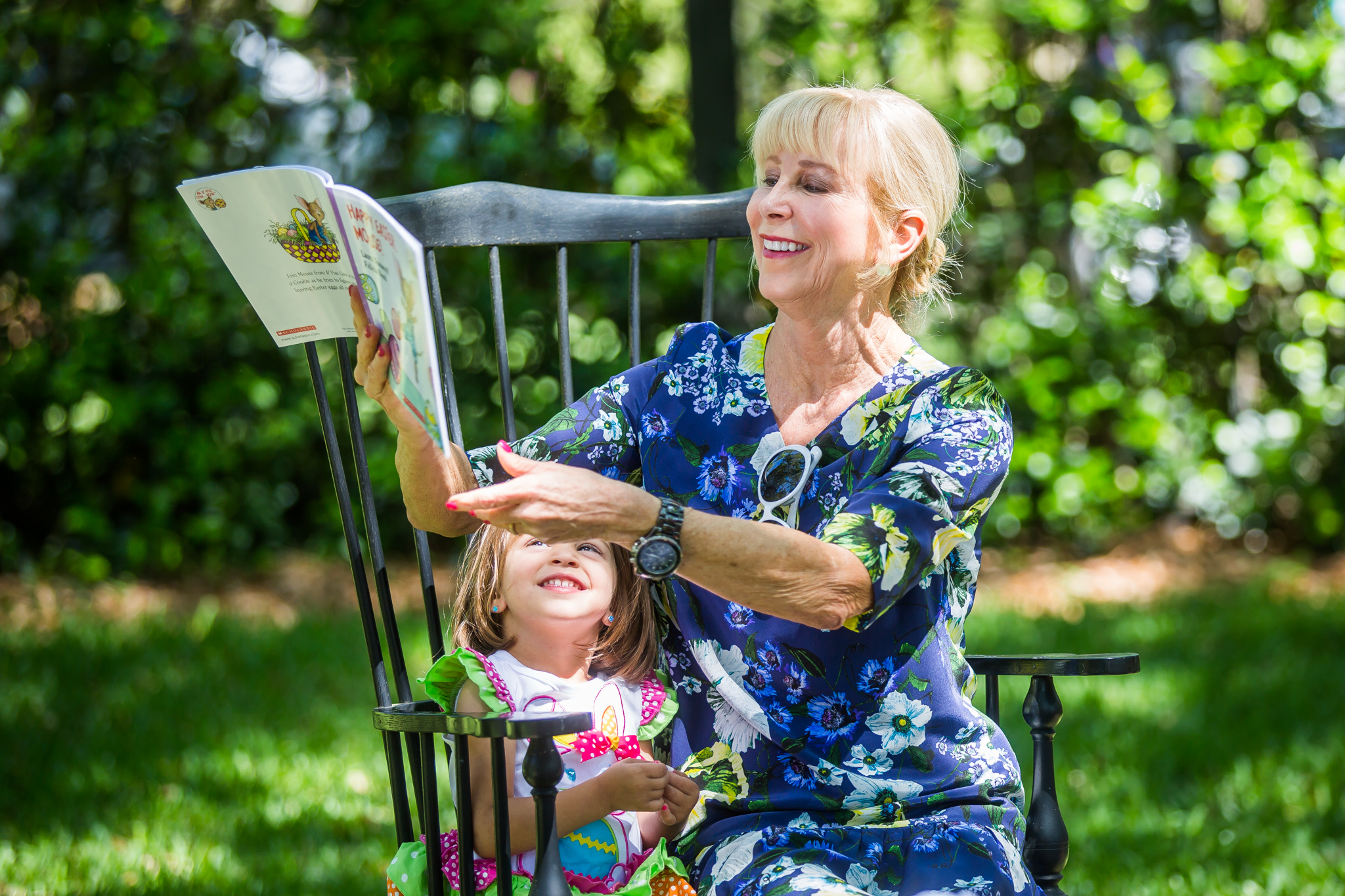 The Easter bunny made an early stop in Tallahassee.
Gov. Scott and First Lady Ann Scott hosted the annual Easter Egg Hunt at the Governor's Mansion on April 8. The first couple hosted the event for children in foster care and adopted services, and military families.
About 200 people attended the event. Guests got to sip lemonade, mingle with the governor and first lady, and even meet the Easter Bunny. According to the Governor's Office, guests received carrot shaped bags filled with goodies.
—
If you're celebrating Easter this weekend, the best place to do it in the Florida might be Orlando.
Why? Well, according to WalletHub the City Beautiful is the 5th Best City in the nation to celebrate Easter.
The number crunchers at the personal finance website compared the 100 largest cities across 11 key metrics, ranging from the number of Easter egg hunts per capita to the weather forecast, to come up with the list of best places to celebrate Easter in 2017. Orlando was the only city in Florida to make the Top 10 list.
The city ranked No. 1 in churches per capita, brunch restaurants per capita, candy and chocolate stores per capita, and flower and gift shops per capita. Orlando ranked 11th for Easter egg hunt events per capita.
It was ranked 27th when it came to the Easter weather forecast; the weather Sunday is supposed to be 84 degrees and partly cloudy. Birmingham, Alabama — where it's expected to be … 84 degrees and partly cloudy on Sunday — was ranked No. 1 for Easter weather forecast.
According to the report, Tampa was the 16th best city to celebrate Easter, followed by Jacksonville in the 41st spot, Miami in the 69th spot, and St. Petersburg in the 85th spot. Hialeah, according to the report, is the worst place in the country to celebrate Easter.
—
Mark your calendars, the Florida Folklife Program is set to honor Haiqiong Deng next week.
Deng, the recipient of the 2017 Florida Folk Heritage Award, will be honored at the Florida State University Music Concert featuring FSU Chinese and blues music ensembles at Opperman Music Hall at 7:30 p.m. Thursday. The event is free and open to the public, and recognizes her accomplishments as a traditional Chinese musician and educator.
"We invite the community to take part in celebrating Ms. Deng's contributions," said Secretary of State Ken Detzner. "Her dedication and life-long commitment to preserving and promoting Chinese culture and music has contributed deeply to Florida's cultural heritage."
Deng, the director of Chinese Music Ensemble at Florida State, has dedicated herself to teaching Chinese music to students since 2001.
—
Here's this week's edition of Capitol Directions: