Frank Artiles wants pot to be pure.
The GOP state senator from Miami this week filed a 33-page bill (SB 1388) to "require independent third party testing for medicinal cannabis treatment centers," he said in a statement.
"Medicinal cannabis should be tested just like any other medicine," Artiles said. "This bill will protect those that have a debilitating medical condition and will be ingesting these products. Safety is our primary concern."
The bill would "authorize the establishment of medical marijuana testing facilities to ensure that all medical cannabis is tested for potency and contaminants in accordance with the (state's) quality control program," it says. 
It also prohibits medical marijuana testing facilities from being owned by those "who also possess an ownership interest in (a treatment center)."
Jeff Sharkey, co-founder of the Medical Marijuana Business Association, says he's recommended the "excellent idea" for the last couple of years.
"For reasons of compliance, quality control and consistency, you do need a third party so the state can insure the product meets its standards," he says.
Every lab already does its own testing, but having a third party helps avoids the "perception of the fox in the henhouse," Sharkey adds.
Still, we can't help being reminded of General Jack D. Ripper from the movie "Dr. Strangelove."
"It's incredibly obvious, isn't it? A foreign substance is introduced into our precious bodily fluids without the knowledge of the individual. Certainly without any choice. That's the way your hard-core Commie works."
Uh, better purebred than Red? (We tried.)
Coming up, the usual assortment of tidbits, leftovers and not-ready-for-prime-time moments by Jenna Buzzacco-Foerster, Michael Moline, Jim Rosica, and Peter Schorsch.
Now, the "Takeaway 5" — the Top 5 stories from the week that was:
Gov. Scott goes to Washington — Gov. Scott fled the Sunshine State this week, spending several days in Washington D.C., where he met with members of the Florida congressional delegation and the Trump administration. According to his official calendar, Scott met with Treasury Secretary Steve Mnuchin, before attending the White House Governors Ball on Sunday evening. His official schedule showed another full on Monday, when Scott was had meetings with Education Secretary Betsy DeVos and Transportation Secretary Elaine Chao. Nothing compared to Tuesday, his final day in Washington, when Scott had back-to-back-to-back meetings with members of the Trump administration, members of the congressional delegation and several interviews with the media. According to Scott's schedule, the governor met with Reps. Gus Bilirakis, John Rutherford and. Mario Diaz-Balart. Scott then jetted over to the U.S. Department of Health & Human Services to chat with HHS Secretary Tom Price. And if you're the Republican governor of the third largest state in the country and a pal of the president, there's only one way to end a trip to Washington, D.C.:  Attend a joint session of Congress.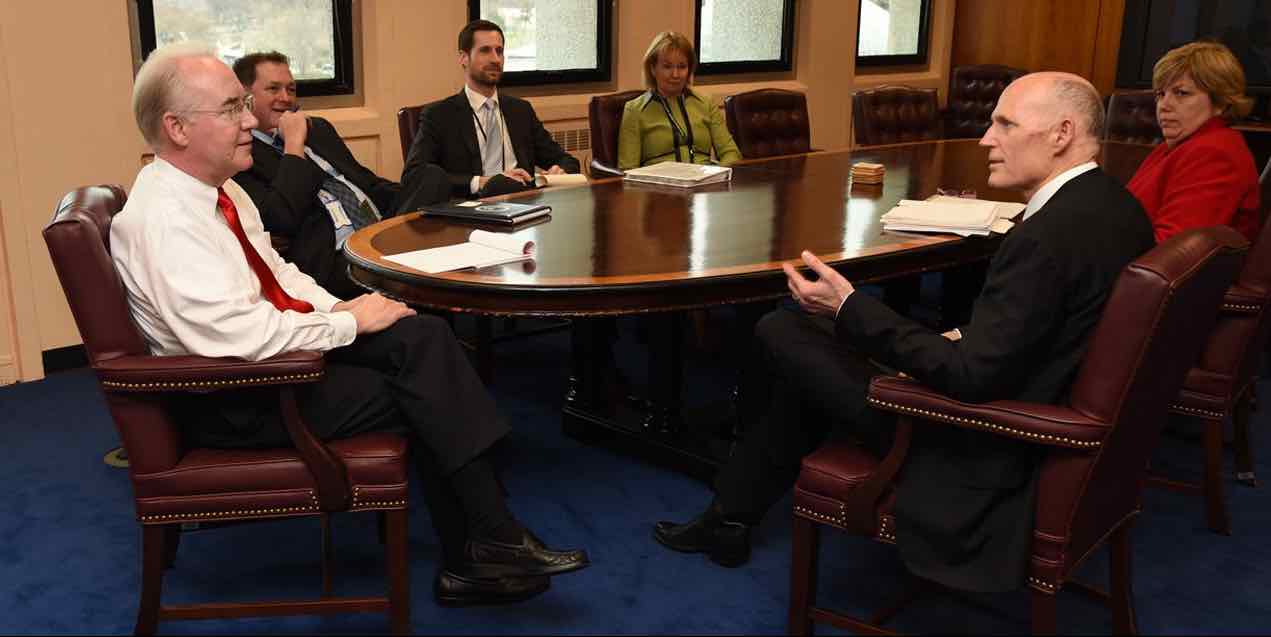 More Sunshine in the D.C. — A bye week in Tallahassee can only mean one thing: It's time for a road trip to D.C. Several legislators — including House Speaker Richard Corcoran and Joe Negron — traveled to Washington, D.C., for a series of meetings with congressional leaders to talk about federal issues. Among the things discussed this week, was how to best reduce and eliminate discharges from Lake Okeechobee. In a memo to senators, Negron dismissed a proposal to curb discharges by holding more water in Lake O. State lawmakers were also expected to talk about the Affordable Care Act, flood insurance, and tax reform. But legislators weren't the only ones in the nation's capital. Attorney General Pam Bondi was in D.C. to take part in the Republican Attorneys General Association meeting with President Donald Trump.
Going bust — Here's another wrinkle in the effort to approve a new Seminole Compact: The Seminole Tribe of Florida revealed the nation's top Indian gambling regulator last year told the tribe the federal government would be "hard-pressed" to approve its new blackjack agreement with the state. In a letter to Gov. Scott and Legislative leaders this week, Tribal Chairman Marcellus Osceola told the state that this year's gambling legislation "neither would satisfy the requirements of federal law nor satisfy fundamental tribal concerns" and called them "not acceptable."
2018, here we come — Welp, the 2018 gubernatorial race has officially begun. Tallahassee Mayor Andrew Gillum officially launched his gubernatorial campaign this week, saying in an email to supporter that he believes "we are a time in our state and our nation's history that requires not just people who quietly agree on these critical issues we are facing, but people who are going to be champions, who will get out and lead on them." But within hours of launching his campaign, the Democrat was already under fire for using a taxpayer funded email program to send political emails. Orlando Democrat Chris King launched his gubernatorial bid, while Miami Beach Mayor Philip Levine continued on his listening tour. Don't think Republicans are just sitting by twiddling their thumbs, though. Both Agriculture Commissioner Adam Putnam and Appropriations Chairman Jack Latvala posted big fundraising numbers in February, increasing speculation that they're gearing up for a 2018 campaign.
https://www.youtube.com/watch?v=aBBfAcBkLdE&t=6s
#SessionIsComing — The 2017 Legislative Session is almost here. The annual 60-day session kicks off Tuesday, when Gov. Scott gives his traditional "State of the State" address around 11 a.m. The Senate will convene at 9:30 a.m., while the House will be called in to session at 10 a.m. Members have until noon Tuesday to file bills that they want to be considered this Legislative Session. But before legislative leaders gavel in the 2017 Session, you can expect a mad dash for last minute fundraising. Several fundraisers are scheduled for Monday, as lawmakers take advantage of the last full day of fundraising before session. And you can bet everyone who is anyone will be at Associated Industries of Florida on Monday evening for its annual pre-session shindig.
—
USA Today Network's "calvary" is on its way.
The newspaper chain's Florida properties announced the formation of a 7-person capital bureau to cover the 2017 Legislative Session.
"Our coalition of community news sites across the state of Florida gives us the opportunity to cover the Legislature with more depth, and breadth, too – more than we've been able to in many years," said Florida regional editor Cindy McCurry-Ross.
The team will include Arek Sarkissian and Alexandra Glorioso of the Naples Daily News, Isadora Rangel of The Stuart News/Treasure Coast Newspapers, and the Tallahassee Democrat's Jeff Burlew, Jeff Schweers and James Call (a FloridaPolitics.com alumnus).
Rounding out this 'magnificent seven' is Bill Cotterell, the Democrat's not-so-retired columnist and former legislative reporter, who will continue to write his "twice-weekly column on state government and politics."
Other network newspapers in Florida include the Pensacola News Journal, the News-Press of Fort Myers and Florida Today in Brevard County.
—
Rep. Amber Mariano wants to make sure military men and women who gave their lives in the line of duty are remembered.
The New Port Richey Republican filed legislation (HB 959) this week that would allow state, county and municipal governments to display the Honor and Remember Flag at state-owned buildings and locations on certain dates. Sen. Tom Lee has proposed similar legislation in the Senate.
Under the proposal, the flag could be displayed on Armed Forces Day, Memorial Day, Flag Day, Independence Day, National POW-MIA Recognition Day, Veterans' Day and Gold Star Mother's Day. The bill also authorizes state and local governments to display the flag on any day "on which a member of the United States Armed Forces who is a resident of the state loses his or her life in the line of duty."
The Honor and Remember flag is a red and white flag with a gold star in the center. In the center of the gold star is a flame, whose base is a folded flag, which signifies "the final tribute to an individual life that a family sacrificed and gave to the nation."
According to the Omaha World-Herald, 21 states have laws on the books recognizing the flag. Similar legislation is currently being discussed in the Nebraska Legislature.
—
Tallahassee is going Tinseltown.
Florida State University's Film School took a victory lap this week after "Moonlight" won the award for Best Picture at the 89th annual Academy Awards. The film was directed and produced by seven Florida State University alumni, including Barry Jenkins, the director, and Tarrell Alvin McCraney, who wrote the play "In Moonlight Black Boys Look Blue," which served as the basis for the film.
"Film Florida congratulates Barry Jenkins, Adele Romanski and the entire cast and crew of Florida-produced Moonlight for their historic weekend, which included six Film Independent Spirit Awards including Best Feature and three Oscars including the Academy Award for Best Picture. Moonlight has been a wonderful ambassador for South Florida and all Floridians as they have taken us on this magical ride through award season," said Kelly Paige, the president of Film Florida in a statement. "Despite recent challenges for our industry in Florida, Moonlight shows the exceptional talent and creativity produced by our colleges and universities in addition to showing the potential of the film industry in our state."
—
Oh, Florida.
A recent report from WalletHub found the Sunshine State is the 12th Worst State for Women. To identify the most women-friendly states, the analysts at the personal finance website compared the 50 states and the District of Columbia across 19 metrics, including median earnings for female workers, women's preventative health care, and female homicide rates.
According to the report, Florida ranked No. 40 overall, wedged between Arizona (No. 39) and West Virginia.
The best state for women, according to the report, was Minnesota, which also ranked No. 1 for "women's economic and social well-being" and No. 5 for "women's health and safety." The worst state for women, according to WalletHub, was Mississippi, which also ranked in No. 50 when it came to economic and social well-being and No. 48 for "women's health and safety."
The Sunshine State didn't receive high marks in in many areas. The state came in 48th when it came to the female uninsured rate, and 45th to the quality of women's hospitals. The report also found that Florida was ranked 32nd when it comes to median earnings for female workers, and 33rd when it comes to the unemployment rate for women.
One slightly positive number: The report found when it comes to preventative health care, Flroida ranked 26th in the nation.
—
Sen. Daphne Campbell wants mental health evaluations added a criterion for getting a concealed carry permit in Florida.
Campbell filed legislation (SB 956) this week that would require the Department of Agriculture and Consumer Services to add a mental health evaluation component to an application for a license to carry a concealed weapon or firearm. The Miami Democrat said the state needs to "do more to protect our citizens and prevent gun violence."
"My bill will require a mental health evaluation to be conducted by a clinical psychologist or psychiatrist," she said in a statement this week. "Too many times, we've seen the tragic consequences of the mentally unstable wielding a gun and the innocent victims who have paid the price for the madness. This is a basic measure to determine the mental stability of those seeking to carry a weapon."
The bill does not have a House companion.
—
Call them pet defenders.
Rep. Jared Moskowitz and Sen. Dana Young filed legislation (HB 1067 and SB 1270) to provide pet owners a path of recourse in the event of wrongful injury or death of their furry friend. "People who kill or injure someone's pet should be held accountable for their actions," said Moskowitz in a statement. "We form emotional bonds with our pets and those who endure the terrible tragedy of losing them deserve a chance at justice. This bill will act as a deterrent to those who work with animals to think about the legal consequences before engaging in negligent behavior."
Currently under state law, pets are treated as personal property. Because of this, pet parents are entitled to compensation only equal to the fair market value of their pet. The proposal holds defendants accountable for pain and suffering endured from emotional trauma to pet owners, as well as the value of the pet.
"As a dog owner, I know that pets mean so much more — they become a part of the family and form deep bonds with their owners," said Young. "Through this bill, we recognize this special relationship and provide pet owners with a means of recourse in instances where their pet is hurt or killed through gross negligence."
—
Americans for Prosperity-Florida is out with another mail campaign, and all this one is missing is a super hero cape.
The organization dropped a new direct mail piece this week, one week after the House Appropriations Committee approved a bill that would eliminate Enterprise Florida and a slew of other economic incentive programs. The mailer is meant to educate Floridians that House leaders are stepping up to the challenge and "eliminating failing state programs that go beyond the appropriate reach of government," according to the organization.
Floridians have rejected policies that enable a rigged system, so eliminating Enterprise Florida and other programs like it that unfairly take valuable resources from taxpayers' pockets to redistribute them to well-connected industries is the right thing to do," said Chris Hudson, the AFP-FL state director, in a statement. "As session approaches, we hope that the Senate begins to take steps towards joining their counterparts in the House to eliminate waste, increase transparency, and reduce the size and overreach of government."
The mailer asks voters "when you're being pickpocketed by government's rigged system, who can you count out," before applauding members who voted for the the measure. It also encourages Floridians to call members to thank them for "voting against corporate welfare" and to continue to support the bill.
—
Build the reservoir, and the jobs will come.
A new report released this week by the Everglades Foundation showed construction of a proposed Everglades Agricultural Area (EAA) reservoir south of Lake Okeechobee will generate more than 39,000 jobs and provide economic benefits of $20 billion.
"To us, the EAA Reservoir represents a solution to an ongoing environmental disaster – the forced discharge of billions of gallons of polluted Lake Okeechobee water into our coastal rivers and estuaries," said Eric Eikenberg, the CEO of the Everglades Foundation. "However, to 39,000 Florida workers, the project represents a good job that pays a decent wage – and to the business people and homeowners of the affected coasts, it means billions of dollars in economic growth."
The study was conducted for the organization by Clemson University, and study authors called the south reservoir a "no-brainer."
"The South Reservoir is clearly a project with benefits vastly outweighing costs," wrote the study's authors. "The total benefits are estimated to be over $20 billion. At a construction cost of $2.47 billion, the South Reservoir is a no-brainer."
—
Hold up, wait a minute.
Florida Sugarcane Farmers are singing a different tune when it comes to a new report focused on the economic impact of building a reservoir south of Lake Okeechobee. The group blasted the report this week, saying it relies on "fake science and fake economics" to make its case.
"It's only fitting that a group funded almost entirely by out-of-state billionaire special interests has hired an out of state economist to come to the same discredited conclusion being pushed by the Everglades Foundation and its dishonest affiliates," said Ardis Hammock, owner and operator of Frierson Farms Inc. in Moore Haven. "This study relies on 'fake science' and 'fake economics' to make a case that neither real scientists nor economists actually believe.
Florida Sugarcane Farmers are part of a $3.2 billion a year industry with 12,500 employees. The group is opposed to Senate President Joe Negron's proposal to buy up to 153 acres of land to south of Lake O to build a reservoir.
—
The National Federation of Independent Business/Florida announced its 2017 Legislative Priorities this week, with workers' comp reform, business tax relief, tort reform and modernizing healthcare on the agenda.
"Remedying the broken workers' comp system is our top legislative priority," said Bill Herrle, NFIB/Florida Executive Director. "When the Florida Supreme Court invalidated the cap on attorneys' fees in workers' comp cases, small business owners' rates went through the roof."
NFIB is also focusing on cutting the business rent tax for small business owners, direct primary care legislation to increase healthcare access, and reducing lawsuit abuses. Click here to read the full agenda.
—
New degree program, new name.
Rep. Holly Raschein filed a bill (HB 1085) this week that would change the name of Florida Keys Community College to The College of the Florida Keys. The move comes one year after the Board of Education approved the community college's first baccalaureate degree program.
In January 2016, the state Board of Education unanimously approved the school's proposal to offer a bachelor of applied science in supervision and management. The program includes coursework in management, finance, marketing human resources, and leadership.  It also includes field experience in supervision and management settings, and builds upon the associate degrees already offered at the school.
"We need this program for the continuance of our strong economy and to reverse the brain drain that plagues our string of islands as our young people are forced to leave to experience a traditional campus," the school's president, Jonathan Gueverra, said last year. "In other cases, our adults cannot leave and are sometimes relegated to lower level jobs because they lack the educational credentials for advancement."
At the time of the approval, school officials indicated they would pursue a name change to "reflect the higher level educational opportunities."
If approved, Florida will have just three community colleges in the 28 state college system.
—
Antibiotic resistance isn't just bad for sick Floridians, it's also bad for your pocketbook.
A new report from Florida TaxWatch looked at the rise of antibiotic resistant bacteria (ARB), and the economic impact of ARB infections. The report, released this week, found that more than 2 million U.S. residents are infected with an ARB infection each year, and about 23,000 of whom die as a result.
The report found ARB infections can involve individual healthcare costs, total system costs and societal costs. An infection developed during a hospitalization can add up to $29,069 in costs, and up to nearly 13 extra days in the hospital per case.
When it comes to treating ARB infections, the report found infections may add an additional $20 billion each year to the U.S. healthcare bill. These infections also result in an annual loss of $35 billion that can be attributed to loss of productivity because of illness or death.
"The rise of ARB infections threatens our nation's health and our economy," said Florida TaxWatch President and CEO Dominic M. Calabro. "Luckily, policy makers, care providers and healthcare administrators are looking at options to prevent these infections at the source while funding more antibiotic research."
—
It could be getting harder to buy a pack of smokes in Florida.
Sen. Darryl Rouson and Rep. Lori Berman have filed legislation (SB 1138 and HB 1093) to raise the state's tobacco sales age from 18 to 21. The two Democrats say raising the tobacco sales age would have the biggest effect on teens between the ages of 15 and 17; and the National Academy of Medicine predicts that increasing the national sale age to 21 would reduce smoking rates between this age group by 25 percent.
"I am hopeful this bill will prevent our youth from taking up the tobacco habit," said Berman in a statement. "It is an addiction that causes serious health issues and costs our state a lot of money in the long run."
If approved, Florida would be the third state to raise the tobacco sales age to 21. More than 200 cities and counties across the nation have enacted similar policies.
"This initiative is about addiction prevention," said Rouson. "By raising the smoking age to 21 we can prevent not only addiction, but also the dangerous and life-threatening side effects that come along with tobacco use."
—
Sen. Linda Stewart has the bears' backs.
Stewart filed legislation (SB 1304) this week aimed at protecting Florida black bears and their habitat. The proposal, called the Florida Black Bear Habitat Restoration Act, establishes a fund for local governments to purchase bear resistant garbage containers. It also prohibits the sale of "timbering rights to acorn producing oak trees in all state forests and state parks that are identified as including Florida black bear habitat."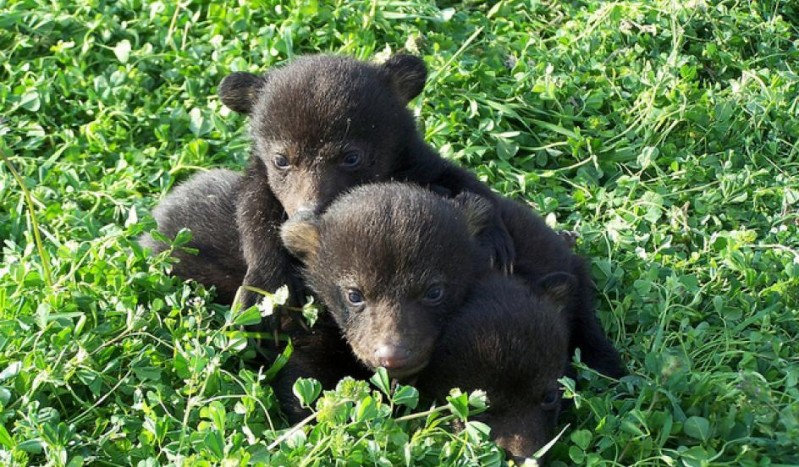 "At a time when Florida's native black bears are facing several threats to their habitat, it is our obligation to ensure the preservation of the iconic species as well as the safety of our neighborhoods," said Stewart in a statement this week. "Today, we are setting out to do just that."
Rep. Amy Mercado is sponsoring the bill in the House.
"By protecting Florida black bear habitats and their food sources, we in turn limit bear-human conflicts and ultimately are closer to ensuring the public's safety," she said.
—
Kudos, Florida State University!
According to a new report from The Education Trust, the Tallahassee university has one of the highest graduation rates among African-American students. The report found 74.5 percent of FSU's African-American students graduate within six years. Nationally, about 40 percent of full-time, African-American students earn a degree in six years.
"This recognition is a testament to Florida State's commitment to diversity and student success," said Assistant Provost Joe O'Shea in a statement. "Underrepresented students are more likely to graduate if they attend FSU compared to nearly any other public university in the country."
The report identifies top-performing colleges and universities, and presents them as examples that should be emulated. It also looks at underperforming institutions that need to get more serious about improving success rates.
Researchers followed freshmen students who enrolled at an institution in fall 2008 and completed a bachelor's degree within six years. The 2014 graduate rates are the most recent rates available.
—
Sen. Tom Lee filed a bill this week to protect senior citizens living in retirement communities.
The Thonotosassa Republican and former Senate President said the "Protecting Florida Seniors from Financial Fraud Act" was aimed at "the conduct of a few bad actors," including one in his district.
"Current (law) does not adequately protect residents and employees against facility insolvency, loss of provider assets, and loss of resident investments," he said in a statement. "It's essential to address these issues to ensure Continuing Care Retirement Communities (CCRCs) can fulfill their obligations to one of the most vulnerable segments of our population."
There are 71 licensed communities in Florida serving more than 31,000 residents. The Office of Insurance Regulation is responsible for regulating a CCRC's financial solvency, residency contracts, and disclosures made to prospective residents.
"So many seniors pour their life savings into the promise of one-stop care during their retirement years—care that CCRCs promise to them," CFO Jeff Atwater said.
"It's shameful to see a few bad players misuse and abuse that money and promise, stealing their life savings and leaving them without a viable, long-term alternative," he added. "These common sense solutions will put added protections in place, and I support this consumer-centric legislation."
The legislation, sponsored by Rep. Cyndi Stevenson in the House, requires CCRCs "to retain reserves to protect residents and their families, increases the Office's authority to prohibit hazardous practices and transactions, streamlines the acquisition process to reduce the burdens on applicants, and creates an 'impairment' framework to allow for earlier intervention to prevent harm to Florida consumers and their investments," according to a news release.
—
Welcome to the 21st Century, judges.
The Office of State Courts Administrator announced this week it has launched a social media campaign to reach out to the citizens of the state, provide essential news and officer information about the work of the judicial branch. The social media accounts will include allow the court system to do everything from use videos to tell compelling stories on Facebook and post jobs and court education information information on LinkedIn.
"This is the right time to expand into social media," said State Courts Administrator PK Jameson. "Courts are not early adopters. We do put to use proven methods to help the administration of justice and now is the right time to reach out with these incredible tools."
The social media initiative will respect that duty and adhere to the Florida Code of Judicial Conduct.
Want to follow along? You can find the State Courts System on Twitter @Florida_Courts and on Facebook at Florida Courts.
—
Violate your own board bylaws, pay a fine.
Rep. Joseph Geller filed a bill (HB 1001) this week that would authorize DBPR's Division of Florida Condominiums, Timeshares, and Mobile Homes to levy fines and recall board members who knowingly violate Florida law and their own bylaws.
"Those who intentionally violate bylaws are breaking bonds of trust between the condominium association and the unit owners," said Geller in a statement. "Although these laws are already on the books, they have not had proper enforcement mechanisms, thus rendering them useless to protect the rights of condo owners. Directors and officers have been entrusted to honor the law and their own bylaws, and anyone who abuses the rules should be held responsible."
Sen. Gary Farmer filed a companion bill (SB 1258).
—
Pull out the the piggy banks.
CFO Jeff Atwater wants Floridians to start saving their pennies, offering up tips this week for ways to save a little cash during Florida Saves Week.
"The idea behind Florida Saves Week is that everyone can start small and think big," wrote Atwater in his weekly newsletter. "You may not be able to save 10 percent of your paycheck right away, but perhaps you can toss your loose change in a jar each week and watch how it multiplies over time."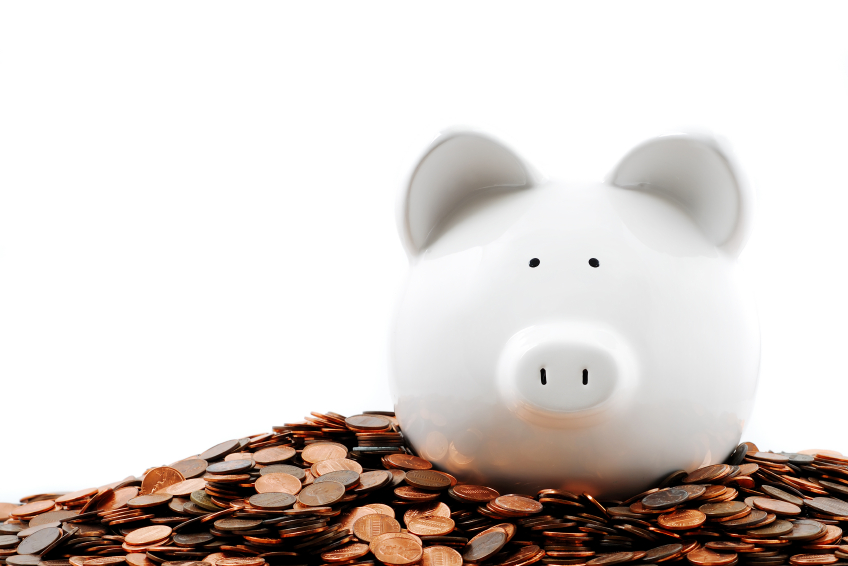 As for ways to save money, Atwater suggested Floridians shop around for insurance; pack their lunch for a week and move the money they would have spent into savings; and only use cash, no credit or debit cards.
—
Florida remains dedicated to eradicating New World screwworm.
The Department of Agriculture and Consumer Services has checked more than 15,000 animals for screwworm at the Animal Health Check Point at Mile Marker 106 in Key Largo. The department checks all animals traveling north out of the Keys for screwworm to prevent the spread of the infestation to the mainland.
"We're aggressively working to eradicate the screwworm in Florida," said Agriculture Commissioner Adam Putnam in a statement. "I thank Keys residents and visitors for stopping at the Animal Health Check Point because even the smallest number of flies on the mainland would threaten our livestock industry."
The checkpoint is open 24 hours a day, seven days a week. Since setting up the animal health checkpoint, agricultural law enforcement officers have assessed animals ranging from camels to parrots.
—
The James Madison Institute announced it is adding four new members to the board of the 30-year-old organization.
The new board members include Tom Cerio, a Tallahassee lawyer who previously served as General Counsel to Gov. Scott; Frank Kruppenbacher, a partner at Morgan & Morgan and chairman of the "For the Children's Fund"; Lisa Schultz, the chief services offer and a board member at CNL Financial Group; Joe York, the president of AT&T Florida, Puerto Rico and the U.S. Virgin Islands.
"I am pleased to welcome our new board members, and excited about the depth of knowledge and experience they represent when it comes to the issues that affect the lives of everyone who calls Florida 'home,'" said Robert McClure, CEO and President of JMI. "I look forward to benefitting from their leadership and support as we continue to provide public policy solutions and ideas that advance the principles of the free market, limited government and greater individual liberty."
—
The Florida House Democratic Caucus official House website got a facelift this week
"We want the people of Florida to know that when it comes to the House Democratic Caucus, our priorities are your priorities," House Democratic Leader Janet Cruz said. "I'm incredibly excited that we'll now have more ways than ever to connect with our constituents and share our message of economic security for all Floridians. We're here to do the people's work and that means listening and engaging with the people on the issues that truly matter to them and their families."
The new Instagram and Snapchat accounts have the same name as the group's Facebook and Twitter accounts: FLHouseDems. The caucus also said they are pushing for Floridians to send "their ideas for a better state using the #PriorityBlue."
—
Strawberries for everyone — or at least every Duval County student.
The Department of Agriculture and Consumer Services announced this week that Duval County students will get to snack on Florida grown strawberries for the rest of the growing season. The agency's Farm to School program helped facilitate Duval County Schools' purchase of about 8,800 pounds of strawberries from Wish Farms in Plant City.
Wish Farms was started by Harris Wishnatzki in 1900, when he started selling produce from a pushcart. He grew it to a wholesale busies in 1922, and over the last 90 years his family helped Wish Farms evolve by adopting innovative practices.
The program also helped connect Columbia County School District's distributor with multiple growers in Hillsborough County to facilitate the purchase of more than 650 pounds of strawberries.
—
Sen. Dana Young wants to to revamp the way administrative law judges are appointed.
Young filed a bill (SB 1352) this week that would give the power to the governor and the judicial nominating commission. The measure sets up an appointment process similar to the one currently outlined for the circuit, appellate and Supreme Court justices.
The proposal also allows the governor the remove administrative law judges for cause during their term.
—
It's time to toast the taxpayers.
Florida TaxWatch will host its annual State of the Taxpayer dinner at 6 p.m. on Wednesday, March 8. The event, which comes one day after the annual State of the State address, is meant to put the spotlight on the Florida taxpayers.
"As the trusted eyes and ears of Florida taxpayers for more than 35 years, Florida TaxWatch embraces our responsibility to provide a forum for our state's elected leaders to speak directly to the interests of the taxpayers," the organization states on the event's website. "While the annual State of the State Address and opening statements of each legislative chamber cover the accomplishments and future plans of our elected leadership, none specifically highlight the issues affecting taxpayers."
Invited speakers include Gov. Scott, CFO Atwater, Attorney General Bondi, Agriculture Commissioner Putnam, Senate President Negron, and House Speaker  Corcoran.
—
March is for museums!
Secretary of State Ken Detzner announced the inaugural "March of Museums" in the capital city. The month-long event is meant to celebrate the versatility of museums across the state, and the Department of State is working with museums across Tallahassee to offer give visitors unique opportunities to experience museums.
"March of Museums is an event to celebrate the important services museums provide to our communities and will feature the Grand Opening of Tallahassee's newest museum, The Grove Museum, on Saturday, March 11," said Detzner in a statement. "Exciting events will also be hosted by the Department's Museum of Florida History, the Knott House Museum, and Mission San Luis, in addition to events being held throughout the month of March by our partners in Tallahassee."
 The month-long celebration kicks off Saturday with an event at the Historic Capitol at 11 a.m.; while the Tallahassee Museum will celebrate World Wildlife Day at 10 a.m.
March of Museums is also meant to commemorate Florida Heritage Month, which officially begins March 15 and continues through April 15.  For more information, head to visit FloridaHeritageMonth.com.
—
Here's this week's edition of Capitol Directions:

Save
Save
Save
Save
Save
Save