The mother of a Tallahassee elementary schooler is suing the local school board after a teacher slammed a "timeout room" door on her special-needs son's hand, breaking his finger, according to her complaint.
The case is being handled by an attorney for Morgan & Morgan, the statewide personal injury law firm founded by Orlando lawyer and entrepreneur John Morgan.
The suit, filed this week against the Leon County School Board, says the boy was forced into a timeout room in November 2015, even though school staff had been told "he would have a negative reaction to being shut into a room alone." He has "special behavioral needs," the complaint says.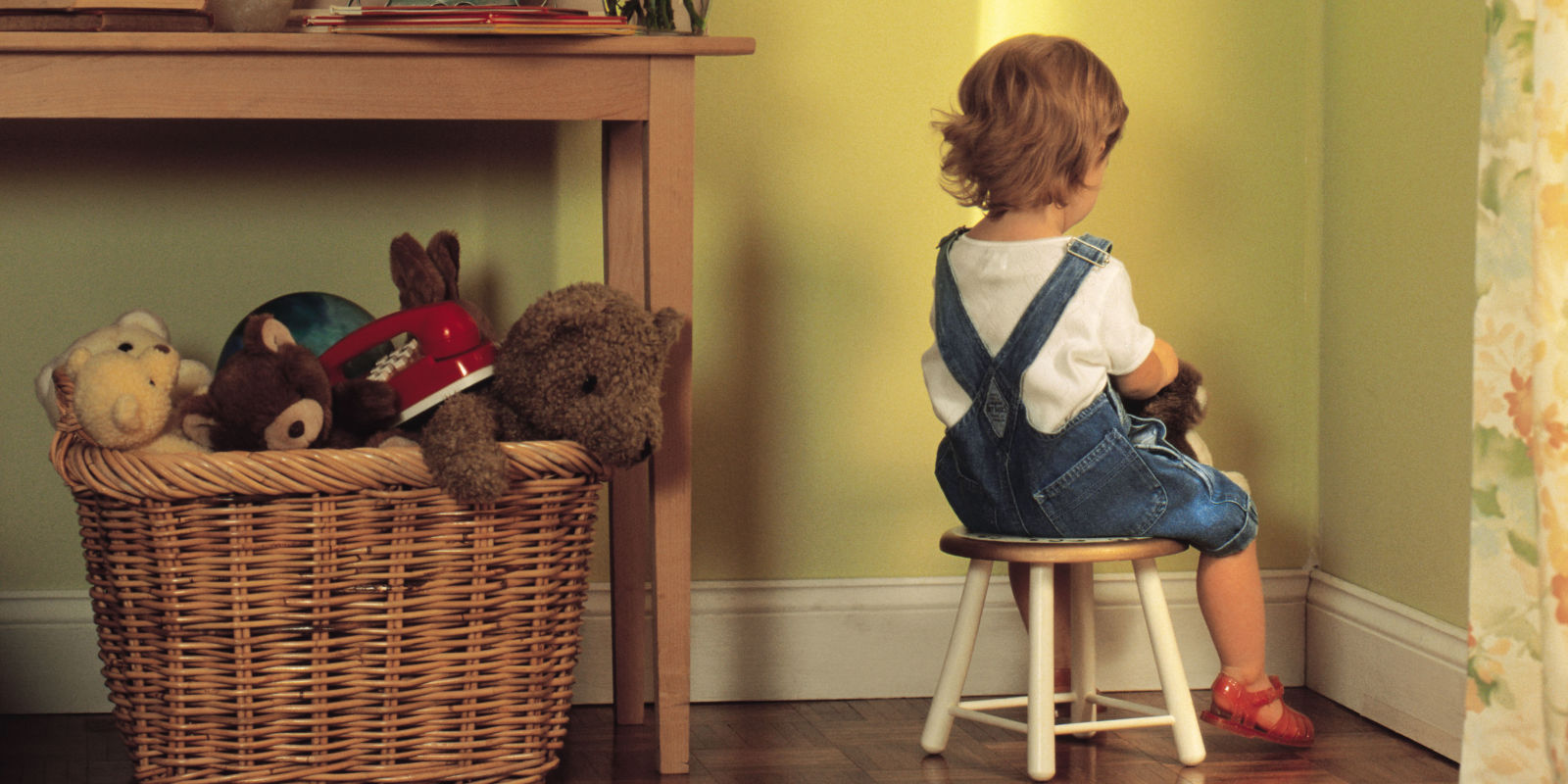 When "a teacher attempted to force him in," the child struggled to get out, and the teacher "slammed the child's hand in the door, resulting in a laceration (usually meaning a deep cut) and fracture" of a finger, the suit says. The teacher was not named in the suit.
The family seeks more than $15,000 in damages. Takeaways has decided not to identify the mother or the student, whose names are disclosed in the complaint.
Chris Petley, a school board spokesman, said the district does not comment on pending litigation.
Attorney James Biggart of Morgan & Morgan is representing the plaintiffs. He also represented a woman earlier this year in a suit against a Tallahassee Mexican restaurant after she fell off its donkey statue and broke her back.
She later dropped her lawsuit after the case went viral, sparking a Facebook page, "For the Donkey," a turn on Morgan & Morgan's "For the People" catchphrase.
Coming up, the usual assortment of tidbits, leftovers and not-ready-for-prime-time moments by Jim Rosica, Peter Schorsch and Andrew Wilson.
But first, the "Takeaway 5" — the Top 5 stories from the week that was:
High court backs Scott — Gov. Rick Scott has the authority to transfer murder cases away from the office of Orlando's State Attorney Aramis Ayala because she refuses to pursue capital punishments, the Florida Supreme Court ruled this week. Ayala greeted the ruling by declaring she was changing her policy, and would set up a special panel to review the death penalty appropriateness of each potential capital case. She would not be directly involved. "I respect the decision and appreciate that the Supreme Court of Florida has responded and provided clarification," Ayala said in a written statement.
Patronis closer to decision — Interim CFO Jimmy Patronis told his hometown television station he will decide "in the next 30 days" whether to run for a full term in 2018. Scott appointed him two months ago to serve the remainder of former CFO Jeff Atwater's second term. Atwater left early to become the CFO of Florida Atlantic University. Patronis, in a Wednesday interview with Panama City's WJHG NewsChannel 7, said his "intention is to make a decision soon." But it seems likely now that the 45-year-old Republican has opened a new political committee, Treasure Florida, and Scott is hosting a fundraiser for it Sept. 28 in Orlando.
More turmoil at FHP — The AP reported that the Florida Highway Patrol is suspending a top official as part of its review into whether troopers were ordered to meet traffic ticket quotas. A spokeswoman said the department has now completed its investigation and no more moves are expected. Chief Mark Brown will be suspended for three days from his job. Two other high-ranking officials this month resigned in the wake of the probe that was sparked by a newspaper reporting on an internal email that said troopers weren't writing enough tickets. The department is going to do annual training to remind troopers that quotas aren't allowed.
Kriseman, Baker to face off — The race for St. Petersburg mayor ended in a virtual tie between Democratic incumbent Mayor Rick Kriseman and GOP challenger and former mayor Rick Baker, leaving Democrats giddy and Republicans groping for ways to rebrand their candidate. Baker, who remained wildly popular years after leaving office, led Kriseman in polls and fundraising throughout the campaign. But Kriseman, who served in the Florida House before his 2013 election as mayor, wound up beating Baker by 69 votes. The virtual dead heat, with neither candidate capturing more than 50 percent of the votes, is forcing a Nov. 7 runoff between the two politicians.
Tri-Rail troubles continue — When the public agency that runs the Tri-Rail commuter trains in South Florida dumped five less-expensive proposals and awarded a 10-year, $511 million operations and maintenance contract last winter, the agency followed rules spelled out in that particular proposal but they conflicted with the agency's standing internal procurement rules, a draft state investigation report concluded. The transportation authority's action last January boiled into major controversy spilling into this year's Legislative Session. Gov. Scott and key lawmakers expressed outrage that the agency essentially awarded a one-bid contract worth a half-billion dollars, while five other train companies were crying foul.
Flyover at last
In February 2013, Gov. Scott said there would be an eastbound JTB flyover ramp at I-95 in Jacksonville.
Forty-eight months and $78 million later, that project is in place — and is expected to abate traffic at one of the most challenged traffic corridors in Northeast Florida, starting with its Sept. 6 opening to traffic. A public opening was earlier this week.
U.S. Rep. and former Jax Sheriff John Rutherford, one of many northeast Florida pols on hand, noted that "the number of lives this flyover saves will be substantial."
For Scott, the project is part of a commitment to infrastructure. He noted that a "million dollars each day in the Jacksonville area" is spent on infrastructural improvements.
"I remember being in Jacksonville quite a bit and seeing the backup when you're going south on 95, trying to go east on JTB," he said. "The sheriff — now congressman — talked a lot about car accidents that happened (so) this is great … Over 112,000 motorists use this on a daily basis, so this is a big deal."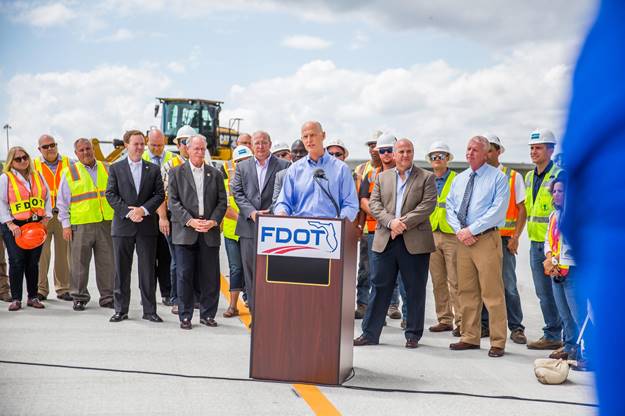 Scott gets tourism honor
Gov. Scott this week received a distinguished leadership award from the U.S. Travel Association in appreciation for his work on travel and tourism promotion.
"Throughout his term, Governor Scott has demonstrated an outstanding commitment to travel as a critical pillar of the economy and jobs base in the Sunshine State," U.S. Travel Association President and CEO Roger Dow said in a statement.
"In particular, Gov. Scott's efforts to protect VISIT FLORIDA's funding from misguided political challenges have paid dividends for the state," he added. "In 2016, Florida enjoyed a record of nearly 113 million visitors. More importantly, the dollars those visitors spent during their trips supported 1.4 million jobs for Florida workers, making the state one of America's strongest examples of the economic power of travel."
"It was an honor to accept this award on behalf of the many Florida families and businesses that support our growing tourism industry," Scott said in a statement. "Tourism is a major job creator and economic engine for our state, and we will continue to work each day to market Florida and meet our goal of welcoming 120 million visitors this year."
U.S. Travel presented the award to Scott during a lunchtime ceremony at the Florida Governor's Conference on Tourism in Hollywood.
How a CRC proposal becomes law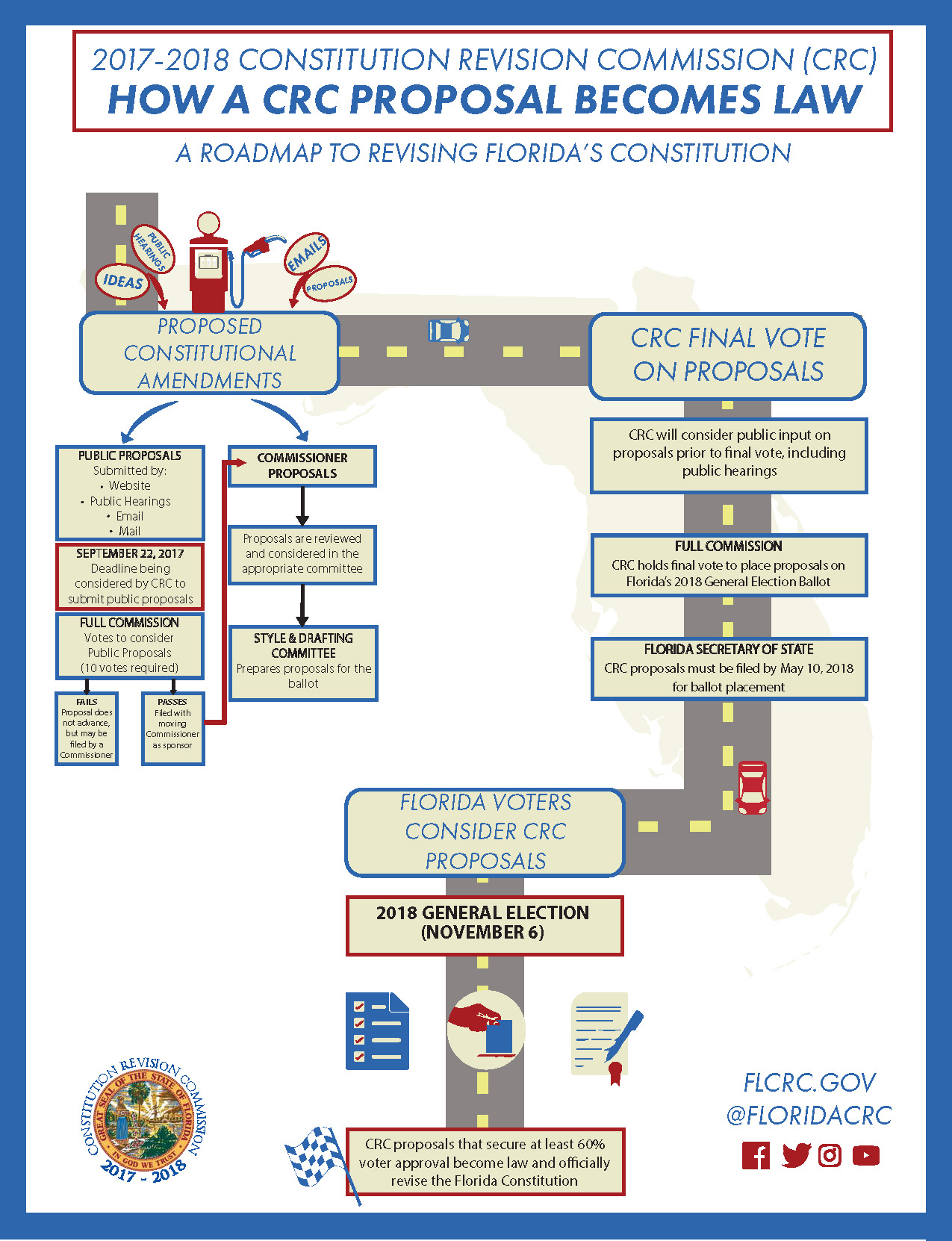 Hot off the release of its last infographic, "How to Submit a Proposed Constitutional Amendment," the Constitution Revision Commission has put out another one, "How a CRC Proposal Becomes Law."
"Public input helps fuel the CRC process," CRC Chairman Carlos Beruff said in a statement. "Our new infographic lays out the road map that all proposed constitutional amendments will follow and how some may eventually end up on Florida's 2018 General Election ballot for voter consideration.
"We encourage all interested Floridians to submit their proposed constitutional amendments to the CRC by Sept. 22, which is the public proposal filing deadline being considered by the Commission."
The panel, which convenes every 20 years, will review and suggest changes to the state's governing document after holding public meetings across the state.
The next full commission meeting is scheduled for Tuesday, Sept. 19. For more information on upcoming meetings, go to flcrc.gov/Meetings.
Check before you give
Want to donate money to those in need from the battering by Hurricane Harvey? Agriculture Commissioner Adam Putnam wants you to do a little homework first.
He's asking people to visit FloridaConsumerHelp.com to research charitable organizations before donating money.
"Before giving your hard-earned money, I encourage Floridians to do their research, as fraudulent charities may be created to take advantage of people's empathy and generosity," Putnam said in a statement.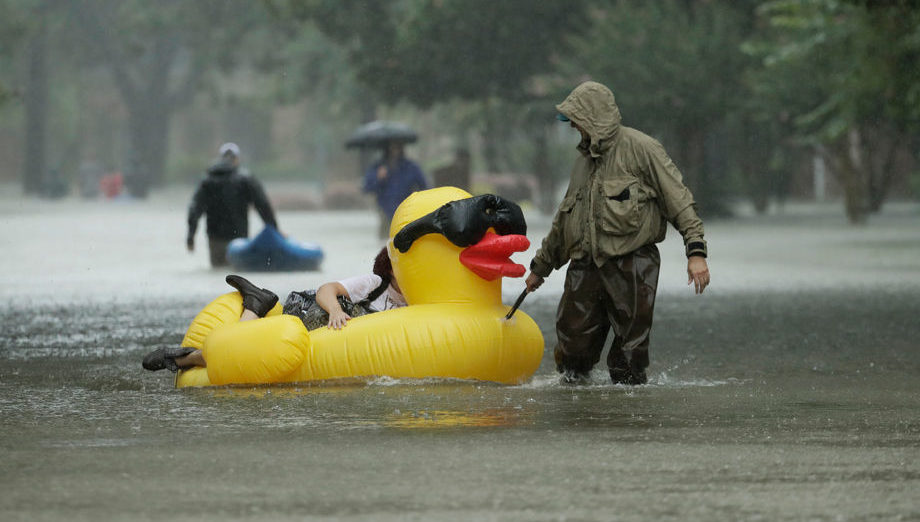 Most charitable organizations that are located in Florida or soliciting donations within Florida are required to register with the Florida Department of Agriculture and Consumer Services. Charitable organizations not located in Florida or soliciting donations in Florida are not required to register with the department.
Putnam suggests asking questions, such as: "Who is the fundraiser and who will benefit from the donation?"; "How much of the contribution goes to the charity mentioned in the request," and "How much of the donation goes toward administrative and fundraising expenses?"
You can read the Gift Giver's Guide by clicking here and report suspicious charitable solicitations by calling 1-800-HELP-FLA (1-800-435-7352) or for Spanish speakers, 1-800-FL-AYUDA (352-9832).
Andy Gardiner named to affordable housing panel
Senate President Joe Negron named former Senate President Gardiner to a new Affordable Housing Workgroup that was created by the Legislature.
"I asked (Negron) to be placed on the group," Gardiner told Florida Politics. He explained he helped put a requirement into law that 5 percent of the state's affordable housing trust fund be set aside for "individuals with unique abilities."
"And I'd like to look into even more (housing) opportunities" for them, he added.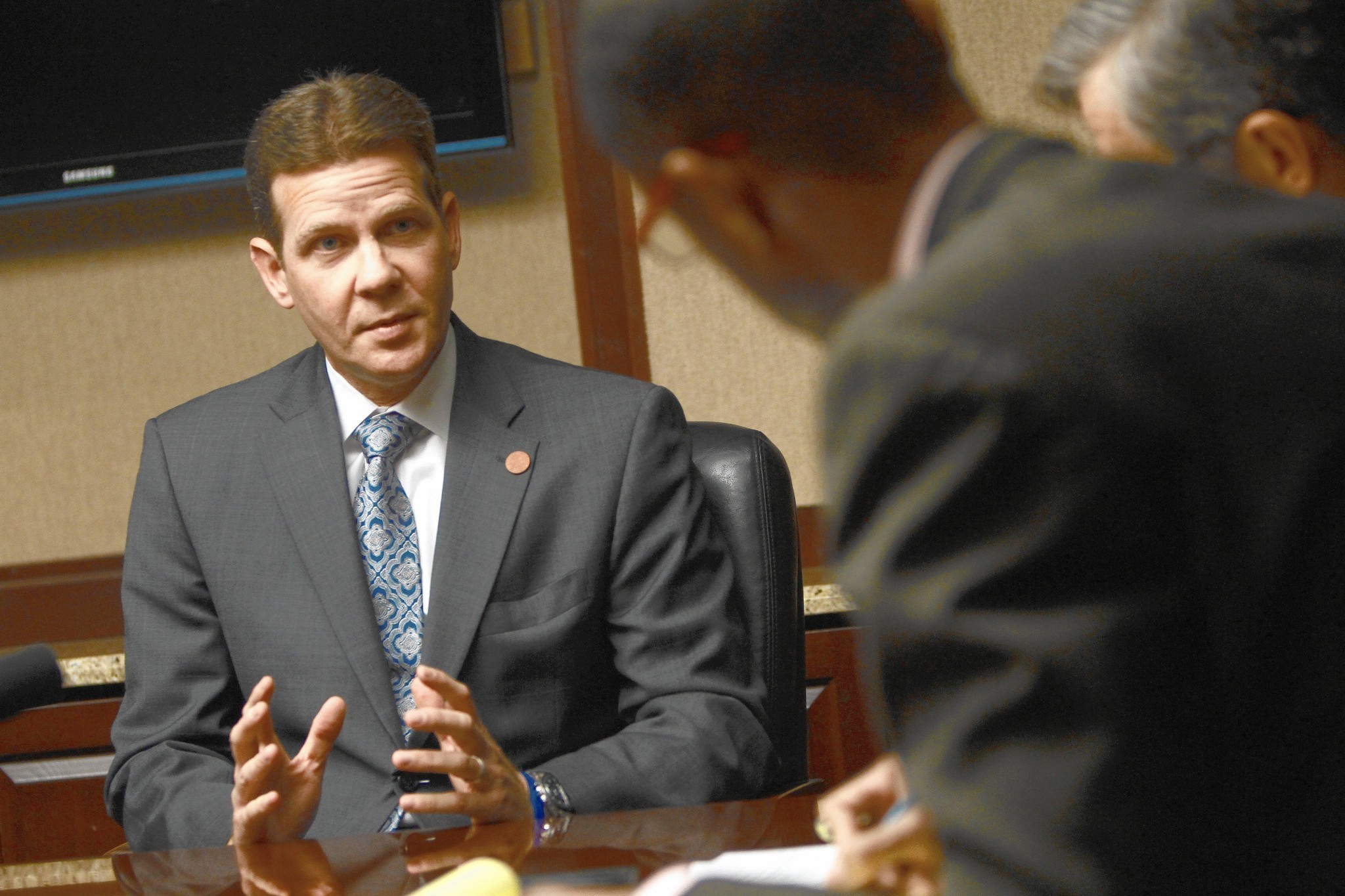 Gardiner has long been an advocate for people with disabilities; his son Andrew has Down syndrome. A state scholarship program for people with Down syndrome, autism, cerebral palsy, muscular dystrophy and other conditions is named after him.
The 48-year-old Orlando-area Republican served in the House 2000-08 before his election to the Senate in 2008. He served as Republican Leader there in 2010-12, and as Senate President in 2014-16 before being term-limited.
The blue ribbon panel's mission is to come up with recommendations on handling the state's need for affordable housing. Its ideas will be reviewed by the Florida Housing Finance Corp. and then given to lawmakers and Gov. Rick Scott by the first of next year.
Negron: Army Corps speeds up Lake O work
Senate President Negron says progress on the southern reservoir project outlined in legislation passed this year, addressing Lake Okeechobee's water quality, is getting a kick-start.
" … The Army Corps of Engineers intends to expedite the federal approval process … The Corps has determined the best option for achieving southern storage is not to seek new federal authority, but to use existing authority to pursue a modification to the current (project)," Negron said in a Friday statement.
"This development is entirely consistent with the options and timeline outlined in Senate Bill 10 and achieves the Legislature's goal of moving forward on southern storage as expeditiously as possible," he added. "I appreciate the Corps' shared interest in promptly achieving our goal of reducing harmful discharges into our communities, and I look forward to continuing an efficient state and federal partnership on this important effort."
Chris Sprowls commends Supreme Court
House Judiciary Chair Sprowls, a former prosecutor, "applauded" the decision by the Florida Supreme Court to affirm Scott's decision to reassign homicide cases in the 9th Judicial Circuit, according to a news release.
"The decision by the Florida Supreme Court reaffirmed what the Governor and many members of the Legislature already knew — no State Attorney is above the law," he said. "State Attorney Aramis Ayala's blanket refusal to seek the death penalty, even in the most heinous cases, including the cold-blooded murder of police officers, showcases a basic lack of understanding of the Florida Constitution.
"With the Governor's authority to reassign cases no longer impeded by court challenges, victims and their families can have certainty in knowing that Gov. Scott and state attorneys from around Florida will pursue every avenue to bring justice to those who've committed these horrific crimes," he added.
Robert Asencio spends 'workday' with judge, FHP
Miami Democratic Rep. Asencio said he has started to spend "workdays" with his fellow Floridians to try and "build a higher standard of representative government."
Asencio said he spent a day last week alongside Miami-Dade Circuit Judge Steven Leifman in court and Troop E of the Florida Highway Patrol.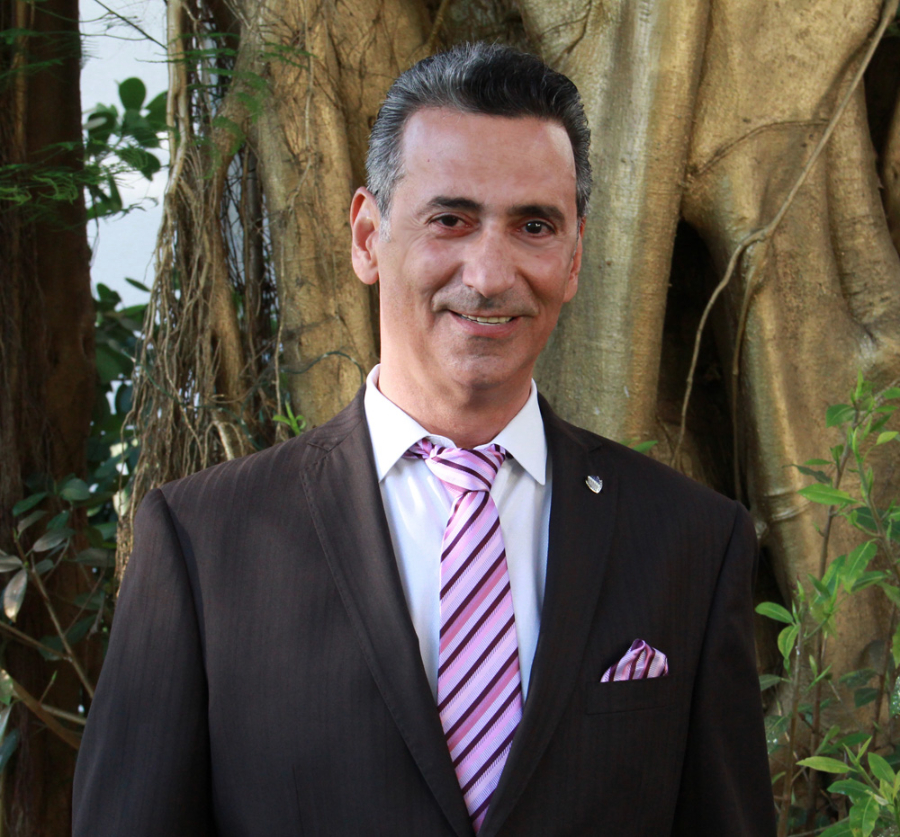 "I can think of no other way to better represent our community and our state, then to spend a day alongside the Floridians who work daily to protect us and improve our lives," Asencio said. "Whether it's Judge Leifman of the 11th Circuit or Troop E of the Florida Highway Patrol, all of these experiences help me to gain an understanding of the day-to-day needs of people working to move Florida forward."
Asencio said his next "workday" will be spent with the Firefighters of Miami Dade Fire Rescue Station #4. On his to-do list is learning about their training program, how they prepare for fighting fires, and getting a firsthand look at the communities in Miami-Dade they serve.
Daisy Baez throws first pitch at Marlins game
Miami Democratic Rep. Baez got to throw the first pitch at a Miami Marlins game against the San Diego Padres last week.
"It was an honor to throw the night's first pitch, especially for Dominican Heritage Night. Friday was a special opportunity for the Dominican community to join together, enjoy a Marlins game, and support a great cause," she said.
A portion of the proceeds from each ticket went toward supporting the Dominican American National Foundation. The Marlins won the game 8-6.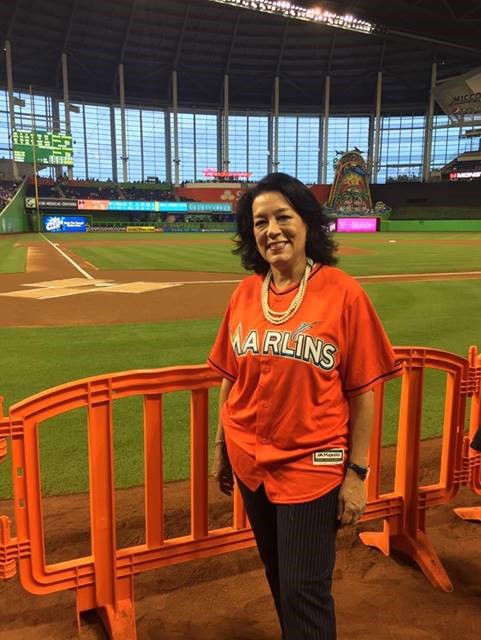 Baez asks Congress for tougher host family rules
More on Baez: She filed a measure this week that would ask Congress to require more in-depth background checks for families hosting foreign exchange students.
Baez said she filed the HM 99 in response to a Cutler Bay man who sexually abused many exchange students and married one of his victims just days after she turned 18. The man ended up committing suicide as investigators began to discover the depth of his debauchery.
"As a mother, I'm sickened and disturbed. As a legislator, I am moved to action. No parent, here or in another country, should have to fear for the safety of their child while trying to provide them with a better education and a good opportunity," declared Representative Daisy Baez. "I stand with the Miami-Dade School District to demand stronger policies to protect our children and strengthen the inadequate background check process currently in place."
Al Jacquet holding school supply drive
State Rep. Jacquet is teaming up with a local group to help make sure Palm Beach County kids start their school year on the right foot.
"Our students and our teachers deserve the support of our local community for all the hard work they will put in over the course of the school year," he said. "There's absolutely no better tool than a great education to allow our children to fulfill their greatest potential. That's why I'm proud to partner with Red Apple Supplies to ensure they have all the resources they need to get ahead in the classroom."
Red Apple Supplies is part of the Education Foundation of Palm Beach Counties and helps distribute donated supplies to area teachers and students. Donations can be dropped off at 314 11th Street, West Palm Beach, through Sept. 30.
Bill would name stretch of U.S. 90 after WWII airman
A bill filed by Eucheeanna Republican Rep. Brad Drake would name the stretch of U.S. 90 between State Road 285 and State Road 83 North after Lt. Ewart T. Sconiers.
Sconiers, a DeFuniak Springs native, was a bombardier in the U.S. Army Air Corps during World War II who earned a Distinguished Service Cross after piloting a plane back to England with the co-pilot dead and the original pilot wounded.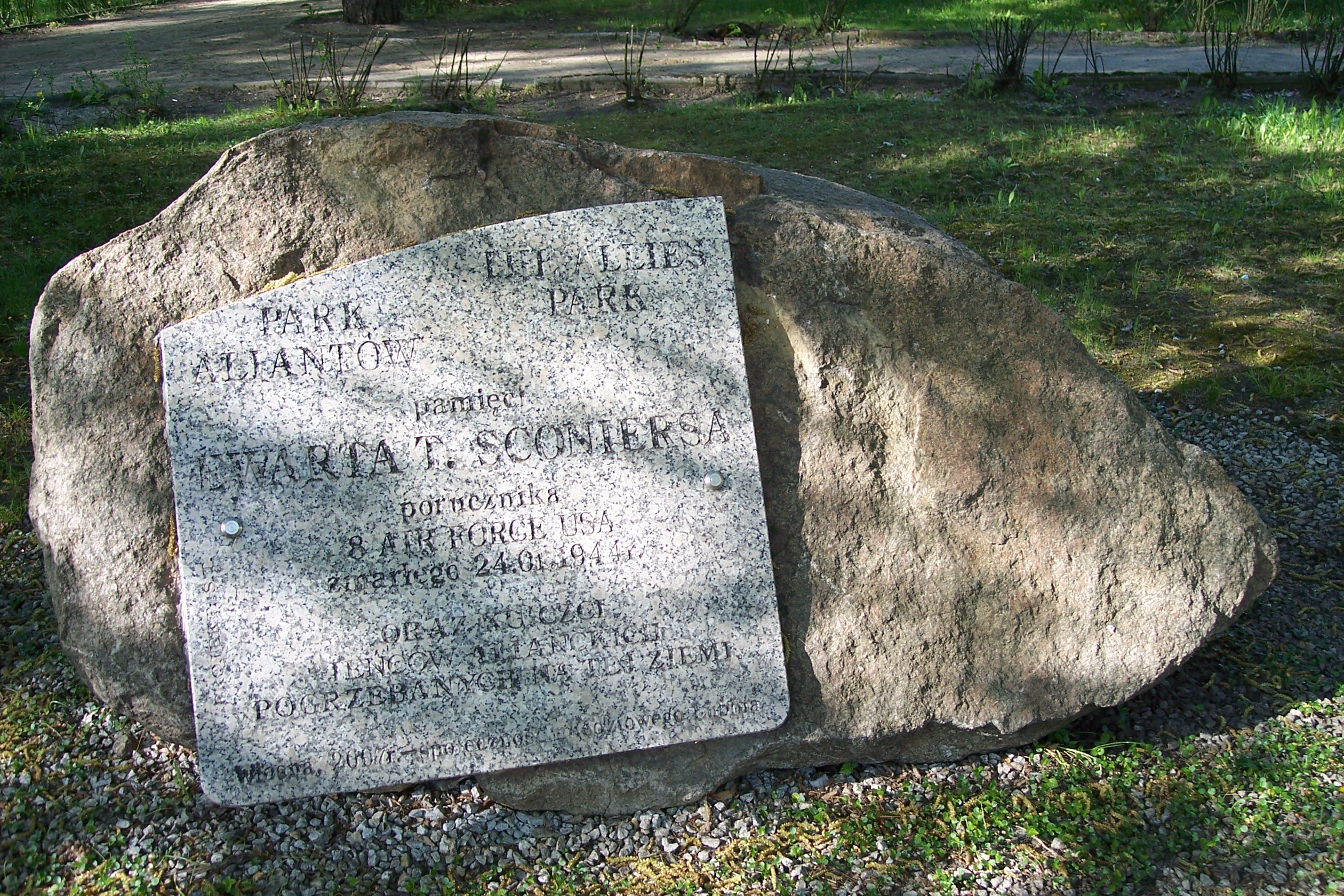 Later in the war, DeFuniak's plane went down over Nazi-occupied Poland and he was taken prisoner and later died. His remains were identified in Poland earlier this year.
Drake's bill, HB 109, will go before lawmakers in the 2018 Legislative Session.
FAC to hold policy conference
The Florida Association of Counties will host its 2017 Policy Development Conference later this month, kicking off with a Sept. 27 Policy Summit with Florida's county commissioners.
Topics include drones and autonomous vehicles, emergency communications, smarter growth, private public partnerships for social services, the reasons behind pre-emptions and the history of home rule.
Scheduled speakers include state Reps. Jason Fischer, Randy Fine and Kathleen Peters, Sen. Jeff Brandes, lobbyists Charles Dudley and Uber's Steph Smith.
A luncheon keynote will be a discussion on home rule with Times/Herald Tallahassee reporters Steve Bousquet and Mary Ellen Klas, and the Florida Times Union's Tia Mitchell.
The event will be at the Embassy Suites, 4955 Kyngs Heath Road in Kissimmee. For details and to register, visit fl-counties.site-ym.com.
Jeb Bush to deliver keynote to AEI
Former Gov. Bush will be in Washington, D.C., on Sept. 11 to deliver a keynote on school choice to the American Enterprise Institute.
Bush, the chairman of ExcelinEd, will talk about why customization and personalization are important to the future of choice. The keynote will be followed up with a panel discussion Education Savings Accounts, in which Bush will participate.
Those looking to attend can RSVP to the event, though AEI plans to livestream the keynote and panel discussion on Sept. 11 starting at 1 p.m.
First class starts at FSU's Jim Moran School
The Jim Moran School of Entrepreneurship welcomed its first class of 80 juniors this fall, including several at the FSU Panama City campus. Sixty students enrolled in the commercial entrepreneurship major and 20 selected social entrepreneurship.
Florida State built the school with the help of a record $100 million gift from Jan Moran and The Jim Moran Foundation in 2015. Over the past year and a half, faculty members and entrepreneurs developed a unique core curriculum designed to prepare students for real-world challenges in their own businesses and existing companies.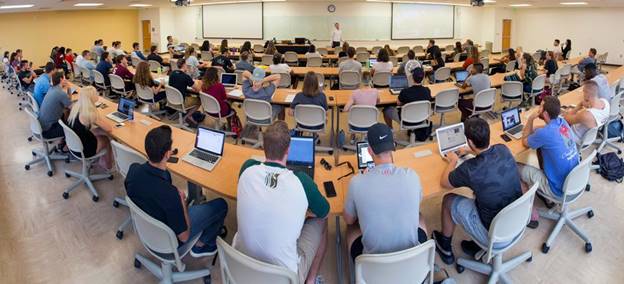 It is the first and only school in the nation operating outside a college of business at a public institution. Incoming classes will continue to grow each year. By 2022, the program expects to have 500 students. The current staff includes five full-time faculty members, more than 25 entrepreneurs in residence across campus and other instructional faculties.
To learn more, go to jimmoranschool.fsu.edu/.
— Dave Heller, Florida State University.
No fishing license, no problem
If the opening weekend of college football doesn't keep you pinned to the couch, Floridians and visitors can head to the nearest watering hole Saturday for license-free saltwater fishing.
"Florida's upcoming license-free fishing day is a chance for parents without a license to introduce their kids to sportfishing, and for experienced anglers to share their passion for fishing with a friend who may not yet have a license," said Keep Florida Fishing Director Gary Jennings.
Anglers will still need to abide by other rules, including bag limits, size limits and sticking to fish that are in-season. A list of rules can be found through the Florida Fish and Wildlife Conservation Commission.
The Sept. 2 event is one of eight license-free fishing days approved by Gov. Scott. The next one on the calendar is the Saturday after Thanksgiving.
Cornhole some cash
The Florida Lottery announced a new "Fast Play" game called "Cornhole Cash," that became available this Friday.
At $2 per ticket, the game offers top prizes of $10,000, the Lottery said in a release: "Fast Play game tickets print on-demand from the Lottery terminal, and can be played immediately. If the ticket is a winner, the prize can be claimed instantly."
The overall odds of winning a prize are one-in-4.14 and the odds of winning the top prize are one-in-360,000, it says. "Prizes up to $10,000 can be claimed at any Florida Lottery office and prizes less than $600 can be redeemed immediately at any Florida Lottery retailer. Fast Play game prizes must be claimed within 60 days after the end of game date."
Household hazards? Bring 'em in
Now's the time to get rid of your old printers and paint cans. Leon County holds its first Household Hazardous Waste & Electronics Collection of the season this Saturday, 9 a.m. to 1 p.m., at the Public Works Operations Center, 2280 Miccosukee Road.
This event is the first of Leon County's regular collection season, which will continue on the first Saturday of every month through May 2018.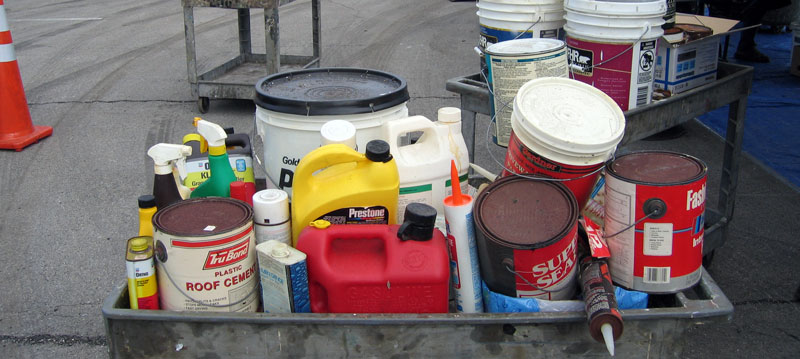 Note: This is for households only. "When discarded, many household products can pollute and pose a health risk, so the division holds these free events for County residents," a news release said. "Businesses and other agencies must call (850) 606-1816 to make an appointment, Monday through Friday, to drop off their items at the Leon County Hazardous Waste Center, 7550 Apalachee Parkway. Some fees will apply."
Here's more from the release: "Residents can bring up to 50 pounds of hazardous waste, in addition to their electronics. Only one large-screen television per vehicle will be accepted. Propane tanks must weigh less than 40 pounds and there is a limit of one tire per participant.
"There is also a limit of 25 fluorescent tubes per vehicle at the collection event. Medical sharps, medicines and radioactive waste cannot be accepted. Also, they cannot accept bulky wastes such as appliances (refrigerators, stoves/ovens, washing machines, dryers, etc.), furniture, yard waste, construction and demolition debris, household garbage or Styrofoam.
"For more information, call the Leon County Hazardous Waste Center at (850) 606-1803 or visit LeonCountyFL.gov/HHW/collection for the complete collection schedule and safe packing guide."
Now for this week's edition of Capitol Directions: