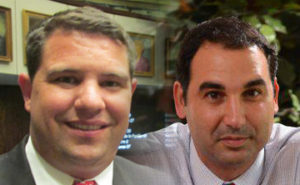 What do smart cities, driverless vehicles, autonomous drones, and instantaneous 3D downloads all have in common? The need for 5G wireless technology.
Under Senate Bill 596 and House Bill 687, which creates the Advanced Wireless Infrastructure Deployment Act, Floridians have the opportunity to bring ultra-fast speeds – speeds that were previously only available through a wired connection – to your wireless devices.
With the deployment of 5G across Florida, we are looking at the future of machines talking to machines and wireless network speeds that are 10 times faster than today. This advancement to 5G will dramatically impact our everyday lives, allowing for the next innovation in communications.
So, what is 5G technology, why do we need it and how do you get it?  Simply put, 5G is the next generation of wireless networks that will allow users to move data at much faster speeds. As technology advances, just as it did from 3G (which brought texting and photos) and 4G (which provided for the capability to have social connections like FaceTime and video), our state will need to be prepared to give its consumers the tools needed to be able to participate in the technology revolution.
Which leads us to how we get this technology and why we are pushing for this legislation this session. In order for Florida to be a part of this technological revolution that is beginning to happen in other states, wireless communication providers, like Verizon and AT&T, need to be able to put in place the proper infrastructure needed to support 5G technology from the Panhandle to the Keys.
To help clear the path for this vital innovation, we introduced SB 596 and HB 687, which lays the framework and guidelines for the installation, placement, maintenance and replacement of micro-wireless facilities across the state.
As we begin to reach capacity levels with our current 4G technology, it is time now for Florida to be forward-thinking and not allow for there to be a gap in our wireless coverage. Florida is known for being a protagonist state. Let's not lose our lead now. Let's bring 5G to Florida and make our communities smarter, healthier, safer and more efficient. Let's support SB 596 and HB 687 this session.
___
Palm Coast Republican Travis Hutson represents Senate District 7.
Saint Cloud Republican Mike La Rosa represents House District 42.