…Well probably not, but he is going to guest lecture for former Gov. Jeb Bush.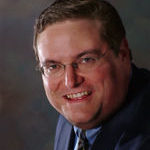 Fineout, a Capitol Press Corps fixture, posted Monday on his Facebook page he was heading to Texas A&M University in College Station, Texas later this week.
That's where he'll be "a guest speaker" at the university's Bush School of Government and Public Service.
"I'm going to help with a segment on Crisis Management and Media Relations that is part of a course being taught (by Bush) on gubernatorial leadership," he wrote.
"I am excited about the prospect of discussing how different governors have dealt with the press, especially how they have dealt with hard-hitting coverage, access and transparency."
Fineout is "a veteran political and policy reporter who has worked at The Miami Herald, the N.Y. Times Regional Newspaper Group and other newspapers," including the Tallahassee Democrat, his official bio says.
He's covered four governors: Lawton Chiles, Bush, Charlie Crist and Rick Scott. Fineout now works for The Associated Press.